SUNY Canton Announces Varsity eSports Program
SUNY Canton announced today the college will begin competing nationally in eSports this spring. The college will become the first New York State eSports team to join the National Association of Collegiate Esports (NACE), the most prominent nationally recognized organization dedicated to competitive collegiate video gaming.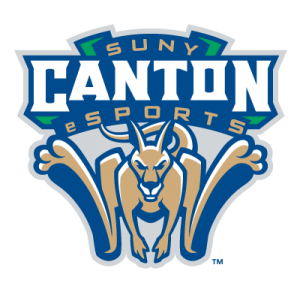 "Similar to traditional athletics, eSports will provide our students with new and enhanced opportunities for competitive excellence, academic achievement, and commitment to community and service," said SUNY Canton President Zvi Szafran. "Membership on a varsity collegiate sports team is an extremely rewarding experience, so being able to expand those opportunities, including to online students, combined with the type of high achievers we will attract, makes this a fantastic addition to our college."
Plans for the eSports team include specialized computer stations for practice and competition located in a newly designed gaming area in Nevaldine Hall. Additionally, the college plans to develop an eSports wing in a residence hall with a gaming computer area adjacent to student's rooms. The eSports wing would be similar to the college's current Pet Friendly wing where academic interests and lifestyles intersect with themed residential living.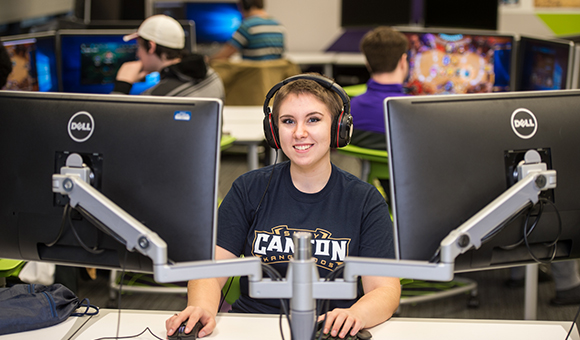 "The timing of our eSports program corresponds perfectly with our newly announced majors in Game Design and Development, Technological Communication, Cybersecurity and Graphic and Multimedia Design," said Michael J. Newtown, Dean of the Canino School of Engineering Technology. "Being able to offer opportunities in eSports will undoubtedly assist in recruiting efforts to attract top students to a wide variety of majors. We are also looking forward to extending these opportunities to online students, so they can become more involved in eSports and athletics."
As a spectator event, eSports is experiencing unparalleled growth in popularity. According to Newzoo, a market research firm specializing in digital gaming, 22 percent of American male millennials watch eSports, which is essentially on par with viewership numbers for baseball and hockey. Women are also increasingly becoming interested in gaming: statistics indicate 38 percent of eSports fans are female.
President Szafran envisions three types of competitive teams at SUNY Canton: traditional varsity athletics, eSports and A-Sports. A-Sports stands for Academic Sports and would include teams like the school's Steel Bridge Team, which competes in bridge building competitions regionally and nationally each year.
"Students on teams generally experience more academic success, are more likely to graduate and have more satisfying college experiences," said Szafran, who points out current student-athlete grade point averages tend to be higher than non-student-athletes. "We continue to look for more and more opportunities like this to promote the education and development of our students, build school pride, and develop leadership, sportsmanship and character-building."
eSports teams are already forming on campus to compete in games such as "League of Legends," "HearthStone" and "Overwatch." Those three games are organized and supported by NACE. SUNY Canton is also among a sizable group of colleges and universities working with the Eastern College Athletic Conference (ECAC) to form leagues and competitions in competitive games such as EA Sports titles "FIFA" and "Madden NFL." ECAC competition may also begin as soon as this spring.
"Prior to any official announcement, we already had more than 40 students on campus express interest in joining the eSports program," said eSports Head Coach Robert J. Snow, who is an Instructional Support Assistant in the Canino School of Engineering Technology. "I've also met numerous prospective students at admissions open houses who are ready to commit to SUNY Canton because of our new eSports program."
First-year student Emily A. Oeser from Canajoharie has decided to pursue a degree in Game Design and Development while joining the eSports team. She has helped organize current students and looks forward to competing at the varsity level.
"After originally considering a musical career, I've decided instead to enroll in the Game Design and Development major," said Oeser. "Being able to represent SUNY Canton and compete against other schools will be a fantastic experience. I can't wait."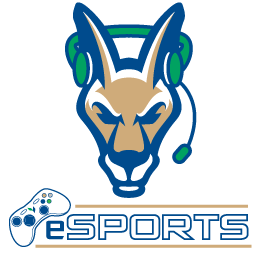 About SUNY Canton
As Northern New York's premier college for career-driven bachelor's degrees, associate degrees and professional certificate programs, SUNY Canton delivers quality hands-on programs in engineering technology, management, and healthcare fields. It is home to the Center for Criminal Justice, Intelligence and Cybersecurity. Faculty members are noted for their professional real-world experience in addition to outstanding academic credentials. As SUNY's leader in online education, SUNY Canton OnLine offers hundreds of flexible and convenient courses as well as 23 online degree programs. The SUNY Canton Kangaroos 15 traditional athletic teams compete at the NCAA Division III level as part of the North Atlantic Conference. SUNY Canton also features varsity esports and cheerleading.