SUNY Canton Student Selected to Present Research at Prestigious Scientific Conference
A SUNY Canton Mechanical Engineering Technology student has been chosen to discuss his cutting-edge research at one of the most prominent undergraduate research conferences in the country.
Heath J. Boyea, a native of Malone, will travel to the Massachusetts Institute of Technology (MIT) in October to present at the Institute of Electrical and Electronics Engineers (IEEE) Annual Conference. The event brings together students from around the world to share their scientific work.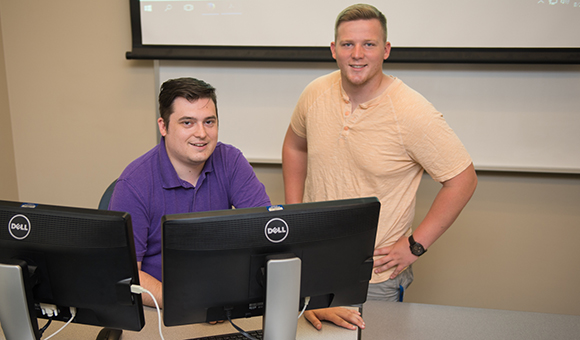 "This is a huge accomplishment for Heath, particularly because of the highly selective nature of this event," said SUNY Canton Assistant Professor Joel M. "Miles" Canino, Ph.D., who is Boyea's faculty advisor and oversees the research. "He will be presenting alongside students who attend some of the best schools in the U.S., such as Harvard, Princeton, Cornell, Dartmouth, MIT, Columbia and Brown."
Boyea's research involves tracking the brain and muscle activity of recovering stroke patients, as well as observing how damage to the motor cortex—the part of the brain that controls voluntary movements—impacts the body. This data will provide a window into how patients "re-learn" movement after a stroke, as well as lay the foundation for Canino's work to develop a therapeutic device that could assist millions of people who suffer from a stroke every year.
"Once we gather and analyze the results, the end goal is to use it to develop an artificial intelligence system for a robotic exoskeleton," Boyea said.
He explained that stroke patients can experience paralysis on one side of the body, called hemiplegia, or significant one-sided weakness, called hemiparesis. An exoskeleton is a motorized device that is worn externally to assist with movement and increase strength and flexibility to impaired areas.
Canino said the information Boyea collects will ultimately be used to make the exoskeleton "smarter"—specifically, allow it to better anticipate the user's desired movements and improve monitoring of patient progress.
Boyea explained that his involvement in this research project, along with the opportunity to present his work at MIT, will prepare him for postgraduate studies. SUNY Canton's culture of faculty accessibility is what facilitated the partnership, according to Boyea.
"When I spoke to Dr. Canino about my intent to pursue an advanced degree, he offered me the chance to work side-by-side with him on this research. It's truly been a collaborative endeavor."
Canino and Boyea just received a $5,000 grant from the SUNY Canton Provost's Office to continue their work, and if the research results are promising, Canino said, there could be an opportunity to apply for federal funding and conduct nationwide clinical trials.
About SUNY Canton
As Northern New York's premier college for career-driven bachelor's degrees, associate degrees and professional certificate programs, SUNY Canton delivers quality hands-on programs in engineering technology, management, and healthcare fields. It is home to the Center for Criminal Justice, Intelligence and Cybersecurity. Faculty members are noted for their professional real-world experience in addition to outstanding academic credentials. As SUNY's leader in online education, SUNY Canton OnLine offers hundreds of flexible and convenient courses as well as 23 online degree programs. The SUNY Canton Kangaroos 15 traditional athletic teams compete at the NCAA Division III level as part of the North Atlantic Conference. SUNY Canton also features varsity esports and cheerleading.