SUNY Canton Alumni Association Recognizes Two Former Advancement Employees
SUNY Canton's Alumni Association will be bestowing its annual Distinguished Alumni award on two employees whose legacy has made a lasting mark on the advancement of the college.
David M. Gerlach, the college's former vice president for advancement and a 1983 graduate, and Anne Coloton Williams, former assistant to the vice president for advancement and a 1978 graduate, will both be formally recognized at SUNY Canton's Alumni Weekend Celebration. Both will be guests of honor at the 50 Years on the Hill College and Community Gala, which will begin at 5 p.m. Friday, June 1 at the Roos House Convocation, Athletic and Recreation Center.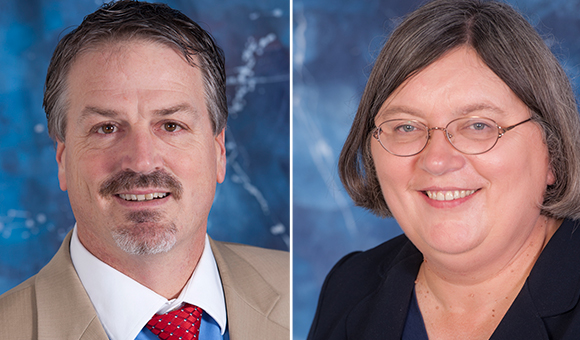 "Typically, we only give one award each year, but this was a special occasion," said Kelly C. Obermayer, SUNY Canton alumni association president and a 1979 alumna. "Dave and Anne's careers were so closely intertwined that it made sense to recognize them both. Together, they've helped many alumni reconnect with their alma mater and have helped build a tradition and culture of philanthropy. Both have established scholarships that will support generations of future students."
Gerlach and Williams worked side-by-side in both the Office of Admissions and then later in the Advancement Division, which oversaw several fast-growing and innovative departments. The Gerlach-Williams team managed the largest fundraising campaign in the college's history.
In his humble beginnings, Gerlach started his 30-year career at SUNY Canton as a student worker in Chaney Dining Center. He became a resident assistant as a student, and then was hired as a residence hall director, and then director of residence life. He later became the dean of enrollment management, which is now equivalent to the director of admissions, and then secured his final position of vice president for advancement.
"Dave and I were fortunate to work at the college during a period of growth, both in enrollment and in physical expansion," Williams said. "I loved working with him both when we were in Admissions and in the Office of Advancement. He was always very supportive of the college and its staff. He's always treated me like I was part of his family."
Gerlach is now the President of Lincoln College, a private liberal arts institution with locations in Lincoln and Normal, Ill.
Williams began her 38-year career in the Word Processing Center. She earned a second degree while working at the college. She became a program aide in admissions where she first began working with Gerlach. In 2004, she continued working alongside Gerlach as the assistant to the vice president for advancement.
"It is not surprising to me that Anne was selected as the distinguished alumna for 2018," Gerlach said. "She has dedicated her entire professional life to furthering the success of SUNY Canton and was instrumental in many of the numerous accomplishments during her tenure. You would often see Anne off to the side engaging alumni in deep discussions as they reminisced together of their time attending our alma mater. I am so proud of my colleague and good friend."
Williams recently retired from her duties at the college.
For more information about the 50 Years on the Hill Gala and to view a complete schedule of events for alumni weekend, please visit SUNY Canton's Alumni Weekend Website. For registration and participation information, please email alumni@canton.edu or call 1-800-811-6727.
About SUNY Canton
As Northern New York's premier college for career-driven bachelor's degrees, associate degrees and professional certificate programs, SUNY Canton delivers quality hands-on programs in engineering technology, management, and healthcare fields. It is home to the Center for Criminal Justice, Intelligence and Cybersecurity. Faculty members are noted for their professional real-world experience in addition to outstanding academic credentials. As SUNY's leader in online education, SUNY Canton OnLine offers hundreds of flexible and convenient courses as well as 23 online degree programs. The SUNY Canton Kangaroos 15 traditional athletic teams compete at the NCAA Division III level as part of the North Atlantic Conference. SUNY Canton also features varsity esports and cheerleading.