Celebrated Author Mary Karr Returns to SUNY Canton for Living Writers Series Event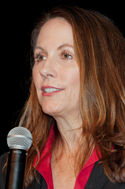 Acclaimed memoirist, poet and bestselling author Mary Karr will visit SUNY Canton this month to discuss her recently published poetry collection "Tropic of Squalor" as part of the college's Living Writers Series.
She will appear at 6:30 p.m. Tuesday, Oct. 30, in the Richard W. Miller Campus Center's Kingston Theater. The event is free and open to the public. Books will be available for purchase and signing after the event.
Karr is most widely known for her genre-defining memoirs, including "The Liars' Club," "Lit" and "Cherry," but regards herself primarily as a poet.
"Tropic of Squalor" was released in May and is her fifth book of poetry. She tackles serious themes of violence and suicide, but also incorporates flashes of comedy and joy. According to the publisher, Karr's "brazen verse calls us out of our psychic swamplands and into that hard-won awareness of the divine hiding in the small moments that make us human."
"In Mary Karr's most recent collection of poems, she explores among other things, the passing of three close friends," said SUNY Canton Associate Professor Phil K. LaMarche, who created the Living Writers Series. "The poems probe the intricacies of grief and faith with an unfaltering focus on the small glistening moments found in both life and loss."
After enduring a traumatic childhood in a small town in East Texas, a period which she writes about in her New York Times bestseller "The Liars' Club," Karr struggled with alcoholism from an early age, eventually getting sober and joining the Catholic Church. She describes writing as a spiritual experience, and her work in "Tropic of Squalor" is influenced by her faith.
"I felt like there was a story that needed to be told about my escape from Texas, which was like hell, to my current situation in New York City, where I see Christ all the time in the faces of bike messengers and doorway sleepers," said Karr in an interview with Syracuse University's Division of Marketing and Communications earlier this year. "There is such grace in the street life of the city. My goal is to capture a moment, so that it lasts forever."
Karr is a Guggenheim Fellow and has won Pushcart prizes for both her poetry and her essays. Her poems have appeared in major literary magazines such The New Yorker and The Atlantic Monthly. She is the Jesse Truesdell Peck Professor of English Literature at Syracuse University.
Karr's colleague and fellow New York Times bestselling author George Saunders, who visited the college in 2014 as part of the Living Writers Series, said of her work, "Mary uses poetry to investigate critical moral questions, such as 'How can we be better people, without sugarcoating our difficulties?' She is a beautifully frank and funny poet, and her work always is situated on something simple, essential and universal."
This is Karr's second appearance at SUNY Canton; she previously discussed her award-winning memoir "Lit" in 2012.
The final guest for the fall semester's installment of the Living Writers Series will be Nana Kwame Adjei-Brenya, who has just been selected by the National Book Foundation to receive the prestigious "5 Under 35" honor. His debut novel, "Friday Black," was released Oct. 23. He will appear at 6:30 p.m., Nov. 28, in the Kingston Theater.
Learn more about the Living Writers Series at www.canton.edu/writers.
About SUNY Canton
As Northern New York's premier college for career-driven bachelor's degrees, associate degrees and professional certificate programs, SUNY Canton delivers quality hands-on programs in engineering technology, management, and healthcare fields. It is home to the Center for Criminal Justice, Intelligence and Cybersecurity. Faculty members are noted for their professional real-world experience in addition to outstanding academic credentials. As SUNY's leader in online education, SUNY Canton OnLine offers hundreds of flexible and convenient courses as well as 23 online degree programs. The SUNY Canton Kangaroos 15 traditional athletic teams compete at the NCAA Division III level as part of the North Atlantic Conference. SUNY Canton also features varsity esports and cheerleading.