SUNY Canton Professor Finds Ways for Multicultural Urban Students to Pull Ahead
Educators should look at presenting topics in a way that is directly related to the lives of their students, according to a SUNY Canton professor's new research.
Eunjyu Yu, who teaches English at the college, suggests relevant subject materials, and support from parents, can help urban American students advance farther in math and science. Yu recently published "The Impact of Culturally Inclusive Pedagogy on Student Achievement in a Multicultural Urban School Setting" in Urban Education, a bi-monthly peer-reviewed journal.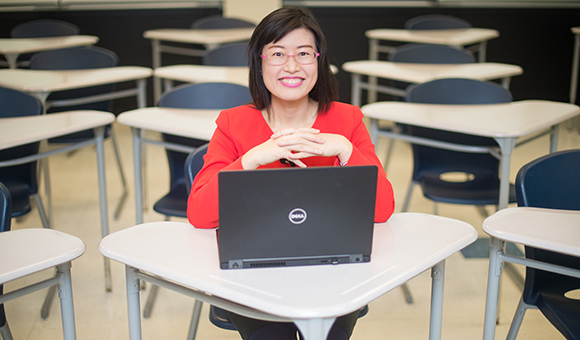 "A culturally inclusive approach emphasizing a connection between school work and students' real-world experiences can link in-school and out-of-school learning," Yu said. "It is important to make a connection between school subject content and students' home and community cultures. By doing this, we can enhance students' self-esteem, critical thinking skills and academic achievement."
The experienced researcher explained that math equations involving average snowfall would be appropriate in Northern New York but would not be relevant for students who have never experienced cold weather.
"International students won't be able to relate to Halloween or other traditional American Holidays," she said. "The best practice is to take advantage of students' cultural backgrounds as an asset to enhance their academic achievement."
She also indicated that parents or guardians were the most common resource for a students and tutoring help, which furthers the need for culturally-relatable subject matter.
Her research was derived from a study with 43 teachers and 175 multicultural students from urban public schools who were exposed to culturally relevant teaching methods.
Yu frequently explores and writes about how modern students from diverse backgrounds engage in learning. She is the first-place winner of the 2018 Open SUNY Effective Practice Award for her innovative teaching methods. She was awarded the Honorable Mention of the 2013 English Leadership Quarterly Best Article of the Year Award by the National Council of Teachers of English.
About SUNY Canton
As Northern New York's premier college for career-driven bachelor's degrees, associate degrees and professional certificate programs, SUNY Canton delivers quality hands-on programs in engineering technology, management, and healthcare fields. It is home to the Center for Criminal Justice, Intelligence and Cybersecurity. Faculty members are noted for their professional real-world experience in addition to outstanding academic credentials. As SUNY's leader in online education, SUNY Canton OnLine offers hundreds of flexible and convenient courses as well as 23 online degree programs. The SUNY Canton Kangaroos 15 traditional athletic teams compete at the NCAA Division III level as part of the North Atlantic Conference. SUNY Canton also features varsity esports and cheerleading.