SK Gaming Helps SUNY Canton Esports Level Up the Game
A Mountain Dew AMP Game Fuel student Instagram challenge brings German gamers to campus for an in-person visit.
Two professional League of Legends players and their manager from SK Gaming in Germany coached SUNY Canton's esports students over the weekend.
Last spring, SUNY Canton students entered an Instagram challenge to promote Mountain Dew's newest release, AMP Game Fuel. The visit from SK Gaming was the grand prize for the competition.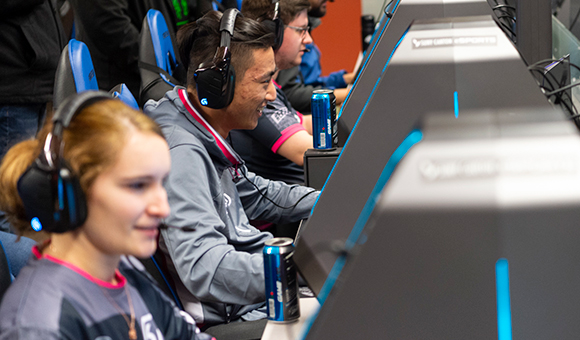 PROFESSIONAL EXPERIENCE - Steven Chen (pictured middle), a professional League of Legends player from SK Gaming in Germany, plays with members of SUNY Canton's team during a campus visit on Saturday.
"The students were awe-struck after meeting some of their heroes from the professional gaming world," said Charles Murray, the college's esports coordinator. "I believe their lessons and their poise will have a lasting impact on our teams."
SUNY Canton currently has about a dozen students who play League of Legends competitively on two teams. The two players, Garrit Stukemeier (Phrenic) and Steven Chen (Reeker) each played on a team to scrimmage the other. Team manager René Spanier accompanied the teammates and discussed game strategy with college coaches. The visit was orchestrated by Mountain Dew AMP Game Fuel.
"We met dedicated players and great personalities, like ToastyTG [Alec Knowles], Joe [Canton], Kasey [Palmer] and many more," Spanier said in a tweet. "Let's stay in touch and maybe we can come around once more."
Knowles, who is a Graphic and Multimedia Design major from Parishville, said the experience was amazing for the team.
"Thank you so much for taking the time to come see us," he said. "On behalf of the League team here at SUNY Canton, it means the world to us to see such talented players and staff."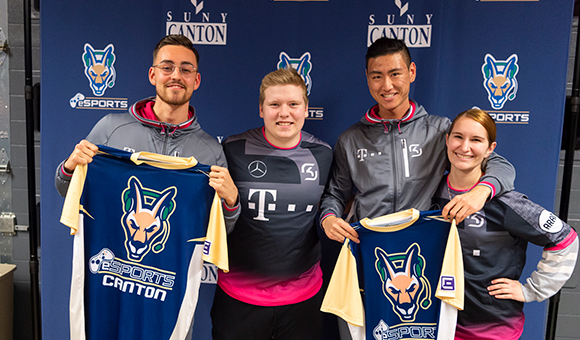 ESPORTS WELCOME – Pictured (l to r) are Garrit Stukemeier, Alec Knowles of Parishville, Steven Chen, and Kasey Palmer of Verona. Knowles and Palmer presented SUNY Canton Esports Jerseys to Stukemeier and Chen who both play League of Legends professionally for SK Gaming during a campus visit sponsored by Mountain Dew AMP Game Fuel.
Stukemeier said that despite being a world-recognized professional player, his position on the team is much like any other job, but with different hours. In addition to playing video games 8 to 10 hours a day, players work out three times a week, and meet with a sports psychologist to help them improve their performance.
Both Stukemeier and Chen were impressed with the college's $500,000 Esports Arena, which features state-of-the art Alienware computers with high-speed, low-latency internet connections provided by Extreme Networks.
About SUNY Canton
As Northern New York's premier college for career-driven bachelor's degrees, associate degrees and professional certificate programs, SUNY Canton delivers quality hands-on programs in engineering technology, management, and healthcare fields. It is home to the Center for Criminal Justice, Intelligence and Cybersecurity. Faculty members are noted for their professional real-world experience in addition to outstanding academic credentials. As SUNY's leader in online education, SUNY Canton OnLine offers hundreds of flexible and convenient courses as well as 23 online degree programs. The SUNY Canton Kangaroos 15 traditional athletic teams compete at the NCAA Division III level as part of the North Atlantic Conference. SUNY Canton also features varsity esports and cheerleading.