Two Classes Graduate from SUNY Canton Corrections Academy
Intensive trainings prepare officers to handle their careers with integrity.
SUNY Canton's Center for Criminal Justice, Intelligence and Cybersecurity (CJIC) helped prepare 15 individurennals for promising careers in corrections.
Over the summer, two classes of cadets graduated from the SUNY Canton Corrections academy, which is a collaborative training effort sponsored by the college, the St. Lawrence County Sheriff's Office and the New York State Division of Criminal Justice Services.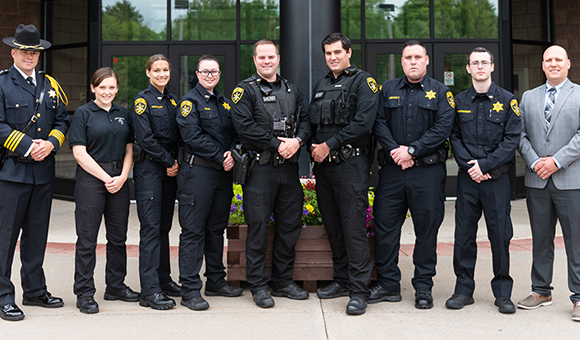 "As corrections officers, you serve as the core of the criminal justice system," said St. Lawrence County Sheriff Brooks J. Bigwarfe, citing an adage originally said by his predecessor, retired sheriff Kevin M. Wells. "Your professionalism and dedication to maintaining public safety ensures inmates have an opportunity for successful re-entry into our communities."
Bigwarfe noted that the graduating classes of cadets exemplify the core values of corrections officers, including service to the community, reverence for the law, respect for all people, and integrity.
The six-week intensive and often grueling academy training is primarily led by Corporal Rodney G. Votra, programs director and training coordinator for the St. Lawrence County Sheriff's Office. "The cadets came to the academy with a determination for success in the career of law enforcement," Votra said. "They bond and work together as a group while working hard to prove themselves worthy of the badge."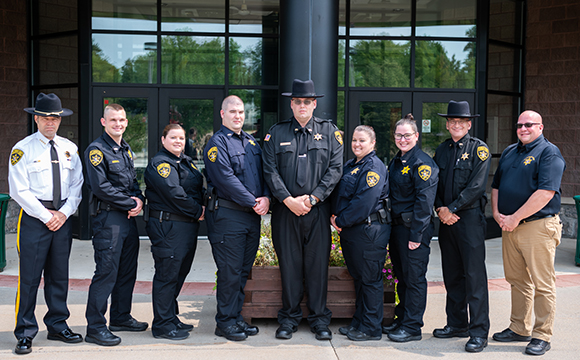 Professor Elizabeth A. Brown, Ph.D., who teaches in the college's Criminal Investigation program and oversees the CJIC, addressed the cadets at the conclusion of the academy. "We are so proud of your hard work," she said. "We applaud your enthusiasm to embark on a career in the law enforcement field."
Among the 2021 graduates of both sections of the SUNY Canton Corrections Academy were cadets from two different counties who were beginning careers with their sponsoring agencies.
From the St. Lawrence County Sheriff's Office were:
Brad W. Andrus of Potsdam.
Brianna D. Durham of Harrisville. Durham won a most improved award and graduated from SUNY Canton in May 2021.
Emily K. Hulse of Norfolk.
Jordan A. Kendall of Madrid. Kendall won a team builder award.
Brooke F. LaBarr of Parishville.
Tyler F. Legault of Ogdensburg.
Morgan E. Macaulay of Brier Hill. Macaulay is both a SUNY Canton student and a St. Lawrence County corrections officer.
Bruce G. Manson of Fort Covington.
Leighanne Mullaney of

Rensselaer Falls

. Mullaney won a hardest worker award.
Alicia M. Vallance of Lisbon.
Tyler C. Whitmarsh of Canton. Whitmarsh won a hardest worker award.
From the Franklin County Sheriff's Office were:
Aaron C. Donaldson of Brushton. Donaldson won a team builder award.
William Garwood of Malone.
Keegan B. Muldowney of Saranac Lake.
Criminal Investigations major Brooke F. LaBarr of Parishville, graduated alongside the officers starting their careers. LaBarr received a most improved award during the academy graduation ceremony. Students are allowed to enroll for college credit as part of their degree programs.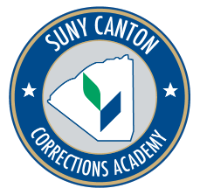 The SUNY Canton Corrections Academy runs alongside the college's Summer Sessions and are held in the newly renovated Dana Hall building. The curriculum incorporates a combination of traditional lectures and hands-on training. Graduates learned defensive tactics, hostage-survival techniques, first aid, crime scene preservation, effective communication strategies, and other safety procedures.
About SUNY Canton
As Northern New York's premier college for career-driven bachelor's degrees, associate degrees and professional certificate programs, SUNY Canton delivers quality hands-on programs in engineering technology, management, and healthcare fields. It is home to the Center for Criminal Justice, Intelligence and Cybersecurity. Faculty members are noted for their professional real-world experience in addition to outstanding academic credentials. As SUNY's leader in online education, SUNY Canton OnLine offers hundreds of flexible and convenient courses as well as 23 online degree programs. The SUNY Canton Kangaroos 15 traditional athletic teams compete at the NCAA Division III level as part of the North Atlantic Conference. SUNY Canton also features varsity esports and cheerleading.