New Construction at SUNY Canton Focuses on Accessibility and Sustainability
State University of New York Construction Fund sponsored projects help reshape the modern campus.
SUNY Canton's French Hall is undergoing a radical transformation as part of a series of projects designed to make the college's hill campus more accessible and more environmentally friendly.
Construction crews are currently removing the granite retaining walls and staircase that lead to the Roselle Plaza. The project will replace the area with a series of pedestrian and accessible routes linking the administrative building to the heart of campus and allow for a new outdoor amphitheater. It is one of several active capital improvement projects totaling more than $6 million currently underway across campus.
"These projects are mostly funded through the State University Construction Fund Capital Program," said Michael McCormick, Executive Director of Facilities. "We work closely with the Construction Fund to identify our priorities for improvement. Working together, we find a way to move forward."
The campus grounds crew has been transplanting many of the affected flowers and plants to other locations across campus to preserve the vegetation.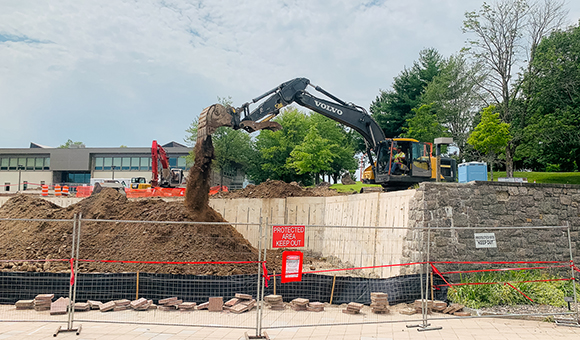 Additional renovations of French Hall focus on updating the building to meet Americans with Disabilities Act guidelines, in addition to retrofitting the building to meet New York State's Climate Leadership and Community Protection Act requirements. The ambitious set of climate-related mandates include a 40% decrease in greenhouse gas emissions by 2030 and 85% by 2050; and energy reduction of 185 trillion BTUs from the forecasted usage of 2025. 70% of the State's electricity to be generated from zero emissions sources by 2030, and 100% by 2040.
"The renovation of French Hall eliminates natural gas as a heat source," McCormick said. "It will be totally electrified. We're going to be using geothermal systems to heat and cool the building and are planning small scale wind technology to supplement the campus' electrical needs. When the project is complete, data suggests French Hall will use approximately 50,000 less kilowatt hours annually."
McCormick noted that the college has already made the building more efficient by upgrading the building envelope and replacing the roofing, windows, doors, and related insulation systems. "Most recently we completed renovations to the parking lot and perimeter walks addressing accessibility to and from the building," he said.
Other current projects include:
Replacing the switchgear and electrical panels in Wicks and MacArthur Halls.
Reconstructing Cooper Service Complex Parking Lot for accessibility.
A Clean Energy Master Plan to identify ways to save energy and further implement renewable resources.
"We are considering plans to increase sustainability efforts at our athletic facility by using rainwater collected at the CARC to resurface the ice," McCormick said, noting that the LEED Silver building already has a rainwater harvesting system in place to use water from the roof to flush toilets and for other non-potable applications. "Each time the ice is resurfaced, up to 200 to 275 gallons of water is used."
Other sustainable initiatives currently in place at the Roos House include water bottle filling stations throughout the building, and an electric Zamboni ice resurfacer and ice edger. "Most recently we are replacing trimmers, leaf blowers and push mowers used at the CARC with battery powered equipment," McCormick said. "We are currently replacing lighting throughout the ice arena with new, efficient, LED lighting and have plans to complete the remainder of the building this time next year."
Future plans include reconfiguring the athletic center's front parking area to increase visibility and accessibility, which was recently made feasible when power lines were removed and rerouted by the New York Power Authority. As part of the Clean Energy Master Plan, upcoming projects will identify ways to use waste heat from the ice refrigeration system.
"We currently utilize heat produced by the system in our locker rooms and preheat water for domestic needs throughout the building," McCormick said. "However, we are using only a fraction of the heat available and there is always room for improvement."
The most recent slew of renovations come just a year after the college completed $13.5 million in capital improvement projects, which included the total renovation of Dana Hall, which has become the home of the College's Center for Criminal Justice, Intelligence and Cybersecurity. The college also completed a new esports wing in Heritage Residence Hall last year.
About SUNY Canton
As Northern New York's premier college for career-driven bachelor's degrees, associate degrees and professional certificate programs, SUNY Canton delivers quality hands-on programs in engineering technology, management, and healthcare fields. It is home to the Center for Criminal Justice, Intelligence and Cybersecurity. Faculty members are noted for their professional real-world experience in addition to outstanding academic credentials. As SUNY's leader in online education, SUNY Canton OnLine offers hundreds of flexible and convenient courses as well as 23 online degree programs. The SUNY Canton Kangaroos 15 traditional athletic teams compete at the NCAA Division III level as part of the North Atlantic Conference. SUNY Canton also features varsity esports and cheerleading.