SUNY Canton Engineering Technology Students Present Green Research for Earth Day
A majority of SUNY Canton senior projects from the Canino School of Engineering Technology emphasized green trends.
"Our faculty promote sustainability and our students are taking that to heart," said Canino School of Engineering Technology Dean Michael J. Newtown. "We all see the need for sustainability in everything that we do to help protect the earth's precious resources."
Beach Comber
A team of four students from the Mechanical Engineering Technology program are building a device to clean trash from area beaches. The device is loosely named the "Beach Roomba" and resembles a small steel cage set on large black wheels with a plow and conveyor belt system to lift and filter sand.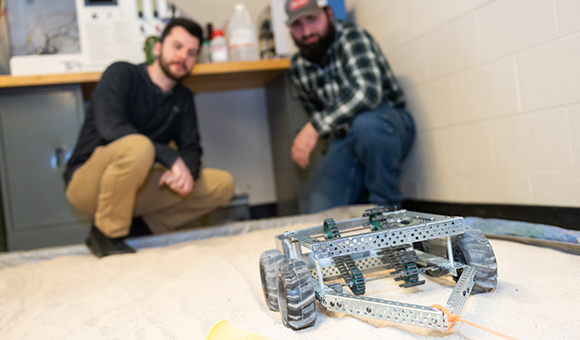 "Our idea was to make a small-scale device for local beaches, like Higley Flow State Park or Taylor Park Beach," said Patrick A. Taillon of Madrid. "It shovels and sifts the top inch of sand to remove any garbage."
Most area beaches use a tractor-drawn rake system or human volunteers to clean up the shores. As part of the project, students are looking at small remote-control electric vehicles to power their creation, eliminating the need for a gasoline-powered vehicle entirely.
"Industrial beach cleaners are commercially available," noted Zachery C. O. Miner of Plattsburgh. "Economically, they don't quite meet the needs of our smaller beaches."
Other members of the team include Owen W. Kuca of Morristown and Benjamin York of Auburn.
Voltage Victory
With the popularity of electric vehicles on the rise, five other Mechanical Engineering Technology majors decided to retrofit a fuel-burning motorcycle with lithium-ion battery power. The team completely removed the gasoline engine from a 2006 Victory Vegas Jackpot motorcycle and swapped in an electric motor. They used 1,400 small batteries run in series and parallel circuits to deliver 6,060 watts to the back wheel.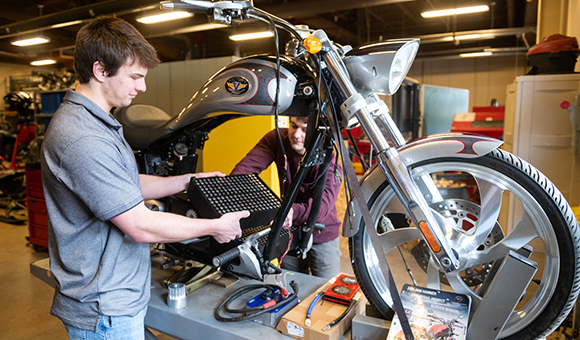 "Sustainability has been an ongoing theme throughout our education since we were freshman," said Bryan J. Levy of Wappingers Falls. "As the world heads in the direction of electric transportation there are many existing internal combustion engine vehicles that will either sit idle or be scrapped. We wanted to see if it was economical to retrofit one of them."
Using their combined skills, the students designed and built many of the key components to put the bike into motion. Some parts were milled in the college's machine shop, like the belt-drive sprocket, and some others had to be custom 3D printed on campus.
"We tried to keep all of the stock components that we could," said Kenneth J. Timerman of LaFargeville. "We also built a battery welder using leftover parts from the bike."
The team received a substantial donation of parts to offset their out-of-pocket costs from Lipkvich Fabrication in Maine.
The electric motorcycle team also included Conner E. Morse of Chazy, Jonathan D. Monnat of Watertown and Dylan J. Tyo of Massena. Most of the students were also involved in a wood gasifier project which uses timber to power an internal-combustion engine to efficiently generate electricity.
Testing the Waters
Another group of students from the Civil and Environmental Engineering Technology program conducted water testing at nearby Black Lake. The team was testing for nutrient loading, or pollution that can cause significant water quality issues.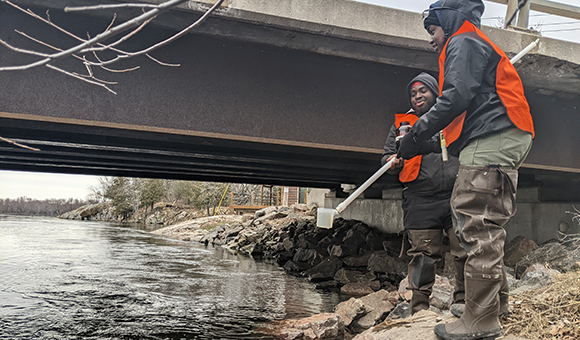 "Cabins with faulty septic tanks and nearby farms in Hammond and De Peyster could be the cause," said Ladonna S. Smith of Mount Vernon. "This study will help understand contributing factors to the Black Lake nutrient issues."
Students conducted field tests for basic water quality parameters and collected samples for laboratory nutrient tests. The data collected establishes a baseline for future testing by students, according to faculty members. Testing area watersheds is integrated into the program's curriculum.
Smith was joined by classmates Yusuf Jabbie of the Bronx and Anderson Madina of Spring Valley for the project. They collaboratively presented their findings during the recent SUNY Canton Scholarly Activities Celebration.
About SUNY Canton
As Northern New York's premier college for career-driven bachelor's degrees, associate degrees and professional certificate programs, SUNY Canton delivers quality hands-on programs in engineering technology, management, and healthcare fields. It is home to the Center for Criminal Justice, Intelligence and Cybersecurity. Faculty members are noted for their professional real-world experience in addition to outstanding academic credentials. As SUNY's leader in online education, SUNY Canton OnLine offers hundreds of flexible and convenient courses as well as 23 online degree programs. The SUNY Canton Kangaroos 15 traditional athletic teams compete at the NCAA Division III level as part of the North Atlantic Conference. SUNY Canton also features varsity esports and cheerleading.