SUNY Canton Graphic and Multimedia Design Adjunct Releases Potsdam Documentary
The locally produced video hit 13 on Apple's documentary charts and plunges into a complicated narrative of north country toilet garden art installations.
A SUNY Canton adjunct instructor has released his directorial debut "Potty Town: Where Protest meets Porcelain" available on Apple TV and Amazon Prime.
Morgan D. Elliott, who teaches Digital Video Editing and Time-Based Media in the Graphic and Multimedia Design program, became interested in the story behind Potsdam landowner Frederick "Hank" Robar's toilet garden installations while he was working as the college's videographer.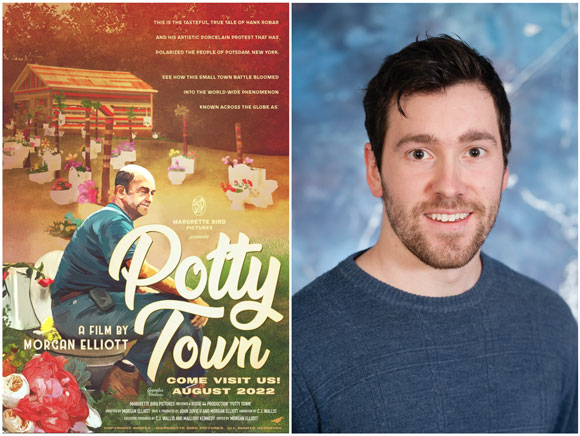 "It is tremendously advantageous to have faculty members with demonstrated real-world experience," said Canino School of Engineering Technology Dean Michael J. Newtown. "Morgan joins the experienced electricians, engineers and video-game developers who offer students a competitive advantage through their own professional backgrounds."
The one-hour and six-minute feature sheds light on the ongoing conflict between Robar and the village of Potsdam. Approximately 18 years ago, Robar asked to have one of his properties rezoned to accommodate a new Dunkin' Donuts location. After being denied, Robar planted a field of corn on the vacant lot, dubbed "Protest Corn" by the local media. The symbolic demonstration evolved to include scarecrows, undergarments hung on clotheslines, a large plastic turtle, garish painted buildings, and toilets adorned with plastic flowers.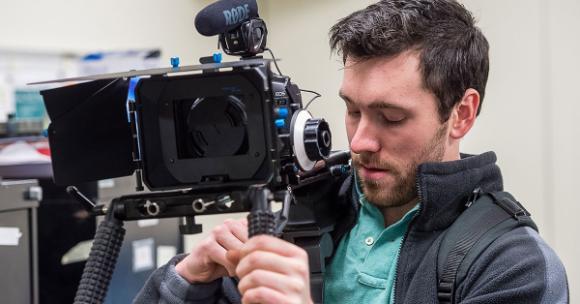 "I learned a lot while working for SUNY Canton's Public Relations office," Elliott said. "I was developing a lot of profiles and program videos, which are basically mini documentaries. It also allowed me to hone my editing abilities after college."
Potsdam officials tried, unsuccessfully, to quell Robar's displays, which have appeared at several different properties around the village. The unique installations have been described as banal and an eyesore, with some residents and business owners claiming they lower property values and detract from the atmosphere. To Robar, and almost every legal authority, the toilets are the result of his artistic expression, and subsequently protected under his Constitutional rights.
"I always tell my students that if they find a story that interests them that they should go cover it," the director said. "I also tell them to go into a story openminded and to be flexible and listen to people."
Elliott began a series of interviews about the toilets with area journalists while working full-time at SUNY Canton, including one with former Esports Coordinator Robert J. Snow, who was one of the original reporters to break the story for the Courier-Observer in Potsdam. Several other SUNY Canton employees and friends of the college are featured throughout the video.
While he was working full-time at SUNY Canton, Elliott produced numerous academic and student-life focused videos, including four that were selected for awards by the State University of New York Council on Advancement. He now owns and operates Ridge 44 Productions out of Rensselaer Falls. He earned his bachelor's degree in television and video production from SUNY Plattsburgh and his Master of Fine Arts in creative writing from Boston University.
About SUNY Canton
As Northern New York's premier college for career-driven bachelor's degrees, associate degrees and professional certificate programs, SUNY Canton delivers quality hands-on programs in engineering technology, management, and healthcare fields. It is home to the Center for Criminal Justice, Intelligence and Cybersecurity. Faculty members are noted for their professional real-world experience in addition to outstanding academic credentials. As SUNY's leader in online education, SUNY Canton OnLine offers hundreds of flexible and convenient courses as well as 23 online degree programs. The SUNY Canton Kangaroos 15 traditional athletic teams compete at the NCAA Division III level as part of the North Atlantic Conference. SUNY Canton also features varsity esports and cheerleading.