SUNY Construction Fund-Sponsored Projects Continue SUNY Canton's Campus Upgrades
SUNY Canton's campus is undergoing a remarkable makeover, thanks to the State University of New York Construction Fund's support on various projects.
The most dramatic transformations are underway at French Hall, where area contractors have removed the granite retaining walls and installed a sloping path connecting the administrative building to the central campus area. The college has also installed a new amphitheater for outdoor classes and events.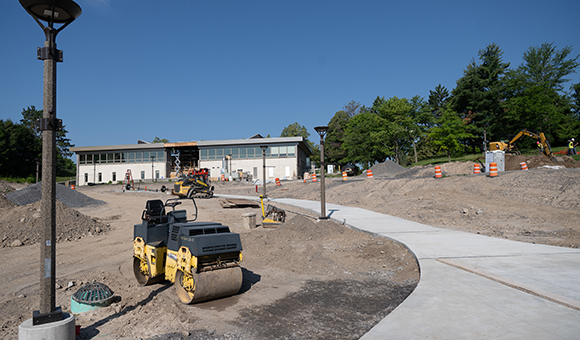 According to Assistant Vice President for Facilities Michael R. McCormick, the upgrades are part of the second phase of French Hall's renovation.
"The project includes new accessible walks, minimal stairs, and rails from French Hall to Roselle Plaza," McCormick said. "It includes LED lighting, trees, landscaping, stone veneer retaining walls and the outdoor amphitheater. It is expected to be substantially complete by October."
Other improvements include new geothermal wells in Parking Lot 7, eliminating the need for natural gas to heat the building. The college also plans to add a ducted wind turbine to offset electrical energy usage and help meet New York State's Climate Leadership and Community Protection Act requirements.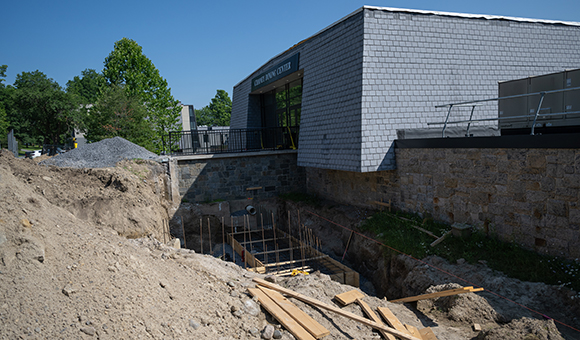 The multi-year project will radically alter an exterior portion of the campus that has remained primarily unchanged since SUNY Canton relocated to its current location in 1968. Several of the eleven active projects currently underway on campus are all specific to French Hall.
Other current projects include:
Renovating the intersection of Nevaldine Hall's North and South portions to improve accessibility.
Replacing roofs on Chaney Dining Center and MacArthur Hall.
Reconstructing walkways connecting Payson, Rushton and Heritage Halls.
Repaving and augmenting the Chaney Dining Center parking lot.
Restoring the exterior façade of Wicks Hall.
Upgrading Newell Veterinary Technology Center to meet the needs of evolving education.
Replacing an elevator in Smith Hall.
The college has 10 additional capital improvement projects in the design phase, including renovating the academic plaza and constructing the college's proposed child care center. There are also about a dozen future projects on the horizon. McCormick said the future of the college's physical presence is outlined in the Facilities Master Plan, which guides the renovation and transformation of the modern campus.

"These projects are mostly funded through the State University Construction Fund Capital Program," McCormick said. "We work closely with the Construction Fund to identify our priorities for improvement. Working together, we find a way to move forward."
A complete list of all construction projects and renderings of the projects are available on SUNY Canton's Project Update Page.
Numerous North Country Companies provide the expertise necessary to complete the work on campus. Area contractors and subcontractors contributing to the college's ongoing growth include A.A.C. Contracting, Inc., Waddington; All Seasons Landscaping, Lowville; Burns Bros. Contractors, Potsdam; Collins-Hammond Electrical Contractors, Ogdensburg; Con Tech Building Systems, Inc., Gouverneur; Empire Northeast, Gouverneur; Fourth Coast, Clayton; Hyde-Stone Mechanical, Potsdam; Jeffords Steel and Engineering, Potsdam; Northern Glass Company, Canton; Northern Tier Contracting, Inc., Gouverneur; Norwood Plumbing, Inc., Norwood; PTL Contracting Corp., Theresa; Racquette River Contracting, Madrid; RSI Roofing, Inc., Gouverneur;
Ruston Paving Company, Inc., Watertown; and TEL Inc., Heuvelton.
About SUNY Canton
As Northern New York's premier college for career-driven bachelor's degrees, associate degrees and professional certificate programs, SUNY Canton delivers quality hands-on programs in engineering technology, management, and healthcare fields. It is home to the Center for Criminal Justice, Intelligence and Cybersecurity. Faculty members are noted for their professional real-world experience in addition to outstanding academic credentials. As SUNY's leader in online education, SUNY Canton OnLine offers hundreds of flexible and convenient courses as well as 23 online degree programs. The SUNY Canton Kangaroos 15 traditional athletic teams compete at the NCAA Division III level as part of the North Atlantic Conference. SUNY Canton also features varsity esports and cheerleading.