SUNY Canton Cybersecurity Educator Invited to HUSTLE Defense Accelerator
A SUNY Canton associate professor is revolutionizing approaches to cybersecurity through his innovative simulation software.
Kambiz Ghazinour, who teaches in the college's thriving Cybersecurity program, is the part-time CEO of CyberSpara, Inc., and holds the patent on the company's game-based Digital-Privacy and Security Simulation (DigitalPASS). The company was recently invited to participate in this year's Helping Upstate Science Technology Leaders and Entrepreneurs (HUSTLE) Defense Accelerator at the Griffiss Institute in Rome, N.Y.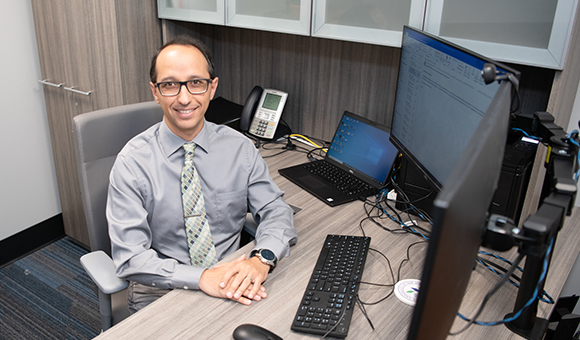 "DigitalPASS is transforming how we approach cybersecurity through its innovative simulation platform," Ghazinour said. "It's designed to raise digital awareness and mitigate cyber threats by using an immersive, realistic experience that analyzes their cyber behavior."
Using a multi-stream business model, CyberSpara has established itself as a promising new provider of cybersecurity solutions. DigitalPASS has attracted the attention of various organizations, including St. Lawrence-Lewis BOCES, local CSDs and defense agencies, like the U.S. Air Force Research Laboratory and the Griffiss Institute in Rome.
The web-based platform provides users with a flexible and accessible solution to their cybersecurity educational needs. Case studies have shown that after just one round, users experience a 30% increase in cyber awareness, highlighting the effectiveness of the software.
HUSTLE is an elite 12-week training academy for startups to help advance artificial intelligence, machine learning, cybersecurity, quantum science, and drone aircraft system solutions. "Our team was selected for its potential to elevate National security and because we provide an economically competitive solution," Ghazinour said.
During the program, the CyberSpara team will have the opportunity to hone their business, receive insight from professional stakeholders and further tailor their software for government applications. Ghazinour said students would have opportunities to join internship positions with CyberSpara to assist with the program.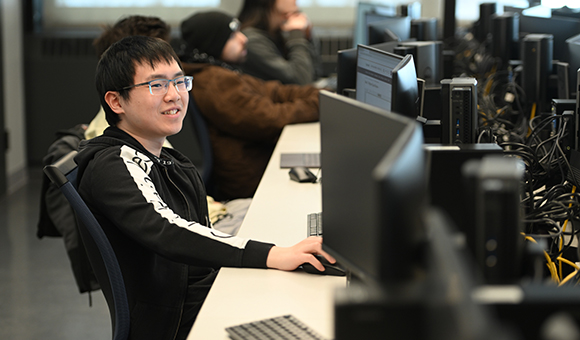 The startup works directly through the SUNY Research Foundation. Last year, the company received $100,000 from HUSTLE, which came in addition to numerous other grants and governmental funding.
SUNY Canton's Bachelor of Science in Cybersecurity program is among the most in-demand offerings available through the Center for Criminal Justice, Intelligence and Cybersecurity. It is available in both in-person and fully online formats.
About SUNY Canton
As Northern New York's premier college for career-driven bachelor's degrees, associate degrees and professional certificate programs, SUNY Canton delivers quality hands-on programs in engineering technology, management, and healthcare fields. It is home to the Center for Criminal Justice, Intelligence and Cybersecurity. Faculty members are noted for their professional real-world experience in addition to outstanding academic credentials. As SUNY's leader in online education, SUNY Canton OnLine offers hundreds of flexible and convenient courses as well as 23 online degree programs. The SUNY Canton Kangaroos 15 traditional athletic teams compete at the NCAA Division III level as part of the North Atlantic Conference. SUNY Canton also features varsity esports and cheerleading.