SUNY Canton Students Receive Academic Awards at Honors Convocation
Nearly 200 SUNY Canton students received academic awards at the Paula Bouchard Jacques Honors Convocation.
The event is named annually for a retired faculty member who contributed significantly to the college, its students, and the greater north country region. Professor Jacques taught in the college's Nursing program for 37 years.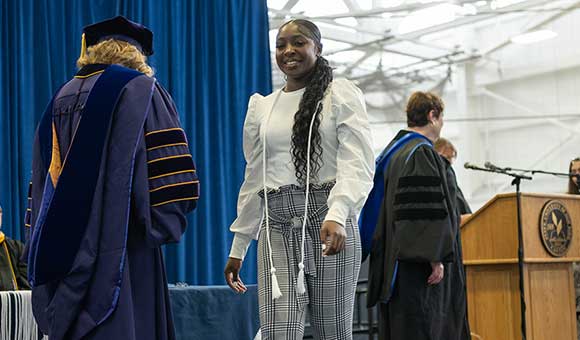 "Throughout her career and retirement, Professor Jacques has valued the importance of her relationships with colleagues, students and her community," said SUNY Canton President Zvi Szafran. "As we gather today to recognize and celebrate your academic achievements, I encourage you to reflect on the importance of cultivating strong relationships with those around you."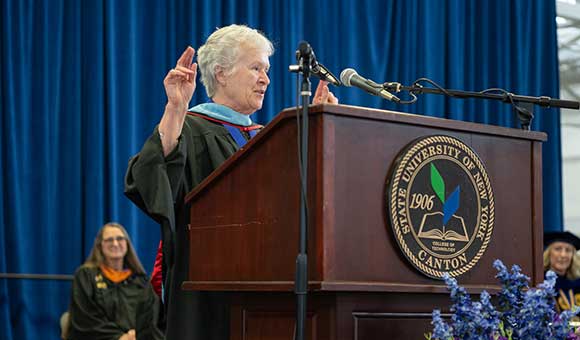 Professor Jacques emphasized the importance of the three C's while teaching. Her adage included confidence, competence and caring. "For today, there are two more C's," Jacques told the audience. "Celebration of your achievements, and congratulations, we are proud of you."
Honors Convocation recognizes students who've achieved the top GPA for their class year within their program of study. In addition to this web announcement, students were sent a Merit achievement through their campus email. Students who have requested confidentiality are excluded from published lists.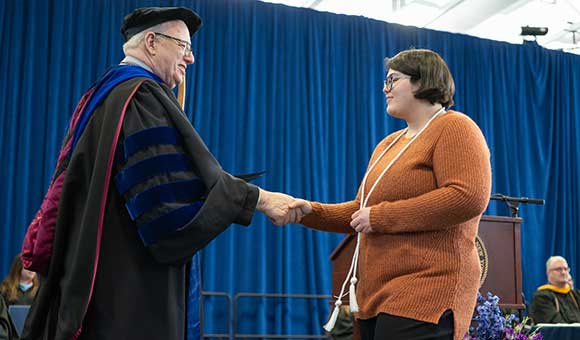 Students recognized include:
Carol Alagna, Legal Studies
Jaynne Alcock, Veterinary Service Admin
Tanner Amell, Management
Zachary Ammann, Information Technology
Eric Armstrong, Automotive Technology
Roxanne Auger-Thompson, Veterinary Technology
Lydia Austin, Graphic and Multimedia Design
Brandon Averitt, Sports Management
Sarah Balcom, Physical Therapist Assistant
Charlotte Baldwin, Graphic and Multimedia Design
Katie Bartlett, Health Care Management
Claudia Benitez, Legal Studies
Kenan Bilong, Civil and Environmental Engineering Technology
Kirk Black, Electrical Engineering Technology
Jonah Black, Forensic Criminology
Gennifer Boyer, Agribusiness Management
Dylan Bradley, Information Technology
Angelina Breen, Early Childhood Care and Management
Elizabeth Brennan, Funeral Services Administration
Nelson Bricker, Legal Studies
Harry Browne, Esports Management
Sonny Buffalo, Legal Studies
Ryan Burgos, Mechanical Engineering Technology
Anthony Cantando, Technological Communications
Hannah Castro-Lozano, Applied Psychology
Kyle Chen, Game Design and Development
McKenna Christiansen, Liberal Arts and Sciences: General Studies
William Churchill, Mechanical Engineering Technology
Emma Clark, Veterinary Technology
Kevin Clary, Cybersecurity
Karissa Collins, Game Design and Development
Xavier Collins, Cybersecurity
Joshua Conte, Graphic and Multimedia Design
Megan Cowles, Crime Analysis
Betsy Cronk, Individual Studies- Business
Jeffrey Crump, Electrical Engineering Technology
Shelby Currier, Technological Communications
Zachary Davis, Finance
Mathew Dean, Civil Engineering Technology
Lisa Devens, Cybersecurity
Ruth DeVeronica, Finance
Vincent DeVito, Cybersecurity
Pierce Diamond, Management
Dominic Dowling, HVAC Engineering Technology
Anthony Driscoll, Legal Studies
Jeffery Dumas, Information Technology
Nicholas Dustin, Game Design and Development
Leslie Eklund, Legal Studies
Tylan Emch, Veterinary Science Technology
Kyle Fingar, Industrial Technology Management
Conner Flynn, Finance
Daniel Folk, Game Design and Development
Brooke Foster, Applied Psychology
Calista Fraser, Mechatronics Technology
Brandon Freeman, Game Design and Development
Jenna Froio, Applied Psychology
Edward Gallant, Applied Psychology
Shannel Garrow, Management
Christopher Gensler, Computer Information Systems
Jaina Gibbons, Forensic Criminology
Rebecca Gonyea, Undeclared Major
Alec Gorman, Criminal Justice
Tobias Hall, Game Design and Development
Debora Hall, Legal Studies
Joshua Hall, Electrical Construction & Maintenance
Christopher Hall, Health and Fitness Promotion
Tyler Hardial, Cybersecurity
Fatima Hassad-Khan, Early Childhood Care and Management
Madison Henning, Legal Studies
Christian Heyl, Game Design and Development
Emma Hicks, Law Enforcement Leadership
Matteson Hoehn, Legal Studies
Jennifer Homrighaus, Game Design and Development
Kelson Hooper, Liberal Arts and Sciences: General Studies
Genna Ihlenburg, Legal Studies
Michael Jent, Nursing
Jaelynn Jessmer, Applied Psychology
Abigail John, Crime Analysis
Richard Joiner, Mechanical Engineering Technology
Isabella Joy, Forensic Criminology
Molly King, Veterinary Science Technology
Caleb Knowles, Physical Therapist Assistant
Brogan LaRose, Sports Management
Owen Larrow, Business Administration
Eli Larson, Mechatronics Technology
Lisa Lawrence, Health Care Management
Spencer Lawrence, Computer Information Systems
Ethan Leibeck, Mechanical Engineering Technology
Shinshin Leiva, Law Enforcement Leadership
Eden Lockwood, Finance
Kaitlynn Long, Nursing
Kimberly Lugo, Crime Analysis
Patrick Madonna, Information Technology
Chad Mason, Law Enforcement Leadership
Dekoda Matthews, Nursing
Hailey Matthews, Physical Therapist Assistant
Mark McGrath, Homeland Security
Jeremy McHatton, Cybersecurity
Mahala McIntosh, Electrical Engineering Technology
Reilly McKinnon, Construction Technology: Management
Kyle Meagher, Cybersecurity
Miranda Mejia, Funeral Services Administration
Sarah Messinger, Veterinary Service Administration
Cassidy Michalicka, Nursing
Sarah Mohamed, Cybersecurity
Marianna Morgan, Funeral Services Administration
Elisa Morgan, Management
Ashten Morris, Business Administration
Brady Morrison, Criminal Justice
Brendan Morrow, Civil and Environmental Engineering Technology
Van Moussavou Moussavou, Electrical Engineering Technology
Andrew Muha, Cybersecurity
Ryan Murphy, Emergency Management
Raven Murphy, Early Childhood Care and Management
Charles Murray, Business Administration
Emily Musingo, Finance
David Necaise, HVAC Trades
Reed Nichols, HVAC Trades
Claire Noftell, Mechanical Engineering Technology
Lea O'Brien, Game Design and Development
Emilie O'Donnell, Law Enforcement Leadership
Cameron O'Neil, Business Administration
Jonathan Oakes, Graphic and Multimedia Design
Kyra OKeefe, Sports Management
Ashley Oliver, Applied Psychology
Sebastien Paquette, Civil and Environmental Engineering Technology
Haley Park, Early Childhood
Daniel Parker, Cybersecurity
Peter Parrish, Engineering Science
Matthew Passaretti, Mechatronics Technology
Alexis Paute, Esports Management
Yisroel Pearlman, Legal Studies
Jaime Peck, Early Childhood Care and Management
Maraiyah Perez, Nursing
Hannah Phillips, Criminal Investigation
John Piccione, Law Enforcement Leadership
Alyssa Pitcheralle, Homeland Security
Domenico Priante, Cybersecurity
Hannah Reed, Early Childhood Care and Management
Violet Reyes, Veterinary Technology
Natalee Ricca, Cybersecurity
Alexis Rifkin, Health Care Management
Jace Robert, Undeclared Major
Lucas Roy, Civil and Environmental Engineering Technology
Emma Rupert, Nursing
Nayrouz Sadoun, Nursing
Rouba Saleh, Crime Analysis
Ashton Samara, Esports Management
Sarah Sankey, Health Care Management
Lucas Saumier, Electrical Engineering Technology
Jennifer Schieble, Early Childhood
Amanda Schumacher, Health Care Management
Nevaeh Seabron, Forensic Criminology
John Seamans, Accounting
Madalyn Seguin, Veterinary Technology
Sommer Shmidl, Forensic Criminology
Lawson Snell, Electrical Engineering Technology
Nathan Spooner, Mechanical Engineering Technology
Erin Stickney, Technological Communications
Martha Stiles, Nursing
Tessa Strauch, Funeral Services Administration
Jeremiah Sullivan, Health Care Management
Jennifer Sydow, Legal Studies
Adam Szlamczynski, Homeland Security
Cadin Taggart, Sports Management
Breanna Taraska, Practical Nursing
Alayna Taraska, Health and Fitness Promotion
Will Taylor, Engineering Science
Brittany Taylor, Homeland Security
Leslie Teriele, Applied Psychology
Hayden Todd, Health and Fitness Promotion
Kayla Tripp, Health Care Management
Daryll Walker, Mechatronics Technology
Justin Walsh, Physical Therapist Assistant
Jordyn Whitton, Health and Fitness Promotion
Paula Wilson, Emergency Management
Megan Woodard, Finance
Marley Yerdon, Nursing
Caydence Zalwsky, Applied Psychology
About SUNY Canton
As Northern New York's premier college for career-driven bachelor's degrees, associate degrees and professional certificate programs, SUNY Canton delivers quality hands-on programs in engineering technology, management, and healthcare fields. It is home to the Center for Criminal Justice, Intelligence and Cybersecurity. Faculty members are noted for their professional real-world experience in addition to outstanding academic credentials. As SUNY's leader in online education, SUNY Canton OnLine offers hundreds of flexible and convenient courses as well as 23 online degree programs. The SUNY Canton Kangaroos 15 traditional athletic teams compete at the NCAA Division III level as part of the North Atlantic Conference. SUNY Canton also features varsity esports and cheerleading.