SUNY Canton Cybersecurity Program Named NSA National Center of Academic Excellence
SUNY Canton's four-year Cybersecurity Program continues its unparalleled growth with a new U.S. National Security Agency (NSA) designation.
The NSA and Department of Homeland Security recently informed the Center for Criminal Justice, Intelligence and Cybersecurity that it has received a National Center of Academic Excellence in Cyber Defense (CAE-CD) designation. Cybersecurity previously received NSA Program of Study Validation approximately six months ago.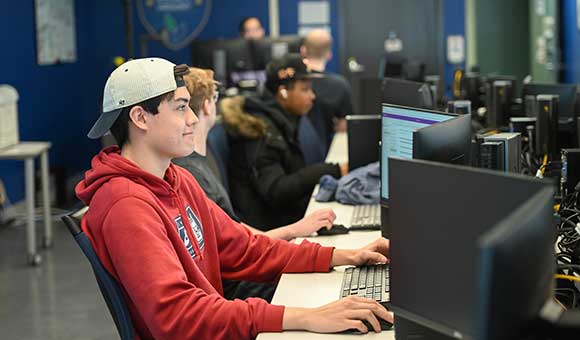 "A highly skilled cybersecurity workforce is a strategic national security advantage," said NSA CAE Program Manager Annie Becker. "The United States Government will continue to invest in and enhance programs that build the domestic talent pipeline, from primary through postsecondary education."
The program met the increasing demands to serve the nation and contribute to protecting the National Information Infrastructure. A National Cyber Strategy authored in 2018 outlined the critical shortage of professionals with cybersecurity skills and highlighted the importance of higher education as a solution to defending America's cyberspace.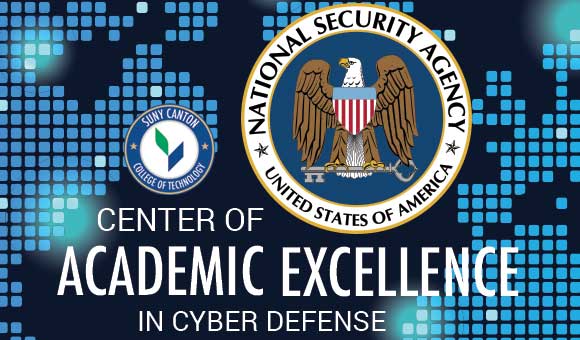 "The CAE-CD designation signifies SUNY Canton's excellence and assures students and employers that the Cybersecurity program aligns with national standards for cyber defense," said School of Science Health and Criminal Justice Dean Michele A. Snyder. "It also recognizes that we can actively contribute to the cybersecurity community locally and nationally."
Cybersecurity has become one of the largest programs at the college, with about 202 total students enrolled as of Fall 2022. This growth represents a more than 1400% increase from the original enrollment of 13 students when the program began in 2018. It is second only to the college's Healthcare Management program, which has 242 total enrollments. Both programs are available entirely online with select in-person or flex class options.
Cybersecurity has become so large that the college has created a department within the School of Science, Health and Criminal Justice to handle the influx of students and offer expanded learning opportunities.
According to Associate Professor Kambiz Ghazinour, Ph.D., reasons for the rapid growth include increased cyber threats exacerbated by the COVID-19 pandemic, greater dependency on technology, new governmental regulatory requirements, and increasing awareness of privacy and risks associated with cybercrime.
"Understanding cybersecurity is no longer just an option; it's necessary for the future. As technology advances, so do the threats and vulnerabilities that come with it," Ghazinour said. "As academics and educators, we have a responsibility to not only teach the current state of cybersecurity but also to evolve and adapt to stay ahead of the curve. Only then can we truly prepare the next generation of professionals to defend against the ever-growing threat landscape."
Ghazinour also oversees the college's Advanced Information Security and Privacy (AISP) Research Lab, which provides students with the opportunity to get familiar with cutting-edge industry research. "Our students present their research articles to prestigious peer-reviews conferences and gain valuable knowledge that will help them with both future employment and graduate studies," he said.
SUNY Canton has joined the ranks of several other New York colleges with NSA accreditation, such as Rochester Institute of Technology, the University at Buffalo, and the University at Albany. Canton's CJIC has established agreements with UAlbany's College of Emergency Preparedness, Homeland Security, and Cybersecurity, which offers students a convenient pathway to pursue graduate degrees at an accelerated pace.
About SUNY Canton
As Northern New York's premier college for career-driven bachelor's degrees, associate degrees and professional certificate programs, SUNY Canton delivers quality hands-on programs in engineering technology, management, and healthcare fields. It is home to the Center for Criminal Justice, Intelligence and Cybersecurity. Faculty members are noted for their professional real-world experience in addition to outstanding academic credentials. As SUNY's leader in online education, SUNY Canton OnLine offers hundreds of flexible and convenient courses as well as 23 online degree programs. The SUNY Canton Kangaroos 15 traditional athletic teams compete at the NCAA Division III level as part of the North Atlantic Conference. SUNY Canton also features varsity esports and cheerleading.