SUNY Canton Associate Professor Lands $50,000 at SUNY Startup Summer School Class of 2023 Demo Day
SUNY Canton Associate Professor Kambiz Ghazinour, Ph.D., recently received $50,000 from the SUNY Startup Summer School.
Ghazinour, who teaches in the college's thriving Cybersecurity program, is the part-time CEO of CyberSpara, Inc., and holds the patent on the company's game-based Digital-Privacy and Security Simulation (DigitalPASS). The faculty member was one of the participants in the SUNY Startup Summer School's Class of 2023 Demo Day, a competitive program designed to showcase the most promising technologies and startups currently under development.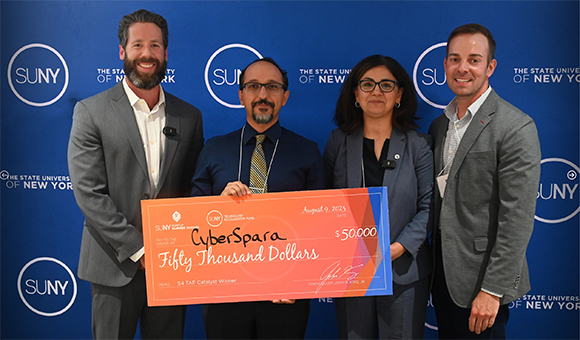 "Congratulations to Associate Professor Kambiz Ghazinour for his remarkable achievement in winning the SUNY Startup Summer School Class of 2023 Demo Day," said SUNY Canton President Zvi Szafran. "Dr. Ghazinour's innovative work exemplifies the spirit of entrepreneurship and innovation that SUNY Canton fosters. We are proud to have Dr. Ghazinour as a part of our academic community, and his success inspires our students and faculty. Here's to a future where technology and education combine for a safer digital world."
CyberSpara has established itself as an up-and-coming cybersecurity solutions provider using a multi-stream business model. DigitalPASS has attracted the attention of various organizations, including St. Lawrence-Lewis BOCES, local computer service divisions, and defense agencies, like the U.S. Air Force Research Laboratory and the Griffiss Institute in Rome, N.Y.
"DigitalPASS is transforming how we approach cybersecurity through its innovative simulation platform," Ghazinour said. "It's designed to raise digital awareness and mitigate cyber threats by using an immersive, realistic experience that analyzes their cyber behavior."
The Startup Summer School's Class of 2023 Demo Day participants included 179 SUNY students, faculty, and staff in emerging technology fields spanning 27 SUNY campuses. The SUNY Startup Summer School, now in its fifth year, offers entrepreneurial education and training to help students and faculty secure the initial funding needed to get their technology to market.
DUB Biologics from Upstate Medical University also secured a $50,000 investment at the event. In addition to the capital received from the SUNY Technology Accelerator Fund Catalyst Investment, CyberSpara and DUB Biologics will also receive secondary support from SUNY to identify and write strong proposals for grant funding, which will allow the teams to continue commercializing their technology.
"At SUNY, we create educational opportunities that lead to research and scholarship, helping to solve society's greatest issues. At the same time, programs like the SUNY Startup Summer School build on our strategy to open avenues to greater student success and upward mobility," said SUNY Chancellor John B. King, Jr. "Throughout the summer, our students and faculty have had the exciting opportunity to participate in a fast-paced program for the next generation of business leaders which teaches crucial entrepreneurial skills that enable them to make their technologies accessible to the world. I want to congratulate this year's winners, DUB Biologics and CyberSpara, on this significant achievement, and I wish them much success in utilizing the skills they have learned this summer going forward."
Ghazinour and CyberSpara were previously invited to participate in this year's Helping Upstate Science and Technology Leaders and Entrepreneurs (HUSTLE) Defense Accelerator.
About SUNY Canton
As Northern New York's premier college for career-driven bachelor's degrees, associate degrees and professional certificate programs, SUNY Canton delivers quality hands-on programs in engineering technology, management, and healthcare fields. It is home to the Center for Criminal Justice, Intelligence and Cybersecurity. Faculty members are noted for their professional real-world experience in addition to outstanding academic credentials. As SUNY's leader in online education, SUNY Canton OnLine offers hundreds of flexible and convenient courses as well as 23 online degree programs. The SUNY Canton Kangaroos 15 traditional athletic teams compete at the NCAA Division III level as part of the North Atlantic Conference. SUNY Canton also features varsity esports and cheerleading.