Men's Hockey to Join SUNYAC as Associate Member; NEWHL Women's Hockey to Become SUNYAC in 2023-24
The SUNY Canton men's hockey program is set to join the State University of New York Athletic Conference (SUNYAC) as an associate member in the 2024-25 season, as announced by the SUNYAC league office on Friday, May 12th.

The Northeast Women's Hockey League (NEWHL), which currently includes SUNY Canton women's hockey, will transition to the SUNYAC in the upcoming 2023-24 season.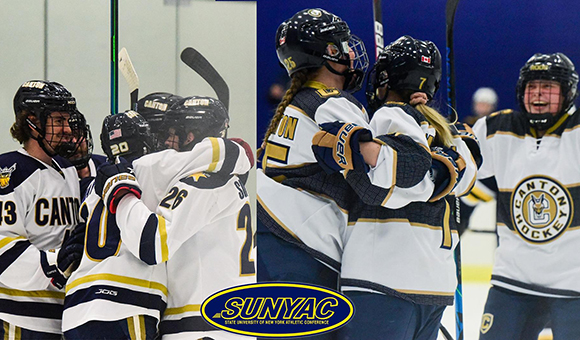 The Roos men's hockey team has competed as an NCAA Division III independent since the 2015-16 season. SUNY Canton became full-time D-III members on September 1, 2015. SUNY Canton's women's hockey program has been members of the NEWHL for the last three seasons.

"We'd like to thank the SUNYAC commissioner, presidents, athletic directors and coaches for accepting our men's and women's hockey programs into their conference," said SUNY Canton President Dr. Zvi Szafran. "It's an honor to be associated with such strong academic institutions as well as schools with such a great tradition of success on and off the ice. We look forward to the outstanding competition and can't wait to begin playing games in the SUNYAC."

"I would like to thank all SUNYAC coaches for their support for our associate membership into what I believe is the best conference in NCAA D-III hockey," Head Men's Hockey Coach Alex Boak said. "I also want to thank all past players that set the foundation for our program to reach this milestone so that we are competitive from day one joining the conference. This is a game-changing opportunity for not only our hockey program, but also our department and university as a whole. I'm excited to build off the foundation our alumni set for us during this process and to prepare our current group to live up to our program's rich history of winning championships."

Canton will join the SUNYAC in men's ice hockey beginning with the 2024-25 campaign. The conference will grow to 10 teams which will allow for a better scheduling model than the current nine-team format.

The SUNYAC institutions sponsoring men's ice hockey include eight full conference members (Brockport, Buffalo State, Cortland, Fredonia, Geneseo, Oswego, Plattsburgh, Potsdam) and one associate member (Morrisville).

"Over the years we have enjoyed outstanding competition in both men's and women's hockey against teams in the SUNYAC," said SUNY Canton Athletic Director Randy Sieminski. "Competing in a conference with schools who are regularly among the top ten in the nation will be both a privilege and a terrific challenge. I also want to thank our former players, coaches and administration who have supported our teams and athletic department throughout the years to put us in this position to accept this invitation. We can't wait to drop the puck."

On the women's side the Roos will continue to develop their rivalries with their fellow SUNY schools but will officially become a SUNYAC sponsored sport ahead of the 2023-24 season.

The NEWHL consists of seven SUNY institutions, including five core members of the SUNYAC – Buffalo State, Cortland, Oswego, Plattsburgh and Potsdam. Canton and Morrisville will become associate members of the SUNYAC in the sport of women's ice hockey. The NEWHL conference schedule, which has been approved through 2026-27, will remain as planned as part of the SUNYAC.

"Transitioning to the SUNYAC is a terrific move for the teams in the NEWHL," said SUNY Canton Women's Hockey Head Coach Kalie Grant. "It'll be an honor for our players to vie for SUNYAC accolades and championships with the other outstanding teams and players in the conference, including teams who are good enough to regularly win Division III national championships. It's an exciting challenge that we are ready for. We can't wait for SUNYAC women's hockey to begin in six months."
About SUNY Canton
As Northern New York's premier college for career-driven bachelor's degrees, associate degrees and professional certificate programs, SUNY Canton delivers quality hands-on programs in engineering technology, management, and healthcare fields. It is home to the Center for Criminal Justice, Intelligence and Cybersecurity. Faculty members are noted for their professional real-world experience in addition to outstanding academic credentials. As SUNY's leader in online education, SUNY Canton OnLine offers hundreds of flexible and convenient courses as well as 23 online degree programs. The SUNY Canton Kangaroos 15 traditional athletic teams compete at the NCAA Division III level as part of the North Atlantic Conference. SUNY Canton also features varsity esports and cheerleading.