Home > VITA
Volunteer Income Tax Assistance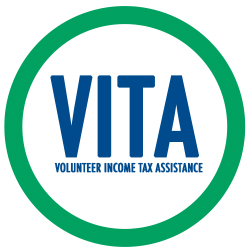 The Volunteer Income Tax Assistance (VITA) program offers free tax help to people who generally make $57,000 or less a year, persons with disabilities and limited English speaking taxpayers who need assistance in preparing their own tax returns. IRS-certified volunteers provide free basic income tax return preparation with electronic filing to qualified individuals.
SUNY Canton students will partner with members of the university's Financial Literacy Center to help low- and moderate-income members of the North Country community get every income tax refund dollar they are entitled to. This service is free to area students and is open to the public. The qualifying income bracket for participants is a gross income below $57,000.
Call the SUNY Canton Financial Literacy Center at (315) 386-7328 to book your appointment today. Individual sessions may run up to one hour in length. Time slots are secured on a first come, first served basis. Those who do not qualify for our services will have to reach out to a professional tax preparer for further assistance.
For additional information (including details on how to become a VITA Volunteer), please visit the IRS website.
On the Day of Your Appointment
Please Note: The following items (as applicable) are required to help our volunteers prepare your tax return accurately.
A mask must be worn at all times at the VITA site
Proof of COVID Vaccination (or qualified exemption)
Driver's License
Social Security Cards or official document from SS office for all persons to be listed on your tax return
Copy of 2020 tax return
All W-2s and Other Income Documents (be sure you have all W-2s from all 2021 Employers!!!)
Pension, Retirement and Social Security Statements
Unemployment Compensation Documentation (Form 1099G)
Interest or Dividend Income Statement (Form 1099INT/Form 1099DIV)
Health Care Coverage Documentation (Form 1095A, B or C)
Income Amount (from summer job, etc.) for all dependents and people in your household
Tuition Payments Statement (for you, your spouse and/or dependent child)
Statement of Student Loan Interest Paid
Total Amount Paid for Child Care Expenses (along with the name, address and tax ID number of the provider to whom the childcare expenses were paid)
If itemizing - total mortgage interest paid, school & property taxes paid, un-reimbursed employee business expenses, documentation of charitable contributions, un-reimbursed medical expenses, etc.
If you itemized last year, bring the amount of the State Refund and a copy of your 2020 state tax return
Amount paid in 2020 for energy-efficient windows, doors, insulation, new furnace, air conditioners, etc. Also your 2020, 16, 15, 14, 13, 11, 10 tax return with any of these items claimed.
For Direct Deposit of a Tax Refund, bring your bank's routing number and account number for your checking or savings account (blank check).
For additional questions - or to change/cancel your appointment, please call (315) 386-7328.
Contact Information:
Jondavid DeLong
Professor, VITA Program Coordinator

SUNY Canton Financial Literacy Center
34 Cornell Drive
Canton, NY 13617

(315) 386-7328
flc@canton.edu
www.canton.edu/flc