Classroom - This SUNY Canton degree can be earned in a traditional classroom setting.

100% Online - This SUNY Canton degree can be earned entirely online.
Applied Psychology - B.S.
Graduates from the B.S. in Applied Psychology will be prepared to work under supervising professionals in a variety of settings to assist, supervise, rehabilitate, and remediate personal and family issues with people from diverse backgrounds, including: children and families, adolescents with emotional and behavioral problems, people experiencing homelessness, people with mental illnesses, people with intellectual disabilities, those abusing alcohol and other substances, felons, older adults, and many other populations.
Career Ready at Graduation
Organizations prioritize hiring individuals with skills in working with people and who have a strong background in applied psychology. SUNY Canton students spend time in a variety of human service agencies and are prepared for immediate employment in non-licensed entry-level positions in counseling, habilitation and rehabilitation, and social work assisting clients in becoming successful in their lives. The SUNY Canton Applied Psychology program also provides a strong foundation for students who plan to seek licensure for positions in human and social service settings and who want to continue their studies at graduate and professional schools.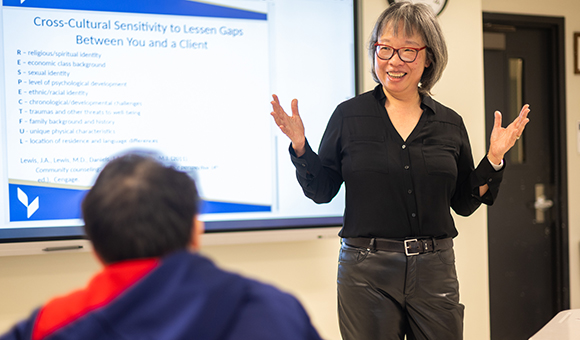 In Class or Online
This degree can be completed face-to-face, online, or using a combination of both, making us unique in the SUNY system. It is our goal to meet the needs of every potential student, from recent high school graduates to adult learners considering a career change.
One of the Fastest Growing Fields
Overall employment in community and social service occupations is projected to grow 10 percent from 2021 to 2031, faster than the average for all occupations. The median annual wage for this group was $48,410 in May 2021, which was higher than the median annual wage for all occupations.
Right from the start, we prepare students in our program to help clients through real-life experiences and applied coursework. If you like helping people and want a job with a bright outlook, the Applied Psychology program would be a great fit!
- Christina Lesyk, LMSW
Associate Professor
Real World Experience
While traditional Bachelor of Arts programs in Psychology focus on research and broad psychological theory and concepts in a liberal arts context, SUNY Canton's approach emphasizes many of those theories and knowledge, but also the skills and strategies that are applied in real-world field experiences. Our graduates will have spent a significant portion of their time as students in human service locations, working with people who have psychological distress, developmental delays, and behavioral problems.

Employment statistics are from the Bureau of Labor Statistics 2021-2031 Occupational Outlook Handbook.
Helping People
The focus of our program is providing the skills needed to help people of diverse backgrounds and varied life issues. Students who did well in high school life sciences and who are well-rounded individuals, with a dream of helping others, often do well in our program.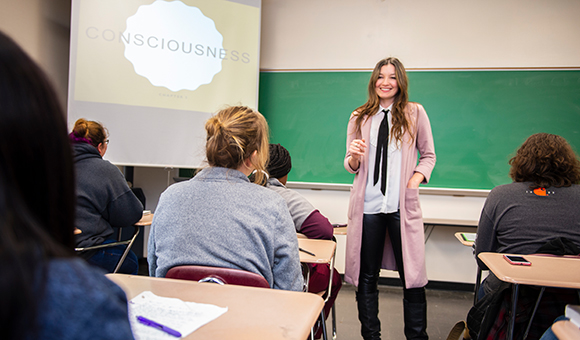 Addiction Treatment Training Certificate Program
The Addiction Treatment Certificate allows matriculated and non-matriculated students to obtain coursework that meets the 350 contact hours needed to apply for the Credentialed Alcohol and Substance Abuse Counselor-Training (CASAC-T) credential through the New York State Office of Alcohol and Substance Abuse Services (OASAS).
Applied Psychology Students
While working with licensed and certified human service professionals, will be prepared to:
Help assess clients
Assist in identifying and employing best practices in crisis interventions for clients
Carry out programs developed in collaboration with supervising professionals
Apply professional and legal standards in daily work assignments
Use scientific research to help develop successful intervention programs for clients
Employ knowledge of counseling and intervention strategies to collaboratively develop successful life programs for clients
Applied Psychology
Curriculum and Practicum Coordinator
Christina Lesyk, LMSW, HS-BCP
Associate Professor
lesykc@canton.edu
315-386-7836