Automotive Technology - A.A.S.
*100% placement
SUNY Canton Automotive is the first in the country to achieve the Zeus Level of Snap-On Diagnostics.
SUNY Canton Automotive is still the only college in New York State to be Snap-On Diagnostics Certified.
All classes and labs are in-person.
Graduates of the Automotive Technology program experience an exciting period of transition as technologies continue their shift toward much higher fuel efficiency. Recruiters and employers of SUNY Canton's graduates include dealerships, service industries, automobile manufacturers, and parts suppliers. Graduates learn how to troubleshoot, diagnose and repair all aspects of the automobile power train, suspension, steering, braking and air conditioning systems.

Employment statistics are from the Bureau of Labor Statistics 2020-2030 Occupational Outlook Handbook.
Mission Statement:
We educate and train for future Automotive Professionals. Using critical thinking skills, students will understand the history of the industry, evaluate the dynamics of the present, and envision mobility in the future.

Students in this Major:
Utilize the latest technology in an electronics-based curriculum.
Acquire extensive hands-on experience in well-equipped laboratories.
Receive a world class education in automotive mechanical, technical, and services areas.
Learn on late model cars donated by automotive manufacturers.
Get special attention from faculty in small laboratory classes.
Are encouraged to take the Automotive Service Excellence certification test upon completion of course work.
Enjoy outstanding career placement.
Latest News
One more hybrid and many more European vehicles added to program.
Recently NATEF recertified.
Just added Electrical Certification and Advanced Diagnostics to our list of Snap-On Certifications
Career Opportunities:
Automotive Service Technician
Service Manager
Service Advisor
Industrial Research/Development
Automotive Machine Shop
Auto Parts Manager/Owner
Technical Representative
Automatic Transmission Technician
Wheel Alignment/Suspension Technician
Maintenance Technician
Fleet Maintenance Supervisor/Technician
Heavy Equipment Maintenance Technician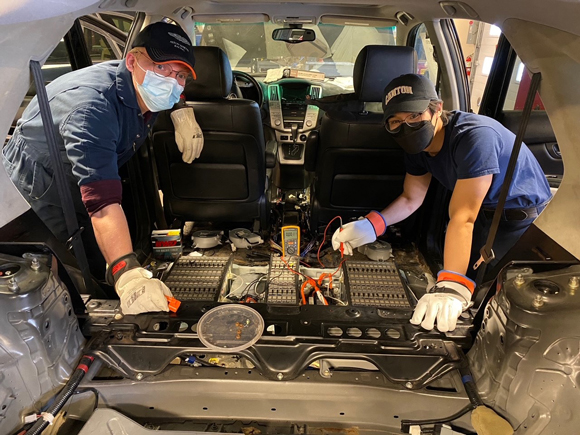 Recent Employers of SUNY Canton Graduates:
Advanced Auto Parts
Blevins Brothers dealerships
Chrysler Corporation
Fay Motors Cadillac Dealership
Firestone Tire Company
Ford Motor Company
General Motors Corporation
Goodyear Tire Company
Mort Backus and Sons Chevrolet Buick and GMC
NAPA Auto Parts
Sears
Snap-On Tools Corporation
Stephenson Equipment Incorporated Cranes
Subaru Distribution Corporation
Taylor Rental Corporation
Toyota (Lexus Division)
Troyer Race Car Engineering
Various dealerships throughout NYS
Many graduates own their own businesses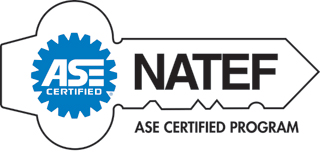 * SUNY Canton is a 7404 ASE Testing Site. Call Julie Parkman or Shelly Thompson at 315-386-7119 to make an appointment.
Career Outlook:
The U.S. Department of Labor cites a strong demand for qualified automotive technicians and master technicians. There are more automotive jobs available than there are qualified graduates to fill them. Our graduates can look forward to a 100% job placement.

Transfer Opportunities:
SUNY Canton Management or Mechanical Engineering Technology bachelor's degrees.
Non-Automotive courses within the degree can be tailored to fit desired end goal.
National Accreditation:
SUNY Canton's automotive technology program has received the highest level of national certification following an extensive review and analysis. The program has received certification by National Automotive Technicians Education Foundation (NATEF) and the National Institute for Automotive Service Excellence (ASE). It gives the already-renowned program instant credibility nationwide and will assist graduates in their career pursuits anywhere in the nation.
To achieve this coveted recognition, the school's automotive technology program underwent rigorous evaluation and met or exceeded nationally accepted standards of excellence in areas including instruction, facilities, and equipment.
Articulation:
Applicants who have completed a two year vocational-technical automotive program may qualify for advanced standing (transfer credit).
Admission Requirements:
---
PROGRAM REQUIREMENTS (Curriculum 0525)
Semester I Credits
Semester II Credits
Semester III Credits
Semester IV Credits
1 Mathematics level depends on previous preparation. Applied College Mathematics (MATH 101) is the minimum requirement MATH 106 Intermediate Algebra or higher maybe substituted.
2 PHYS 121/125 - College Physics I lecture/lab may substitute if student meets prerequisites
3 One required. Courses offered alternating years
4 Writing Intensive course
5 General Education Requirement course can be any General Education Approved cause GER 1 to 9
ADDITIONAL GRADUATION REQUIREMENTS
Students must complete 11 credit hours that include AUTO 113, AUTO 114, AUTO 213, and AUTO 214 at SUNY Canton. Student's transfer records must be reviewed and approved by the Program Director.
Automotive Technology Department
Paul Todd
Curriculum Coordinator
315-386-7975
todd111@canton.edu
Fall Enrollment Trends
| | | | |
| --- | --- | --- | --- |
| | FT | PT | Total |
| 2022 | 13 | 2 | 15 |
| 2021 | 20 | 0 | 20 |
| 2020 | 20 | 0 | 20 |
| 2019 | 36 | 1 | 37 |
| 2018 | 20 | 0 | 20 |

Graduation Rate Trends*
| | | |
| --- | --- | --- |
| Cohort Entering | Cohort Size | % |
| Fall 2019 | 16 | 38% |
| Fall 2018 | 8 | 75% |
| Fall 2017 | 10 | 30% |
| Fall 2016 | 16 | 31% |
| Fall 2015 | 19 | 37% |

*Graduate rates are based on first-time, full-time, degree-seeking freshmen entering in fall and graduating within 150% of time.

Degrees Conferred
| | |
| --- | --- |
| | Total |
| 2021-22 | 4 |
| 2020-21 | 17 |
| 2019-20 | 9 |
| 2018-19 | 3 |
| 2017-18 | 16 |