50% Online - This SUNY Canton degree is a hybrid program that can be earned partially online.
Home > CSOET > Information Technology
Information Technology - B. Tech
Concentrations Include
Web Development
Information Security
Networking
This program creates the go-to people for cutting-edge Information Technology (IT) solutions. Early on students learn all of the hardware applications to make a computer and later learn more complex operating systems, networking, and programming languages.
- Tatsuhito Koya, Ph.D.
Curriculum Coordinator
High-tech Solutions
Students say one of best parts about the IT program is the ability to experiment with the same equipment they will be maintaining when they enter the workforce.
Graduates in High Demand
Computer scientists and database administrators are expected to be among the fastest growing occupations through 2024, according to the Department of Labor, Bureau of Labor Statistics. Job increases will be driven by very rapid growth in computer systems design and related services, which is projected to be one of the fastest growing industries in the U.S. economy.

Employment statistics are from the Bureau of Labor Statistics 2020-2030 Occupational Outlook Handbook.
Flexibility by Design
This is a hands-on program. Many courses are laboratory intensive. Some courses are available online and some courses are available in a hybrid format, where students attend lab but the lecture materials are presented online.
Rewarding Service Opportunities
Recently, one of the IT students organized a small group to build and repair computers for churches in the North Country for free.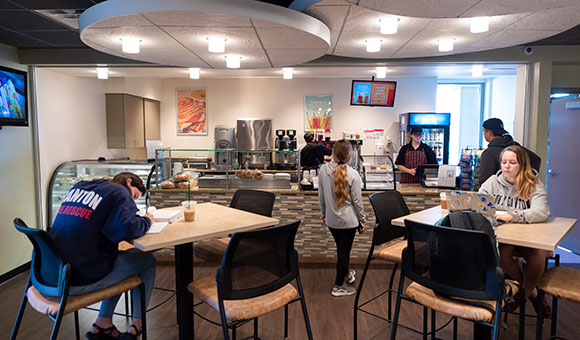 Learn Several Languages
Multiple Platforms
Students are exposed to a mix of Linux and Windows-based machines that can be configured as either servers or clients. All of the necessary networking routers, switches, and other networking equipment are close at hand for students to experiment with.
Traditional and Non-traditional Students
Students in this program range from recent high school graduates to workforce professionals returning to expand their knowledge and further their careers.
Clubs and Games
Many of the IT students are also in the computer club. About once a month, one of the high-tech IT labs becomes a battleground when students play first-person shooter video games across the network. Students from many different programs join in the local area network (LAN) parties.
Information Technology
Tatsuhito Koya, Ph.D.
Associate Professor & Program Coordinator
315-386-7362
koyat@canton.edu
Fall Enrollment Trends
| | | | |
| --- | --- | --- | --- |
| | FT | PT | Total |
| 2022 | 25 | 1 | 26 |
| 2021 | 29 | 5 | 34 |
| 2020 | 32 | 3 | 35 |
| 2019 | 38 | 3 | 41 |
| 2018 | 41 | 3 | 44 |

Graduation Rate Trends
| | | |
| --- | --- | --- |
| Cohort Entering | Cohort Size | % |
| Fall 2016 | 7 | 43% |
| Fall 2015 | 2 | 0% |
| Fall 2014 | 5 | 20% |
| Fall 2013 | 2 | 50% |
| Fall 2012 | 2 | 50% |

*Graduate rates are based on first-time, full-time, degree-seeking freshmen entering in fall and graduating within 150% of time.

Degrees Conferred
| | |
| --- | --- |
| | Total |
| 2021-22 | 8 |
| 2020-21 | 8 |
| 2019-20 | 13 |
| 2018-19 | 8 |
| 2017-18 | 13 |