50% Online - This SUNY Canton degree is a hybrid program that can be earned partially online.
Home > CSOET > Industrial Tech Management
Industrial Technology Management - B. Tech
ITM is an interdisciplinary bachelor's degree appropriate for a wide variety of students in the robust technology fields. It is designed to merge each student's particular technology-based educational interest with a blend of business courses that will expand their high-level employment opportunities. Many employers are looking for a technical background with the business savvy to get the job done.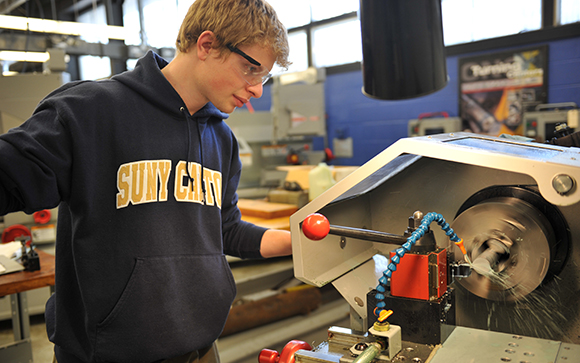 Employment statistics are from the Bureau of Labor Statistics 2020-2030 Occupational Outlook Handbook.
Students will learn:
Successful experiment design
Project management skills
How to succeed in a team environment
Leadership skills for their future careers
---
You can get a really good job with our highly-successful two-year engineering technology program, you can get an even better job with our Industrial Technology Management (ITM) four-year degree.
- Dr. Eric Y. Cheng
Associate Professor
The Nuts and Bolts
When beginning the program, students take a number of core-courses in each of the college's hands-on engineering technology programs, like:
Civil Engineering Technology
Mechanical Engineering Technology
Air Conditioning Engineering Technology
Electrical Engineering Technology
Construction Technology Management
Students can then select a concentration that best fits their personal interests, custom designing a four-year education to best fit their career ambitions. Many successful two year engineering students have transitioned to supervisory and management roles. ITM leverages the discipline of technology to prepare graduates for leadership in industry.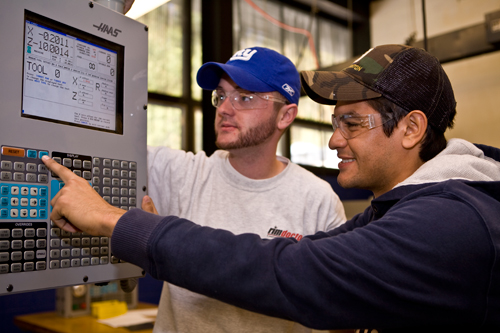 Perfect by Design
One of the highlights of the core courses is a Design of Experiments class. Students investigate the optimal settings on a given subject to determine the best quality or create the most predictable outcomes.
An example of a Design of Experiments project involves a rubber-band driven desktop catapult, named a Statapult. The Statapult has the fantastic power of throwing a small rubber ball, and the operator has to hit a target 15 feet away. There are three settings on the device and each setting will change its performance. One of the settings has six options, the second has five, and the final has four separate settings (mathematically displayed 6! x 5! x 4!). There are a grand total of 2,073,600 combinations of settings and only one of them will shoot the projectile the desired 15 feet.
Through experimentation, students learn to mathematically and scientifically determine the optimal performance of simple and complex machines.
- Michael Newtown
Dean of the Canino School of Engineering Technology
Industrial Technology Management
Paul Todd
Lecturer & Program Coordinator
315-386-7975
todd111@canton.edu
Fall Enrollment Trends
| | | | |
| --- | --- | --- | --- |
| | FT | PT | Total |
| 2022 | 3 | 1 | 4 |
| 2021 | 3 | 2 | 5 |
| 2020 | 9 | 0 | 9 |
| 2019 | 14 | 0 | 14 |
| 2018 | 7 | 1 | 8 |

Graduation Rate Trends
| | | |
| --- | --- | --- |
| Cohort Entering | Cohort Size | % |
| Fall 2016 | 1 | 0% |
| Fall 2015 | 1 | 100% |
| Fall 2014 | 1 | 100% |
| Fall 2013 | 1 | 100% |
| Fall 2012 | 1 | 100% |

*Graduate rates are based on first-time, full-time, degree-seeking freshmen entering in fall and graduating within 150% of time.

Degrees Conferred
| | |
| --- | --- |
| | Total |
| 2021-22 | 2 |
| 2020-21 | 2 |
| 2019-20 | 4 |
| 2018-19 | 2 |
| 2017-18 | 6 |