Mechanical Engineering Technology - B. Tech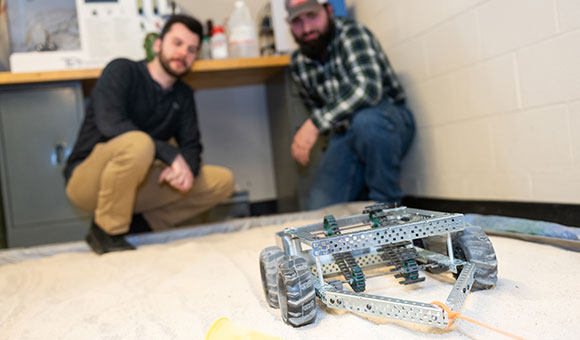 Graduates of Mechanical Engineering Technology (MET) work in a wide range of industries with a broad array of career opportunities. From manufacturing and construction to equipment testing and power generation, employment opportunities exist in production, product/system testing, quality improvement, and technical services support. The MET program is appropriate for individuals who like hands-on experience, enjoy technology, and want to use their heads. Math ability is important and students will center much of their effort on experimentation and problem solving.
We strive to provide an educational environment that encourages your intellectual, personal, and professional growth. This program allows you to heighten your understanding of the world and yourself while developing the skills and vision needed to build a full rich life that will make a difference in the world.
Our students suggest the following list of supplies that you may need while at Canton.

Employment statistics are from the Bureau of Labor Statistics 2020-2030 Occupational Outlook Handbook.
Great Career Opportunities:
Aerospace
Assembly & Joining
Automation & Controls
Automotive Industry
Composite Manufacturing
CIM
Electronics Manufacturing
Environmental Manufacturing
Finishing & Coating
Food Processing
Forming & Fabricating
Laser Systems
Machining & Material Removal
Machine Vision
Medical Device Industry
Mold, Tool & Die Manufacturing
Nanotechnology
NC, CNC & DNC
Packaging
Plant Engineering & Maintenance
Plastics Molding &Manufacturing
Product Design & Development
Quality
Rapid Prototyping
Robotics
Six Sigma
Software, CAD/CAM
Supply Chain Management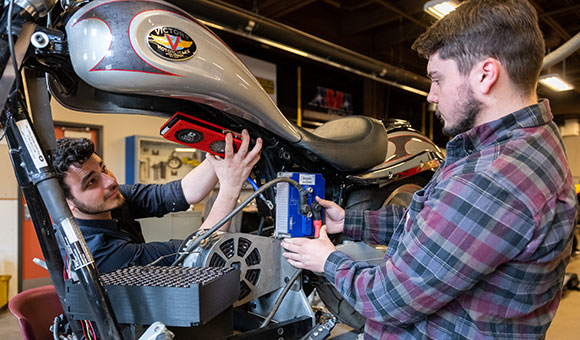 Career Outlook
In 2008 Mechanical Engineers held the fourth highest employment of all engineering with 238,700 employed and 36% of all engineering positions were found in manufacturing industry. Many Mechanical Engineering professionals fall under the heading of Industrial Engineers and that is the third highest engineering employment sector.
Progam Education Outcomes:
PEO 1: Graduates of this program have knowledge on the applied aspects of science and engineering technology that demonstrate skills in analysis, design, development, implementation, and oversight of mechanical systems.
PEO 2: Graduates will exhibit skills necessary to be successful in industry. (e.g., manufacturing processes, experimental techniques and procedures, machinery, and thermal/fluid/energy systems)
PEO 3: Graduates will be successful technologists, field technologists, technical managers, and process and sales engineers.
PEO 4: Graduates of the MET program will be prepared academically to enter and succeed in related postgraduate degree programs at reputable institutions.
Accreditation:

The Mechanical Engineering Technology program is Accredited by the Engineering Technology Accreditation Commission of ABET, https://www.abet.org
415 N. Charles St.
Baltimore, MD 21201
(410) 347-7700
Mechanical Engineering Technology
Lucas Craig
Department Chair
315-386-7384
craigl@canton.edu
Fall Enrollment Trends
| | | | |
| --- | --- | --- | --- |
| | FT | PT | Total |
| 2022 | 43 | 0 | 43 |
| 2021 | 48 | 4 | 52 |
| 2020 | 59 | 2 | 61 |
| 2019 | 73 | 3 | 76 |
| 2018 | 73 | 1 | 73 |

Graduation Rate Trends*
| | | |
| --- | --- | --- |
| Cohort Entering | Cohort Size | % |
| Fall 2016 | 17 | 53% |
| Fall 2015 | 5 | 40% |
| Fall 2014 | 5 | 20% |
| Fall 2013 | 7 | 29% |
| Fall 2012 | 5 | 60% |

*Graduate rates are based on first-time, full-time, degree-seeking freshmen entering in fall and graduating within 150% of time.

Degrees Conferred
| | |
| --- | --- |
| | Total |
| 2021-22 | 18 |
| 2020-21 | 21 |
| 2019-20 | 22 |
| 2018-19 | 8 |
| 2017-18 | 14 |