SUNY Canton Faculty Receive Chancellor's Awards
The State University of New York recently announced three SUNY Canton faculty members had received chancellor's awards.
"One of my themes for SUNY is individualized education, meaning the work we do to help our students navigate the programs and opportunities within our 64 campuses," said SUNY Chancellor Kristina M. Johnson. "Our faculty and staff educate, inspire, and support our students to pursue their passions; they are the driving force on campus. Those we honor today are leading this effort through their commitment to their craft and their dedication to our students."
All three award recipients are noted for providing exceptional instruction and mentoring to students.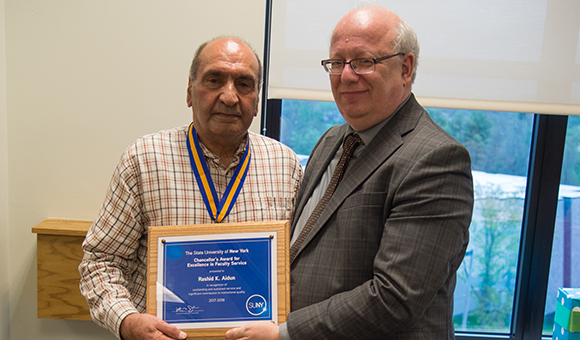 Rashid Aidun, Ph.D., an associate professor who teaches in the Electrical Engineering Technology and Engineering Science programs, received the Chancellor's Award for Excellence in Faculty Service. He was recognized for his 13 years of academic service and his 16 years of professional industrial experience. He holds a patent on a non-destructive coating thickness measuring device.
Aidun has made positive contributions to the Canino School of engineering technology, including developing new programs and courses, recruiting new students, helping current students secure scholarships, in addition to helping graduates continue on for their advanced degrees.
"What I most admire about Dr. Aidun is his remarkable ability to stimulate students and add personality to his course material," said Associate Professor Feng Hong, who teaches physics at the college. "His dynamic teaching style engages students. They can feel the energy and optimism radiate from him."
Aidun lives in Potsdam with his wife, Peggy Sue, and their daughter Savarah.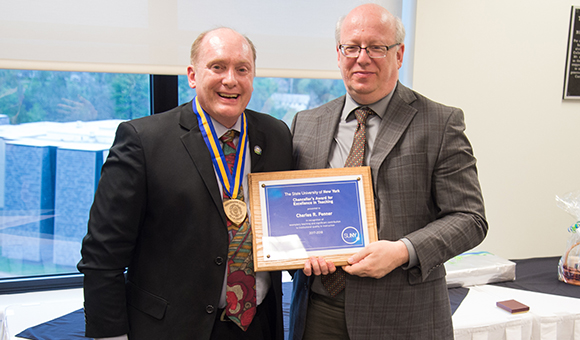 Charles R. Fenner, Ph.D., the curriculum coordinator for the college's management program, received the Chancellor's Award for Excellence in Teaching. His creative approach to incorporating innovative teaching strategies encourages problem solving and critical thinking skills, giving graduates the tools they need to handle difficult situations head-on when they start their careers.
He was one of the first faculty members to embrace online learning. He has continued that forward-thinking philosophy and consistently utilizes new technology to enhance his classes.
Prior to his academic career, he served for 20 years in the Army, and takes the time to mentor both active duty and veteran learners. His students describe him as an engaged, motivational educator who deeply cares about their success. Under his guidance, four students helped north country businesses become more profitable. Many of his courses emphasize entrepreneurial strategies.
"Charles' ability to engage students and to assist each with understanding the objectives is commendable," said Maureen P. Maiocco, Ed.D., one of the faculty members who nominated Fenner. "He uses humor to supplement his effective teaching strategies and incorporates a student-centered approach in his teaching practice. He prepares students to think on their feet, as they will need to do in a business or client meeting."
Fenner lives in Canton with his wife, Dorothy. They have two grown daughters.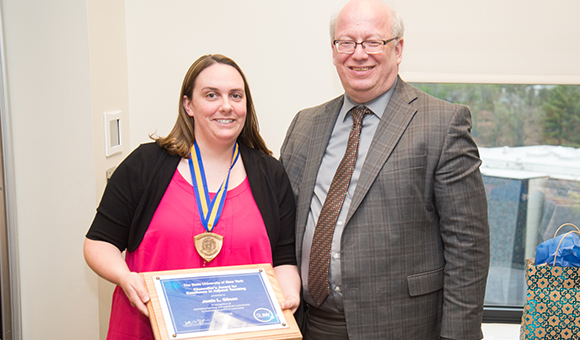 Jamie L. Gibson, who is a clinical instructor in the two-year Nursing program, received the Chancellor's Award for Excellence in Adjunct Teaching. She is known for emphasizing critical thinking and reasoning skills that help students connect lecture concepts to real-life clinical scenarios.
Her students overwhelmingly described her as a dedicated professional who is kind, approachable, and supportive. In addition, her colleagues credit her with being a major contributing factor for student success during nursing certification exams.
Through her more than 10 years working as a nurse, she is able to impart the knowledge she has gained by working in a fast-paced emergency room setting, where quick thinking and sound decision-making skills save lives.
"She is committed to the college and its Nursing students," said Debra Backus, Ph.D., a recently-retired Nursing curriculum coordinator. "She approaches each students' education at whatever level they are at and guides them to higher levels of understanding. She provides outstanding support for their continuing intellectual growth."
Gibson Lives in Edwards with her husband, Jonathan, their daughter, Marlow, and son, Aiden.
About SUNY Canton
As Northern New York's premier college for career-driven bachelor's degrees, associate degrees and professional certificate programs, SUNY Canton delivers quality hands-on programs in engineering technology, management, and healthcare fields. It is home to the Center for Criminal Justice, Intelligence and Cybersecurity. Faculty members are noted for their professional real-world experience in addition to outstanding academic credentials. As SUNY's leader in online education, SUNY Canton OnLine offers hundreds of flexible and convenient courses as well as 23 online degree programs. The SUNY Canton Kangaroos 15 traditional athletic teams compete at the NCAA Division III level as part of the North Atlantic Conference. SUNY Canton also features varsity esports and cheerleading.