SUNY Canton Esports Wins ECAC Championships in FIFA and Overwatch
The SUNY Canton Kangaroos have won two Eastern College Athletic Conference (ECAC) championship titles in esports following games in both EA Sports' FIFA and Blizzard's Overwatch on Thursday, Nov. 29.
"These were terrific wins for our teams, and it was extraordinary to capture our first ECAC championships," said SUNY Canton Director of Athletics Randy B. Sieminski. "Our esports programs have come a long way in just over a year, and there is a lot to be proud of. We feel we're growing a great reputation for ourselves in the eSports college landscape."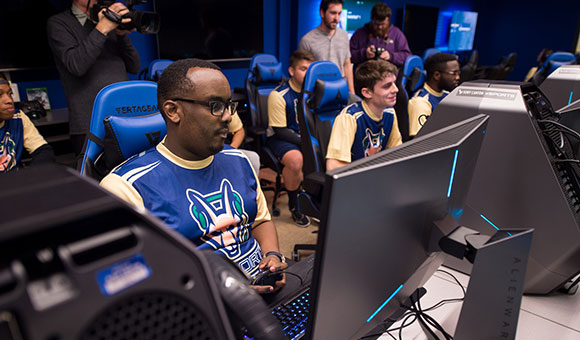 The college's FIFA team includes four players from the school's traditional men's soccer team. The squad won four of five matches against Texas Wesleyan University, as a group of onlookers cheered on the team in the college's Esports Arena. FIFA is played one-on-one in a soccer simulation where each player picks a professional team to play. Wins are determined by goals scored. SUNY Canton's five match scores were 2-6, 2-1, 4-1, 3-1 and 1-0.
"One of the reasons we created our esports program was to give more students, including online students, the opportunity to compete and represent SUNY Canton," said SUNY Canton President Zvi Szafran. "Our FIFA and Overwatch teams are perfect examples of this effort. They've exhibited championship caliber teamwork and skills."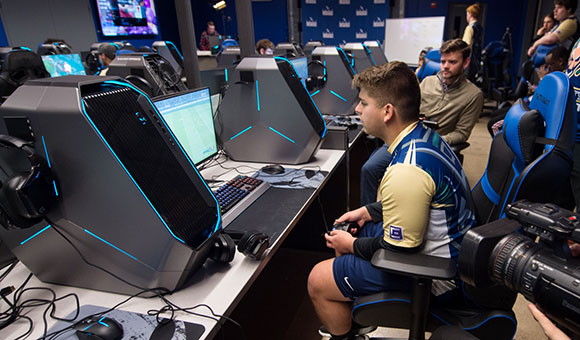 Both the FIFA and Overwatch teams were undefeated during the ECAC season. The college's Hearthstone and Fortnite teams are currently waiting to be seeded for post-season play. The college is also planning an all-women's Overwatch exhibition match against Stephen's College and recently held an Epic Games' Fortnite tournament for its substantial population of online students.
The Overwatch match against esports rival Marist College was broadcast on the college's Twitch Channel (www.twitch.tv/sunycanton) and attracted its own crowd of spectators. Overwatch is played with six team members working together in first-person action-based scenario. The team works as a collective to capture points that the other team is defending. The total points at the end of a match determine victory. Each match is played on a different map in a best-of-five match scenario.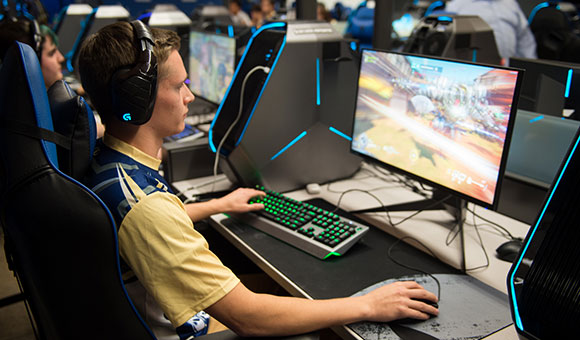 SUNY Canton's team was led by captain Emily A. Oeser, a Game Design and Development Major from Canajoharie. The six-person coed squad closed out a tied match on the first map with a victory and then easily swept the second map. Shane R. Girard, a Veterinary Technology student from Phoenix, earned the "Play of the Game" during the second match when he launched his character's ultimate ability in midair, helping to eliminate an attack from Marist.
Marist rallied to overtake SUNY Canton on the third map, pushing it to a four-match game. In a hard-fought win, SUNY Canton secured the final points necessary to win the championship during the fourth match.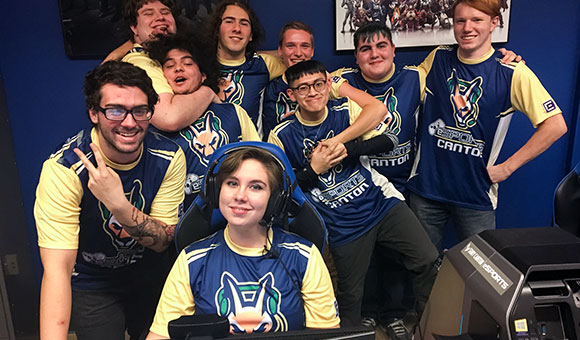 "The extraordinary win is the result of long hours of dedicated practice," said Head Esports Coach Robert J. Snow. "Our success in the ECAC was determined by strong student leadership and exceptional teamwork. Our students were able to coordinate their strategies and work together as a team to earn their exceptional win."
All SUNY Canton esports matches are played on state-of-the-art computers in the college's new Esports Arena. The high-speed networking infrastructure is provided by Extreme Networks, the college's partner in competitive gaming.
About SUNY Canton
As Northern New York's premier college for career-driven bachelor's degrees, associate degrees and professional certificate programs, SUNY Canton delivers quality hands-on programs in engineering technology, management, and healthcare fields. It is home to the Center for Criminal Justice, Intelligence and Cybersecurity. Faculty members are noted for their professional real-world experience in addition to outstanding academic credentials. As SUNY's leader in online education, SUNY Canton OnLine offers hundreds of flexible and convenient courses as well as 23 online degree programs. The SUNY Canton Kangaroos 15 traditional athletic teams compete at the NCAA Division III level as part of the North Atlantic Conference. SUNY Canton also features varsity esports and cheerleading.