SUNY Canton Announces 3+3 Partnership with University at Buffalo School of Law
SUNY Canton is launching a program that will allow students to earn both a bachelor's degree and a law degree in just six years.
The new agreement with University at Buffalo School of Law is an accelerated program that requires three years of undergraduate study in either Legal Studies or Applied Psychology at SUNY Canton, and an additional three years at the UB School of Law.
"This partnership allows students to complete both degrees in six years of full-time study instead of seven, saving them an entire year's worth of tuition," said SUNY Canton Dean of the School of Business and Liberal Arts Philip T. Neisser. "This is a tremendous opportunity for our graduates to take advantage of one of the most cost-efficient ways to earn a law degree in the nation."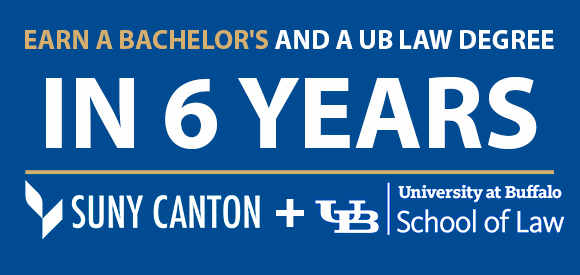 Candidates must maintain at least a 3.5 GPA, complete the Law School Admission Test (LSAT) with an LSAT score at or above the median LSAT score for the School of Law's previous year's enrolled class, and apply to the UB School of Law during their junior year. Upon successful completion of the first-year law school curriculum, students' credits are transferred back to SUNY Canton to fulfill the bachelor's degree requirements.
"With a significant number of our Legal Studies students already enrolling in law schools, the accelerated program allows them to become attorneys sooner, and at a substantially reduced cost," said SUNY Canton Professor and Curriculum Coordinator for the Legal Studies program Jondavid S. DeLong, J.D.
Those who choose the Applied Psychology track will build a strong foundation of psychology applied to human services.
"The combination of these two degrees (Applied Psychology and Law) is an outstanding fit for anyone interested in the law as it pertains to mental health, witness and jury behavior, juveniles and family, and understanding the larger social systems and resources that help people in need," said SUNY Canton Assistant Professor and Curriculum Coordinator for the Applied Psychology Program Barat Wolfe, Ph.D.
Students may begin the accelerated program as early as Fall 2019. Graduates have a number of career options, including private practice, judicial clerkships, public interest work, or leadership positions in government or business.
"As the State of New York's law school, we are committed to providing talented students with greater access to legal education," said UB School of Law Dean Aviva Abramovsky. "We are pleased to partner with another SUNY institution that values that commitment, and that has a reputation for educating future leaders."
"This partnership was a natural fit, considering SUNY Canton and UB School of Law's shared emphasis on applied, hands-on learning experiences," said Neisser. "Our students will be prepared to easily transition to graduate study and pursue successful careers in law and policy."
About the University at Buffalo School of Law

Since its founding in 1887, the University at Buffalo School of Law – the State University of New York system's only law school – has established an excellent reputation and is widely regarded as a leader in legal education. Its cutting-edge curriculum provides both a strong theoretical foundation and the practical tools graduates need to succeed in a competitive marketplace, wherever they choose to practice. A special emphasis on interdisciplinary studies, public service and opportunities for hands-on clinical education makes UB School of Law unique among the nation's premier public law schools.
The University at Buffalo is a premier research-intensive public university, a flagship institution in the State University of New York system and its largest and most comprehensive campus. UB's more than 28,000 students pursue their academic interests through more than 300 undergraduate, graduate and professional degree programs. Founded in 1846, the University at Buffalo is a member of the Association of American Universities. For more information, visit: www.law.buffalo.edu
About SUNY Canton
As Northern New York's premier college for career-driven bachelor's degrees, associate degrees and professional certificate programs, SUNY Canton delivers quality hands-on programs in engineering technology, management, and healthcare fields. It is home to the Center for Criminal Justice, Intelligence and Cybersecurity. Faculty members are noted for their professional real-world experience in addition to outstanding academic credentials. As SUNY's leader in online education, SUNY Canton OnLine offers hundreds of flexible and convenient courses as well as 23 online degree programs. The SUNY Canton Kangaroos 15 traditional athletic teams compete at the NCAA Division III level as part of the North Atlantic Conference. SUNY Canton also features varsity esports and cheerleading.