SUNY Canton Creates 'Flex Classes' for Traditional and Online Students
SUNY Canton is developing new course options that adapt to the needs of modern learners.
Until last semester, courses have been offered in two formats: through traditional on-campus classes; or by participating in online lectures and discussion boards through SUNY Canton OnLine. Last semester, the college began offering Flex Classes, which allows a student to attend a lecture one day and participate online the next.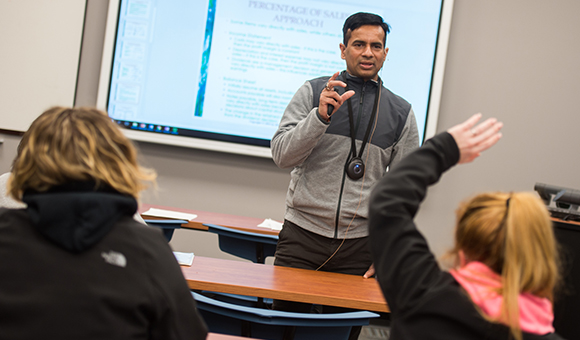 "Flex Classes help promote student retention and completion rates," said Associate Provost and Dean of Academic Support Services, Molly A. Mott "They remove barriers to education and fit into the busy and complicated lives of our students, especially those who are continuing their education. We see this as the future of higher education."
The class is broadcast live during and the video is integrated with the college's online learning software. Students participating from off of campus can ask questions as part of the class, and all students can watch the online recorded lecture.
Marela M. Fiacco, an instructor who oversees the college's Healthcare Management program, volunteered to be the first faculty member to pilot the program for her Intro to Health Services Management course. She taught in a special classroom equipped with digital video cameras that follow her as she presents the course material.
"I told my face-to-face students that attendance is flexible," Fiacco said. "This was especially important for our non-traditional and commuter students who have families and career obligations."
Out of the 30 students who were enrolled, about nine opted to come to the twice-weekly class.
The instructor assigned group assignments that paired students participating from both on and off of campus.
Healthcare Management recently became the most popular major at the college, with more than 200 students enrolled in the fall 2017 semester. The majority of those students are working professionals who are seeking to advance their career by getting a bachelor's degree.
SUNY Canton is expanding its Flex Classes through a Performance Improvement Fund grant from SUNY. A portion of that funding is also used to increase engagement with the college's substantial online student population by offering expanded college resources. "We want to establish a better connection with our online students," Fiacco said.
Two Flex Classes are currently in session during the spring 2018 semester and the college plans to continue research into, and development of, its newest educational delivery method. Students have been enthusiastic about the new mode of course delivery. "It's a neat experience and I look forward to the future of the class and more like it," said Michael B. Smithers, a Heathcare Management Student from Heuvelton.
About SUNY Canton
As Northern New York's premier college for career-driven bachelor's degrees, associate degrees and professional certificate programs, SUNY Canton delivers quality hands-on programs in engineering technology, management, and healthcare fields. It is home to the Center for Criminal Justice, Intelligence and Cybersecurity. Faculty members are noted for their professional real-world experience in addition to outstanding academic credentials. As SUNY's leader in online education, SUNY Canton OnLine offers hundreds of flexible and convenient courses as well as 23 online degree programs. The SUNY Canton Kangaroos 15 traditional athletic teams compete at the NCAA Division III level as part of the North Atlantic Conference. SUNY Canton also features varsity esports and cheerleading.