SUNY Canton College Council Honors Canton Newspaper Editor
The SUNY Canton College Council has selected the editor of the St. Lawrence Plaindealer as the recipient of the 2018 Distinguished Citizen Award.
Paul D. Mitchell was selected for this prestigious award for his career-long commitment to highlighting all things Canton, in addition his community involvement and civic engagement, according to College Council Chair Ronald M. O'Neill.
"Paul has helped build the community of Canton through the Plaindealer and his personal volunteerism," said O'Neill. "He's continued the publication's history of highlighting SUNY Canton as a pioneering and prominent part of that community."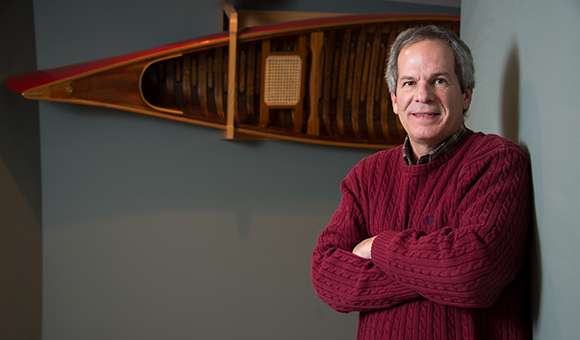 Prior to his more than 30-year career as editor, Mitchell was a reporter for the Ogdensburg Journal who published articles with most of the area's prominent newspapers.
"Paul is the consummate community newspaper editor," said Thomas T. Graser, the St. Lawrence County Editor for Northern New York Newspapers. "He reports the news as it is, but also wants to paint a picture of his community that demonstrates the pride we all feel in our hometowns."
In addition to being largely responsible for one of the most successful newspapers in the county, Mr. Mitchell is personally active in the community. He recently spearheaded the Canton Park and Fountain campaign, which has currently raised more than $115,000toward the restoration of the historic park fountain and the beautification of its surroundings. He assisted with the Canton Fire Department Capital Campaign, which helped raise approximately $1 million for the construction of the Riverside Drive fire station.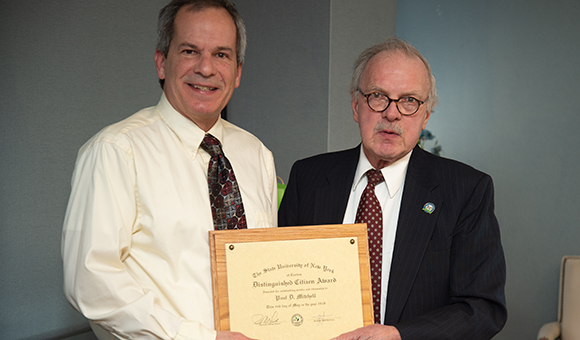 "As a Canton resident, I have been continuously impressed with Paul's work ethic, solid reporting and community involvement," said Canton Town Supervisor Mary Ann Ashley. "His volunteer efforts and his leadership speak to his sense of giving back to his beloved community."
The St. Lawrence Plaindealer is intertwined with the history of SUNY Canton. In fact, the original photo of Gov. Nelson A. Rockefeller breaking ground at the hill campus was staged for the benefit of the newspaper. Mitchell supported the college's efforts to celebrate its 50-year anniversary of its move from a small cluster of buildings adjacent to St. Lawrence University to its current location.
"His efforts help document and maintain our proud history and help carry Canton through numerous positive and timely transitions," said Linda A. Casserly, Canton village historian. "His efforts have helped Canton continue to thrive and its citizens continue to maintain their sense of accomplishment."
Mitchell earned his Bachelor of Arts degree in English, with a minor in journalism, from SUNY Cortland. During college, he worked with the Cortland Athletic Department and the Ogdensburg Recreation Department. He's a long-time member of the Canton Chamber of Commerce Board of Directors. He and his wife, Dawn, reside on Bird St. in Canton, neighboring SUNY Canton.
"I am deeply honored to receive this award," said Mitchell. "When I was named editor of The Plaindealer, it didn't take me long to realize the importance of being active in the community. "It's been a rewarding career thanks, in part, to my interaction with the public. To be recognized for these efforts is humbling to say the least. Over the years I have been very fortunate to co-exist with the people who make Canton what it is."
About SUNY Canton
As Northern New York's premier college for career-driven bachelor's degrees, associate degrees and professional certificate programs, SUNY Canton delivers quality hands-on programs in engineering technology, management, and healthcare fields. It is home to the Center for Criminal Justice, Intelligence and Cybersecurity. Faculty members are noted for their professional real-world experience in addition to outstanding academic credentials. As SUNY's leader in online education, SUNY Canton OnLine offers hundreds of flexible and convenient courses as well as 23 online degree programs. The SUNY Canton Kangaroos 15 traditional athletic teams compete at the NCAA Division III level as part of the North Atlantic Conference. SUNY Canton also features varsity esports and cheerleading.