SUNY Canton Celebrates New North Country Law Enforcement Officers
In early January, cadets joined the St. Lawrence County-David Sullivan Law Enforcement Academy. After a semester of demanding and often intensive training, those students have now started their careers at area law enforcement agencies.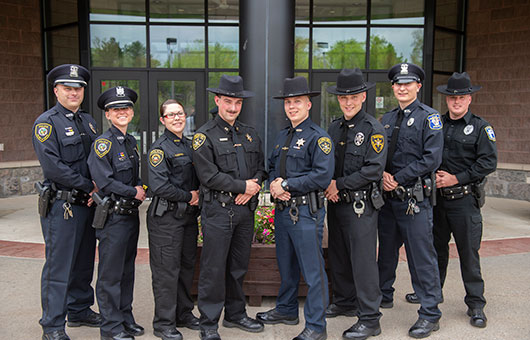 Pictured is the 2019 graduating class of the St. Lawrence County-David Sullivan Law Enforcement Academy at SUNY Canton.
The Law Enforcement Academy at SUNY Canton recently celebrated its 24thgraduation ceremony, recognizing a class of eight graduates.
"From this day forward, you will be addressed as law enforcement officers," said Nathan Senick-Albanese, who was the class president. "Only a small portion of what you do will be enforcing the law. You will help people change flat tires by the side of the road. You will be heroes by performing those seemingly small acts benefiting the communities you serve."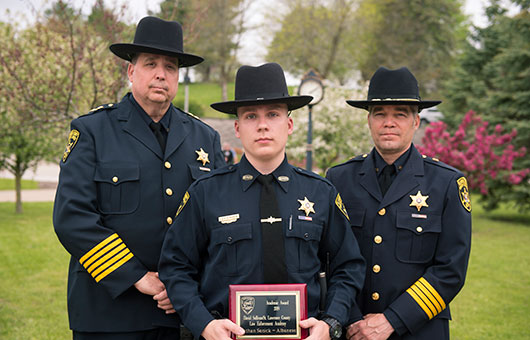 Newest Deputy – Nathan Senick-Albanese became the St. Lawrence County Sheriff's newest deputy after graduating from the David Sullivan Law Enforcement Academy at SUNY Canton. Pictured (l to r) are St. Lawrence County Sheriff Kevin M. Wells, Senick-Albanese and Undersheriff Brooks J. Bigwarfe.
Senick-Albanese and his classmates thanked Academy Director Joseph Brown and the more than 70 law enforcement instructors who contributed to their experience. "The expert instruction provided by area agencies allowed us to grow into the professionals we are about to become," he said.
At the graduation ceremony, cadets were sworn in as officers of their sponsoring agency.
Officers who graduated in the 2019 class include:
Leah M. Alestra became an officer at Norfolk Police Department. Alestra received the Director's 110% award.
Dylan M. Johnston became a deputy for the Franklin County Sheriff's Office.
Andrew D. Layng became an officer at the Ogdensburg Police Department.
Lindsey M. Landphere became an officer at the Canton Police Department. Landphere received the best overall David Sullivan Award and a fitness award.
Mason M. Maitland became a deputy at the Jefferson County Sheriff's Office. Maitland won the Defensive Tactics Award.
Joshua J. Rose became an officer at the Canton Police Department. Rose received the top shot award and the emergency vehicle operations course award.
Nathan B. Sheen became an officer at Gouverneur Police Department.
Nathan Senick-Albanese became a deputy for the St. Lawrence County Sheriff's Office. Senick-Albanese received the overall academic award.
SUNY Canton's law enforcement training includes two phases. The first phase provides pre-employment training that encompasses the skills required to become a police officer. Cadets complete courses in emergency medical services, community policing and defensive tactics. Those cadets who have been hired as a police officer can then complete phase two. Topics covered include police arrest techniques, firearms and counterterrorism training.
It is one of the few academies in New York State to offer comprehensive training specifically designed for North Country agencies. Students in law enforcement related programs can opt to take phase one of the training to meet their academic requirements.
The college recently released a David Sullivan Police Academy video highlighting some of the hands-on training cadets receive. For more information, please visit the Academy's website.
SUNY Canton is also home to a summer corrections academy, which is currently in session.
About SUNY Canton
As Northern New York's premier college for career-driven bachelor's degrees, associate degrees and professional certificate programs, SUNY Canton delivers quality hands-on programs in engineering technology, management, and healthcare fields. It is home to the Center for Criminal Justice, Intelligence and Cybersecurity. Faculty members are noted for their professional real-world experience in addition to outstanding academic credentials. As SUNY's leader in online education, SUNY Canton OnLine offers hundreds of flexible and convenient courses as well as 23 online degree programs. The SUNY Canton Kangaroos 15 traditional athletic teams compete at the NCAA Division III level as part of the North Atlantic Conference. SUNY Canton also features varsity esports and cheerleading.