SUNY Canton Faculty Member Named in $2.47 Million Grant
One of SUNY Canton's newest faculty members helped land a $2.47 million grant from the Agency for Healthcare Research and Quality, part of the U.S. Department of Health and Human Services, to increase patient safety and efficient care in Level I trauma rooms.
Assistant Professor Kambiz Ghazinour, Ph.D., was hired to teach and perform research in the college's Cybersecurity program at the start of the fall semester. During his time at his previous institution, Kent State University, Ohio, he was named as a co-investigator on the now funded proposal "Towards a Model of Safety and Care for Trauma Room Design." That position has now followed him to Canton, and he will continue to provide his expertise to the exploratory research.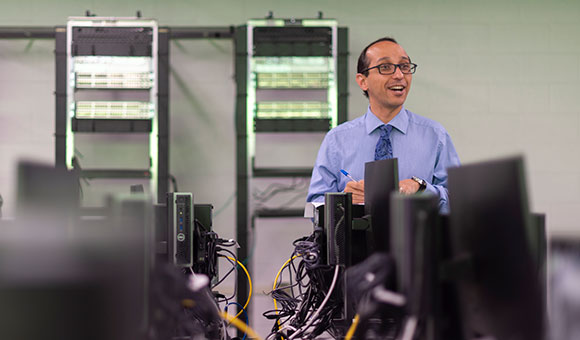 "Approximately 9% of trauma room deaths are due to preventable errors," Ghazinour said, citing the grant proposal. "We will be studying the entire physical environment of the trauma room to see if we can make it more efficient and improve patient safety."
Ghazinour's background ties into the computer science portions of the project. He will be implementing software that will track and learn individuals' movements within an emergency trauma room setting while protecting the anonymity of both the patients and medical staff.
He demonstrated the software using footage from a closed-circuit video camera. "Basically, the computer detects peoples' heads and joints and draws stick figures over them in real time," he said. "Each part of the body is color coded, so we can observe how the person moves while hiding personal identifying information."
The new faculty member explained this application could be used by law enforcement while evaluating or reviewing public surveillance footage, as it shows what a person is doing without showing who the person is. The method would alleviate some surveillance concerns and protect anonymity.
"There are numerous applications for this form of non-intrusive observation," said SUNY Canton President Zvi Szafran. "The research can benefit our nursing program, can help with multiple areas related to safety, and also ties in with our new Center for Criminal Justice, Intelligence and Cybersecurity. I offer my sincere congratulations to Kambiz and his colleagues on their innovative proposal."
Much of the research will be conducted at Cleveland Clinic Akron General, the premiere hospital in the Akron, Ohio, metropolitan area. Ghazinour is also the founder and director of the Advanced Information Security and Privacy Lab, which will soon be housed at SUNY Canton.
In addition to Ghazinour, other investigators on the grant include:
Sara Bayramzadeh, Ph.D., PI, coordinator and Elliot professor in the Healthcare Design program, Kent State University.
Mary K. Anthony, Ph.D., co-investigator, R.N., professor and associate dean for research, Kent State University.
Douglas Delahanty, Ph.D., co-investigator, Professor and Associate Vice President for Research, Faculty Development, Kent State University.
Ali F. Mallat, M.D., co-investigator, general and critical care surgeon, Cleveland Clinic Akron General.
About SUNY Canton
As Northern New York's premier college for career-driven bachelor's degrees, associate degrees and professional certificate programs, SUNY Canton delivers quality hands-on programs in engineering technology, management, and healthcare fields. It is home to the Center for Criminal Justice, Intelligence and Cybersecurity. Faculty members are noted for their professional real-world experience in addition to outstanding academic credentials. As SUNY's leader in online education, SUNY Canton OnLine offers hundreds of flexible and convenient courses as well as 23 online degree programs. The SUNY Canton Kangaroos 15 traditional athletic teams compete at the NCAA Division III level as part of the North Atlantic Conference. SUNY Canton also features varsity esports and cheerleading.