SUNY Canton Students Receive Chancellor's Awards
A commitment to community service helps two graduates garner SUNY's highest accolades.
A north country native with ties to the farming community joins an international women's hockey player to receive 2020 SUNY Chancellor's Awards for Student Excellence at SUNY Canton.
Tyler Bowman of Gouverneur and Debora Bartosova of the Czech Republic both received the accolade, which is the highest honor bestowed upon a student by SUNY Chancellor Kristina M. Johnson.
"SUNY's Chancellor's Award for Excellence winners are the champions of their campuses, each showing a tireless devotion to their academics and extracurricular pursuits, as well as their care for their fellow students as mentors and leaders," Chancellor Johnson said. "They are inspiring, and I have high expectations for how they will contribute to our society as we rebound from this current pandemic that separates us today."
Tyler Bowman
Bowman recently completed his bachelor's degree in Criminal Investigation. He is an active member of two college honor societies and made President's List honors seven times during his four-year career. He's been recognized for having the top GPA in his major twice and participated in the college's honors program. He's also presented four projects during the college's Scholarly Activities Celebration and picked up an award during the Spring 2019 poster presentation.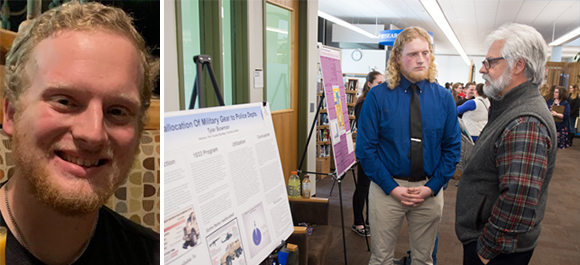 "Mr. Bowman is at the top of his class," said Criminal Justice Instructor Justin C. Spaulding. "He's actively served the north country as an Eagle Scout and Future Farmers of America member. I'm glad he received this prestigious award as recognition of his academic excellence and service to the community."
Bowman is looking to become a New York State Trooper after graduation.
Debora Bartosova
Bartosova completed her associate degree in the Veterinary Science Technology program in early May. She's a Veterinary Technician Association member and belongs to the Tau Phi Zeta Veterinary Technology Honor Society. She received President's List honors twice during her career at the college.
"Deb has an excellent GPA and is one of our best students." said Dr. D. Anthony Beane, a professor who teaches in the Veterinary Science Technology program. "She volunteers at local animal shelters to gain more experience."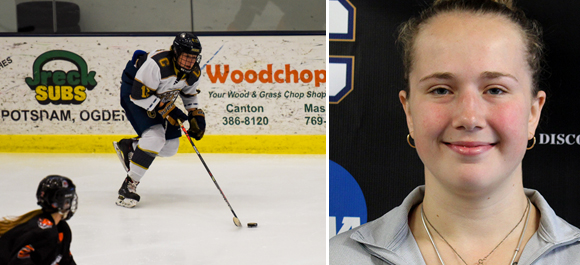 As a member of the women's hockey team, Bartosova appeared in 17 contests during the last season. The Roos finished the season with eight wins including winning four of their final five games. She completed the year with three assists including totaling a season-high two assists in a road game at Buffalo State. Through two seasons, the Czech Republic native has appeared in 43 contests totaling four assists.
"Debora is an excellent student and a natural leader," said Dr. Mary O'Horo Loomis, professor and program director of the Veterinary Science Technology program. "She has integrated academic excellence, leadership, athletics, campus involvement, and community service into her time at SUNY Canton."
Bartosova plans to continue her education and become a veterinarian.
About SUNY Canton
As Northern New York's premier college for career-driven bachelor's degrees, associate degrees and professional certificate programs, SUNY Canton delivers quality hands-on programs in engineering technology, management, and healthcare fields. It is home to the Center for Criminal Justice, Intelligence and Cybersecurity. Faculty members are noted for their professional real-world experience in addition to outstanding academic credentials. As SUNY's leader in online education, SUNY Canton OnLine offers hundreds of flexible and convenient courses as well as 23 online degree programs. The SUNY Canton Kangaroos 15 traditional athletic teams compete at the NCAA Division III level as part of the North Atlantic Conference. SUNY Canton also features varsity esports and cheerleading.