SUNY Canton Nursing Simulation Hospital Named for Retired Professor Mary Ann Caswell
The family of the late SUNY Canton Nursing Professor Emerita Mary Ann Caswell has created new memories by supporting her legacy.
During a ceremony adhering to strict social distancing guidelines held Saturday, Oct. 24, Mary Ann's husband, Alson T. Caswell Sr., joined family members to celebrate the former faculty member by unveiling the Dr. Mary Ann Caswell Nursing Simulation-Hospital in Wicks Hall. The naming rights were secured through a charitable donation to the SUNY Canton College Foundation.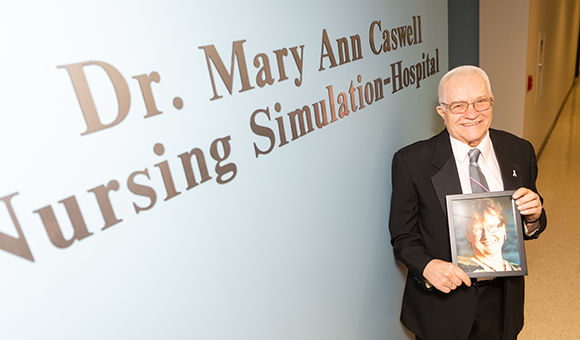 "I asked my children what they wanted, and they all said we don't want money, we want memories," said Alson, who is also a 1961 alumnus. "I can't think of any other thing that will give them more memories than the naming of this simulation hospital."
The recently completed wing is a modern suite of instruction-dedicated hospital rooms each containing a computer-operated Laerdal SimMan patient for emergency-room procedural training. Mary Ann was an early adopter of the SimMan technology and used the college's first robotic manikins in her courses.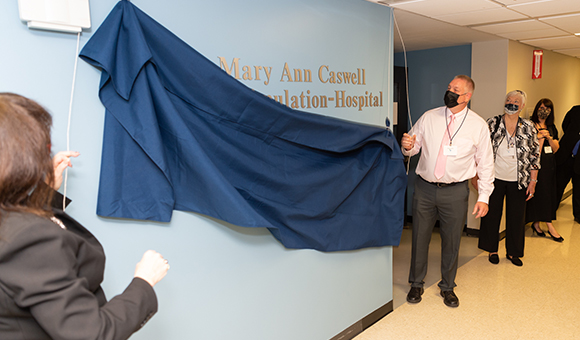 "Mary Ann wanted SUNY Canton to have the best, state-of-the-art learning environments," her son George A. Caswell, a 1994 graduate said. "The commitment from the college and Mary Ann's entire extended family will create a lasting legacy that will ensure the highest level of training for healthcare professionals right here in Canton."
Director of the SUNY Canton Nursing program Kimberly Davies, DNP, noted that Mary Ann helped launch an enormous resource by partnering with State Senator Patty Ritchie to secure funding for the new hospital-based classrooms. Beyond the clinical rotations required to complete a degree in Nursing, simulation provides students with real-life scenarios in a controlled environment.
The funds raised from the multiple donors will be used to purchase newer computerized manikins, according to SUNY Canton Provost and Vice President for Academic Affairs Peggy A. De Cooke, Ph.D.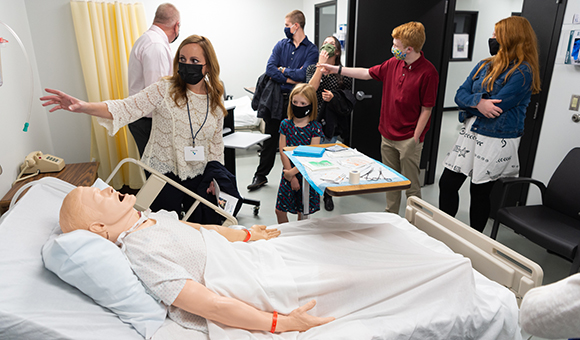 "The new manikins are so advanced and offer so many additional teaching and learning opportunities that it will make SUNY Canton's nursing program the best in the North Country and beyond," De Cooke said. "This in turn means that our nursing graduates will be among the best-trained and educated in our region."
Mary Ann began her career at SUNY Canton in 1990 as an instructor and retired in 2015 as a professor in the nursing program. Driven by a passion for patient care, Mary Ann expected greatness from her students. She influenced hundreds of today's practicing nurses and equipped them with her extensive knowledge through her hands-on lab-based classes. Mary Ann passed away Nov. 11, 2018.
"This opportunity for our new nursing students was made possible by many people, but we are especially grateful to the Caswell family for their forward-thinking philanthropy," said Vice President for Advancement Tracey L. Thompson, "The entire north country should join us in celebrating this gift, as it will ultimately enable our nursing graduates to take better care of patients and their families."
About SUNY Canton
As Northern New York's premier college for career-driven bachelor's degrees, associate degrees and professional certificate programs, SUNY Canton delivers quality hands-on programs in engineering technology, management, and healthcare fields. It is home to the Center for Criminal Justice, Intelligence and Cybersecurity. Faculty members are noted for their professional real-world experience in addition to outstanding academic credentials. As SUNY's leader in online education, SUNY Canton OnLine offers hundreds of flexible and convenient courses as well as 23 online degree programs. The SUNY Canton Kangaroos 15 traditional athletic teams compete at the NCAA Division III level as part of the North Atlantic Conference. SUNY Canton also features varsity esports and cheerleading.