SUNY Board of Trustees Appoints Dr. Jim Malatras as the 14th Chancellor; Becomes First SUNY Graduate to Lead SUNY
Dr. Malatras, a Respected Public Servant for Two Decades and Proven Leader in Managing and Solving Fiscal, Operational, and Societal Issues to Head Largest Higher Education System in the Nation
Appointment Selects Chancellor to Tackle SUNY's Immediate Challenges While Establishing A Roadmap of Affordability, Increasing Access, Enrollment, and Delivery of SUNY's World-Class and Nationally Ranked Education
The State University of New York Board of Trustees today announced the appointment of Dr. Jim Malatras as the 14th chancellor of SUNY, the largest comprehensive system of higher education in the United States. Dr. Malatras brings his decades of experience solving complex fiscal, operational, and societal issues at the highest levels of government and academia. Dr. Malatras, the first SUNY graduate to become chancellor, has emphasized to the Board of Trustees his determination to immediately confront the serious issues spurred by the COVID crisis, while continuing and strengthening the SUNY commitment to affordability and increased access for the state's most underrepresented populations. In these turbulent times, Dr. Malatras will take up the task of restoring enrollment levels, while building on SUNY's world-class and nationally ranked reputation.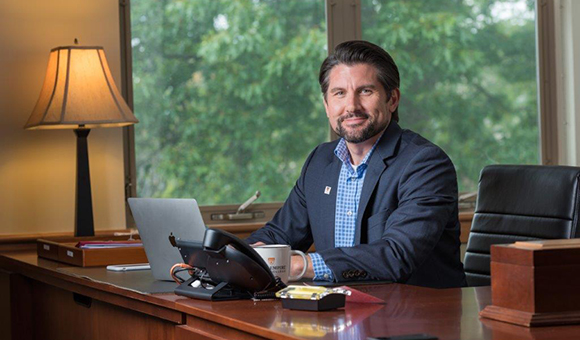 "Higher education is facing a critical moment in our history amplified by a pandemic that has nearly paralyzed our nation, and now, more than ever, we need a visionary leader and one with deep financial and operational expertise to face our challenges head on, and that is exactly what we have with Dr. Malatras," said SUNY Chairman Dr. Merryl H. Tisch and SUNY Vice Chairman Cesar Perales. "With his proven experience, deep connection with our campuses as a SUNY graduate, and a strong relationship with Governor Cuomo and the Legislature, Dr. Malatras is ready and well positioned to tackle a wide range of issues impacting our campuses now, while implementing a vision of affordability, accessibility for all, and expanding SUNY's prominence as a world-renowned institution. We are fortunate to have been able to select him amongst the strong talent and leadership across SUNY and have no doubt he will deliver results."
Amid serious fiscal challenges and during an unprecedented worldwide health crisis and deep racial justice and societal issues, today's appointment avoids a costly and lengthy search process. The Board of Trustees clear direction was to appoint a leader who could hit the ground running and help address these issues in a timely way.
Chairman Emeritus H. Carl McCall said, "As our country grapples with widespread racial unrest and a global health crisis, we need leaders who are able to take charge in a crisis, and who have the skill to turn ideas into action right now. Jim Malatras has been delivering for New Yorkers for a long time, and at some of our biggest moments. By donating a portion of his salary to create opportunities for underrepresented students and to increase faculty diversity, Dr. Malatras is making an immediate and pivotal statement about SUNY's continued commitment to diversity, equity, and inclusion on our campuses. I applaud the Board for selecting Dr. Malatras and look forward to helping him transition in any way that I can as SUNY navigates these difficult times."
"On behalf of the SUNY executive leadership team, we look forward to working with Jim Malatras as our campuses begin to reopen for the fall semester," said SUNY Chief Operating Officer Robert Megna, who has served as Officer in Charge. "I have known Jim for a long time, and I know he can work with SUNY staff to face the fiscal challenges ahead for SUNY. Jim is a master at operations who knows how to deliver results when resources are limited and students, faculty and administrators need us to be an effective resource."
"It is an incredible honor to lead the largest comprehensive system of public higher education as the next chancellor of the State University of New York," said SUNY Chancellor Jim Malatras. "I am a proud product of the SUNY system, having earned my undergraduate, graduate, and doctoral degrees from SUNY institutions. I believe in the power of public education to unlock the doors of opportunity and will work tirelessly to make it accessible to all who seek it. Job one is our students who drive and inspire everything we do. I look forward to working with the brightest and most dedicated educators in the country to meet the challenges of this moment, and beyond, for our students as a collaborative, imaginative, and unified SUNY system."
Today's appointment marks the return of Dr. Malatras to SUNY System Administration. As vice chancellor and chief of staff, he was chief operating officer and a senior advisor to Chancellor Emeritus Nancy L. Zimpher during her tenure as SUNY rebounded from the 2008-2009 financial crisis. He helped oversee a cost-reduction strategy to return $100 million in administrative costs toward academic programming and student services.
Dr. Malatras joins system administration from SUNY Empire State College where as president, he headed SUNY's lead campus in innovative individualized learning with an emphasis on distance learning while expanding access to students across the state through pioneering partnerships with SUNY community colleges, the private sector, and labor. Dr. Malatras also directed the college's efforts to be more inclusive, which led to the establishment of The Center for Autism Inclusivity, The Shirley Chisholm Center for Equity Studies, and the creation of the Empire Opportunity Program, the first-of-its-kind statewide program offering financial aid and specialized academic support for students from historically underserved backgrounds.
While serving as SUNY Empire State College President, Dr. Malatras has also led New York State's new Reimagine Education Advisory Council to assist K-12 schools and colleges adopt technological and other innovations to reopen safely in the wake of the COVID-19 pandemic. SUNY campuses are currently reopening with in-person and remote classes resuming this month.
Dr. Malatras has asked the Board of Trustees for a 25 percent pay cut and will receive a salary $450,000 and a $60,000 housing allowance. He has asked that the additional $170,000 be directed every year to the SUNY Educational Opportunity Program for underrepresented students and PRODiG program to increase faculty diversity across SUNY campuses. Dr. Malatras appointment as chancellor is effective August 31, 2020.
About Dr. Jim Malatras
In May 2019, Dr. Jim Malatras became the fifth president of SUNY Empire State College. Prior to joining SUNY Empire, he served as president of the Rockefeller Institute of Government, where he led the Institute's modernization effort to offer policymakers evidence-based policy analysis and recommendations on timely topics.
Dr. Malatras has held several high-ranking positions in New York State government. He served as director of state operations to Governor Andrew M. Cuomo, where he managed the day-to-day operation of state government and served as the administration's point person on policy development and implementation. He previously served as deputy secretary for policy management to Governor Cuomo and as deputy director of policy on Governor Cuomo's successful campaign for governor. In the Cuomo Administration, he was the point on education policy including the development and shepherding into law the NY-SUNY 2020 program.
An education policy expert, Dr. Malatras served as the executive director of the governor's New NY Education Reform Commission from 2012-2014. Dr. Malatras also previously served as executive directive of legislative affairs and state policy to Attorney General Cuomo and legislative director to former assemblyman and Rockefeller Institute board member, Richard L. Brodsky. Dr. Malatras served as chief of staff for Chancellor Emeritus Zimpher from July 2013 to August 2014.
Dr. Malatras received his bachelor's degree, master's degree, and doctorate in political science from the University at Albany, where he was awarded the Presidential Distinguished Doctoral Dissertation Award.
About The State University of New York
The State University of New York is the largest comprehensive system of higher education in the United States, and more than 95 percent of all New Yorkers live within 30 miles of any one of SUNY's 64 colleges and universities. Across the system, SUNY has four academic health centers, five hospitals, four medical schools, two dental schools, the state's only college of optometry, and manages one US Department of Energy National Laboratory. As of Fall 2019, more than 415,500 students were enrolled in a degree-granting program at a SUNY campus. In total, SUNY serves about 1.3 million students in credit-bearing courses and programs, continuing education, and community outreach programs. SUNY oversees nearly a quarter of academic research in New York. Research expenditures system-wide exceeded $1.7 billion in fiscal year 2019, including significant contributions from students and faculty. There are three million SUNY alumni worldwide, and one in three New Yorkers with a college degree is a SUNY alum. To learn more about how SUNY creates opportunity, visit www.suny.edu.
About SUNY Canton
As Northern New York's premier college for career-driven bachelor's degrees, associate degrees and professional certificate programs, SUNY Canton delivers quality hands-on programs in engineering technology, management, and healthcare fields. It is home to the Center for Criminal Justice, Intelligence and Cybersecurity. Faculty members are noted for their professional real-world experience in addition to outstanding academic credentials. As SUNY's leader in online education, SUNY Canton OnLine offers hundreds of flexible and convenient courses as well as 23 online degree programs. The SUNY Canton Kangaroos 15 traditional athletic teams compete at the NCAA Division III level as part of the North Atlantic Conference. SUNY Canton also features varsity esports and cheerleading.