SUNY Canton Educators Weigh in on How Instruction is Evolving During COVID-19
A community focus arrives as a commonality among courses at the college.
When the entirety of the spring 2020 was pushed to an online or distance learning format across the state to help quell the spread of the novel coronavirus (COVID-19), SUNY Canton has seen a fundamental shift in education.
Technical Learning Evolves
One of the college's quintessential hands-on learning programs, Automotive Technology, has completely adopted the new modality. Associate Professor Brandon J. Baldwin's students could no longer diagnose and repair complex car issues in the college's state-of-the-art laboratory when the college switched to distance learning. He took action by enlisting the help of his wife to create a series of short educational videos in his home garage.
"The great thing about making them short is that you can easily watch them multiple times," Baldwin said. "I'm seeing this as an opportunity. The students can now see small details up close that they couldn't before."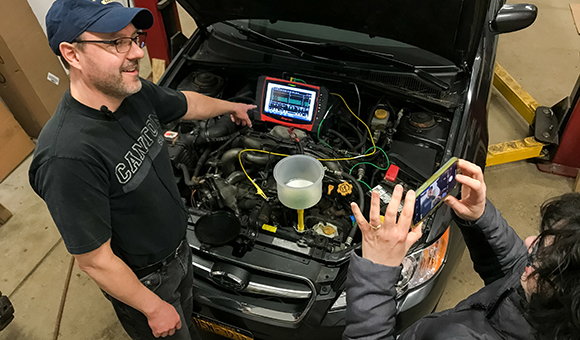 SUNY Canton Associate Professor Brandon J. Baldwin teaches an automotive lab section from his home garage while his wife, Debra A. Baldwin films him. (Charlotte Baldwin Photo)
With mechanics in demand during the pandemic, many Automotive Technology students have already landed jobs. Baldwin has made his courses flexible to accommodate daytime work schedules. "I've let my students know that they get more credit for sending me pictures or videos of the hands-on work they are doing too."
As an added bonus, Baldwin said that spending time working with his wife, Debbie, has helped to improve his family life.
Social Connections
Beyond the way subjects are taught, the very topics of education have changed, according to some instructors. Adjunct Instructor Daniel McLane was well poised to address civic changes in his Sociology of Disasters Class.
"When a disaster strikes a community, it will reveal underlying issues of poverty and racism," McLane said. "Individuals who are most at risk don't have strong social networks or are isolated from their families. Those with strong support structures in place are in less risk."
McLane encouraged individuals to reach out to all of their friends for a check in, specifically noting elderly or isolated populations. He's encouraged his students to use the opportunity to analyze their individual geographic communities and do what they can to help while employing proper social distancing measures. Students can expand their social networks within their own personal neighborhoods.
"It's really weird for our students to be at home instead of the classroom, and we're going to take full advantage of that." He said. "Solutions to a crisis don't always come from the Federal Government. Some of the best solutions come from the community. Churches, community centers, local businesses, all play an important role in community development."
Communities that collectively perceive themselves as equal will fair far better than those with underlying divisions, he said.
Police and Policy in a Pandemic
During a discussion among colleagues from the Center for Criminal Justice, Intelligence and Cybersecurity, three faculty members examined how their program has prepared, or will prepare, graduates to respond to mass outbreaks as advocates for justice reform and as officers of the law.
Assistant Professor Michelle L. Currier, Ph.D., from the college's new Forensic Criminology program, is currently teaching a Gender and the Justice System course. Students are required to summarize a current-events article as a means of applying course content to current events.
"I anticipate students will find much coverage of the spike in domestic violence calls during quarantine and self-isolation measures taking place across the country," she said. "Increases in gender-based violence have already been reported as spiking considerably."
The Forensic Criminology program will go online next fall, and Currier said there will be a significant amount of discussion surrounding COVID-19. "It is provoking a host of questions and exposing problems within the Criminal Justice system that future students will be poised to grapple with through the course of their studies," she said.
Professor Elizabeth A. Brown, Ph.D., noted the college employs instructors who are currently on the front lines of the pandemic.
"One of our adjuncts is the emergency response director at another State University of New York location and he is going to be using the crisis and campus' response as a scenario in his classes," she said. "We have another adjunct who is on special assignment in Ottawa and he is going to talk about closing the border."
Associate Professor of Practice Susan Buckley mirrored the need for community and individual fortitude during periods of isolation and emergency response.
"The current circumstances also have provided a true opportunity to discuss the concept of social consciousness and sacrificing as one person for the benefit of the community," Buckley said. "This is certainly a concept that anyone in the field of Criminal Justice is familiar with and the students are getting a healthy dose of living with the commitment of protecting others."
Business Behaviors
Professor Charles R. Fenner, Ph.D., who is the curriculum coordinator for the Management program, said the discussion has already shifted in his Business Ethics course to encompass the demand on goods. He noted the addition of fear and uncertainty brought on by the pandemic has directly led to hoarding and price gouging, which compounds the scarcity of critical items needed in health care.
"An underlying human strength is our ability to work together in large numbers," he said. "Our nation works well because we create an equality of conditions. When people use fear and hoarding to their advantage, it destroys our ability to function well as a group and thus our ability to be successful as a whole. Think of an ant colony or a beehive. If all individuals do their individual jobs, the colony thrives. If not, the colony collapses."
He noted current hoarding behaviors border on irrational thought. He said, logically, people should have been more motivated to stockpile scarcer items that are produced in warmer climates like coffee or rice. However, when consumers see empty shelves, they instinctively think they should also amass common goods, including toilet paper, causing a cascade effect and subsequent shortages.
"Our country's economy is service-based rather than manufacturing-based," he said. "We are seeing the economic impact of consumers not purchasing services. Culturally, we are not a nation of savers. If we can't spend our earnings due to social distancing, it will be very detrimental to our local, statewide, and national economy."
Fenner reemphasized the need to shop locally. He suggests looking at area restaurants that offer takeout options, and said many national chains are franchise operations maintained by local owners.
"When we put more water in our local pond, we lift everyone's boats together," he said. "When we spend locally, we ensure an active and vibrant community. It is in our best interest to invest in our community."
SUNY Canton's COVID-19 Response
There are just over 100 students living at the college, currently. Those who have remained only stayed because they were international students who could not go to their home countries, or face some hardship, or some other form of housing insecurity. At the onset of the spring semester, approximately 3,200 students enrolled in classes. About half of the college's total population live on campus. More than 75% of the college's staff are working remotely.
SUNY Canton has postponed its commencement ceremony but remains committed to holding an in-person event at a later date. All other spring events have been pushed to a remote format or have been postponed.
The college's Provost and Vice President for Academic Affairs, Peggy De Cooke, Ph.D., recognized the amazing commitment of the college's stalwart educators who have found new and creative ways to continue the college's signature hands-on approach through distance learning.
About SUNY Canton
As Northern New York's premier college for career-driven bachelor's degrees, associate degrees and professional certificate programs, SUNY Canton delivers quality hands-on programs in engineering technology, management, and healthcare fields. It is home to the Center for Criminal Justice, Intelligence and Cybersecurity. Faculty members are noted for their professional real-world experience in addition to outstanding academic credentials. As SUNY's leader in online education, SUNY Canton OnLine offers hundreds of flexible and convenient courses as well as 23 online degree programs. The SUNY Canton Kangaroos 15 traditional athletic teams compete at the NCAA Division III level as part of the North Atlantic Conference. SUNY Canton also features varsity esports and cheerleading.