SUNY Canton Promotes Healthcare Management Faculty Member
The lead faculty member in SUNY Canton's most popular program empathizes with adult learners who are holding down jobs while completing their education.
Marela Fiacco, who teaches in the Bachelor of Science in Healthcare Management program, earned her Ph.D. in Healthcare Administration from Northcentral University alongside her busy higher education career.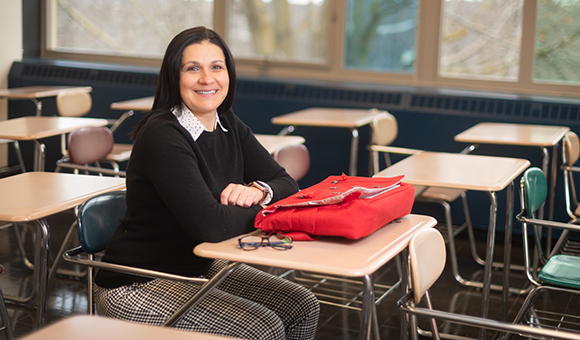 "Completing my doctorate, working full-time, and being a parent was very challenging," Fiacco said. "It was then that I began to fully understand the challenges that my non-traditional students go through."
Fiacco was recently promoted to associate professor within the School of Business and Liberal Arts, the latest evolution in her career that has spanned several successful positions. She began working as an adjunct instructor in 2006, teaching economics online and in evening classes. She was then hired to oversee the college's International Programs in 2008. She began teaching in the Healthcare Management program in 2014. The program has more than doubled in size with more than 320 total students.
Returning students and working professionals looking to advance their careers supplement the program's traditional college-age learners, according to Fiacco. Students are drawn to its well-established online curriculum and career-focused classes.
She said she sometimes doesn't meet her students in person until they complete their education.
"My very first commencement ceremony was so exciting," Fiacco said. "I had jitters and was so enthralled to see my students graduate. Some of them I met for the very first time face-to-face because our program is online. To see students start great careers upon graduation is so rewarding."
Fiacco was one of the first faculty members to incorporate flex learning into her courses. The technology was adopted two years prior to COVID-19 to live stream and simultaneously record lectures online, where students can access it at any time – or as many times – as they like. It allows online students the option of attending a class in person, while traditional on-campus or commuter students can decide whichever way they'd like to participate.
As one of the college's faculty members with significant real-world experience, Fiacco draws from her background in healthcare with Claxton-Hepburn Medical Center in Ogdensburg and Horizon Health in Texas. Her research encompasses the challenges facing rural healthcare institutions, including online health tools and patient portal technologies.
"I would like to expand the program so that we can offer various certificates and upscaling opportunities for nontraditional students in healthcare to address many challenges that the systems are facing," she said. "I also want to expand my research in access to health care services, rural healthcare challenges and issues related to mental health in rural areas."
She's also conducted numerous studies on the ways that students learn in an online environment and was named an Open SUNY Online Teaching Ambassador in 2019.
She currently lives in Norwood and is a member of the Norwood-Norfolk Central School Board of Educators.
About SUNY Canton
As Northern New York's premier college for career-driven bachelor's degrees, associate degrees and professional certificate programs, SUNY Canton delivers quality hands-on programs in engineering technology, management, and healthcare fields. It is home to the Center for Criminal Justice, Intelligence and Cybersecurity. Faculty members are noted for their professional real-world experience in addition to outstanding academic credentials. As SUNY's leader in online education, SUNY Canton OnLine offers hundreds of flexible and convenient courses as well as 23 online degree programs. The SUNY Canton Kangaroos 15 traditional athletic teams compete at the NCAA Division III level as part of the North Atlantic Conference. SUNY Canton also features varsity esports and cheerleading.