SUNY Canton and University at Buffalo Unveil SUNY-Wide Summer Esports Tournament
College esports competition will transcend in-person on-campus matches and break free of the established semester confines in an online contest.
The novel coronavirus (COVID-19) can't shut down esports. SUNY Canton and the University at Buffalo have partnered to create a summer video game tournament featuring five popular titles.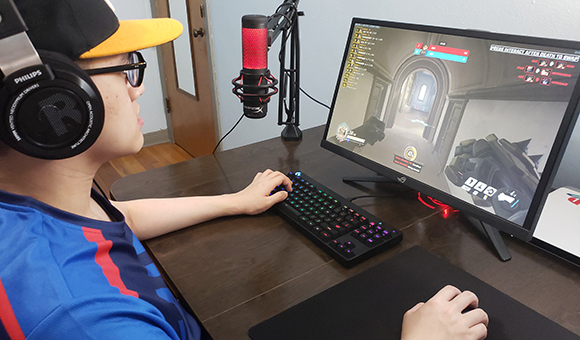 Students at all SUNY colleges are invited to play against their peers in "Counter-Strike: Global Offensive" by Valve, "League of Legends" by Riot Games, "Overwatch" by Blizzard, "Rocket League" by Psyonix and "Super Smash Bros. Ultimate" by Nintendo. Teams from SUNY Canton and the University at Buffalo will be entering in the majority of those titles. Both colleges have thriving esports programs with highly skilled teams actively playing the majority of the titles.
"Typically, collegiate esports is limited to traditional college semesters," said Charles W. Murray, SUNY Canton esports coordinator. "The tournament is the first time we'll be promoting competitive gameplay during the summer months. It will keep the love of the game strong and students' skills sharp."
Registration for the event is currently underway via Discord, the preferred communication channel within the gaming community, and will run until July 24. The initial matches will begin at noon on August 1. Semifinal and final matches will be held on the weekend of August 15. All competition will be completed remotely with students typically playing from their homes, eliminating the need for in-person matches encouraging social, or physical, distancing.
"Enthusiasm for UB's esports club team continues to grow with successful student-run events around campus, solid performances at competitive tournaments, and UB's recent entrance into the Esports Collegiate Conference," said Michael Yates, assistant director for university apartments, who helps oversee UB's esports teams. "My role in supporting the student group and its competitors is very motivating as it provides the chance to be a part of something that offers so many opportunities for community engagement."
The competition is free to all SUNY students. LeagueSpot, a leading platform partner for esports programs, has graciously donated their services to create the tournament.
"After the success of the SUNY Chancellor Esports Challenge Co-sponsored by Extreme Networks this Spring, it was clear we were working with a very special group," said LeagueSpot CEO Andrew Barnett. "We wanted to do anything we could to give another great experience to all of the students and schools participating in the SUNY esports community."
SUNY Canton helped launch the system-wide challenge to assist students after all colleges moved to remote learning in spring 2020. Extreme Networks, the college's closest partner in esports, supplied half of the prize funding and contributed substantial promotional efforts. The winning teams received money toward their school's COVID-19 student relief funds.
"During this time of isolation and social distancing, esports tournaments create a much-needed sense of belonging for students," said Randy B. Sieminski, SUNY Canton director of athletics. "The comradery with the other SUNY schools, tournament participants, and organizers is extraordinarily rewarding. We hope to continue developing our healthy and competitive relationship for the future."
About SUNY Canton
As Northern New York's premier college for career-driven bachelor's degrees, associate degrees and professional certificate programs, SUNY Canton delivers quality hands-on programs in engineering technology, management, and healthcare fields. It is home to the Center for Criminal Justice, Intelligence and Cybersecurity. Faculty members are noted for their professional real-world experience in addition to outstanding academic credentials. As SUNY's leader in online education, SUNY Canton OnLine offers hundreds of flexible and convenient courses as well as 23 online degree programs. The SUNY Canton Kangaroos 15 traditional athletic teams compete at the NCAA Division III level as part of the North Atlantic Conference. SUNY Canton also features varsity esports and cheerleading.