SUNY and SUNY Canton Create SUNY Esports League
Extreme Networks Becomes First Official Partner
The State University of New York has announced the creation of the first system-wide esports league to promote safe competition, connection and camaraderie among students during COVID-19 restrictions. As a leader in SUNY esports, SUNY Canton has a pivotal role in organizing this unprecedented initiative along with partner Extreme Networks.
"Creating a new system-wide league is clearly the logical next step following the extraordinary success of this year's SUNY Esports Chancellor's Challenge Co-Sponsored by Extreme Networks," said SUNY Canton President Zvi Szafran. "SUNY Esports will offer the opportunity for all schools throughout the system to compete. Being able to do so despite the COVID-19 pandemic makes it even more rewarding. I applaud the chancellor and SUNY for expanding student opportunities at a time when so many traditional options have to be limited."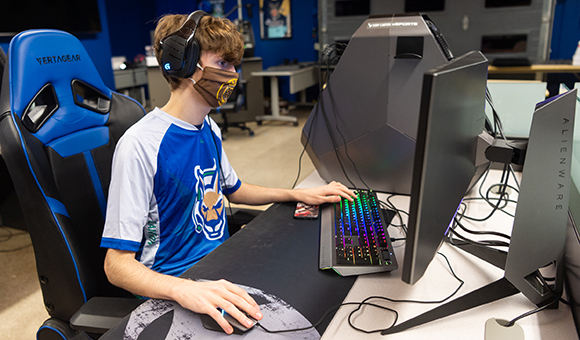 The new SUNY Esports League is building on the momentum from the Chancellor's Challenge, which was held during the spring 2020 semester and attracted 46 colleges and nearly 500 students.
"SUNY is proud to partner with Extreme Networks to do something that we have never done: launch a system-wide esports league that can bring together students from all 64 campuses," said SUNY Chancellor Jim Malatras. "As we navigate the coronavirus era, our students need safe avenues for connecting, building camaraderie with their classmates, and simply enjoying life. This new league will harness the growing talent and enthusiasm for esports across SUNY to bring people together in a safe and socially distant way. I want to thank SUNY Canton President Zvi Szafran and his entire team for their hard work in creating something that will benefit students across SUNY."
Extreme Networks Inc. is the SUNY Esports League's first official partner. This spring, the company donated half of the prize money for the Chancellor's Challenge to benefit winning schools' COVID-19 relief funds.
"For students facing a new normal, esports provides an outlet for them to connect and have fun together while they are physically apart," said Norman Rice, chief operating officer, Extreme Networks Inc. "The undeniable, growing interest in esports since the onset of COVID shows that participants and viewers alike are benefiting from the ability to connect through online competitions. Extreme is a proud supporter of SUNY's system-wide esports program and we are excited to serve as the official networking provider for their esports program and arenas."
The SUNY Esports League will offer gameplay in:
"Rocket League" by Psyonix
"Super Smash Bros. Ultimate" by Nintendo
"Fortnite" by Epic Games
"Tom Clancy's Rainbow Six Siege" by Ubisoft
"Paladins" by High-Rez Entertainment
"Smite" by High-Rez Entertainment
Registration for the fall league is open now to all SUNY schools, and goes through Thursday, September 24. Interested teams can sign up by emailing suny@leaguespot.gg.
SUNY Canton will be proudly entering teams in each of the games, according to Charles W. Murray, the college's esports coordinator, who helped design the league and will oversee its management. Overall, the college has nine teams, including popular titles "League of Legends" by Riot Games and "Overwatch" by Blizzard. There are future plans to add more games to the SUNY League as the effort gains traction.
"The SUNY Esports League is providing new avenues for our students and creating a better overall experience," Murray said. "Our hope is to continue solidifying competitive relationships and offer students more ways and teams to play."
Game orchestration will be provided by LeagueSpot, a leading platform partner for esports programs. SUNY and SUNY Canton have partnered with the organization to offer its previous tournaments.
"Our team is excited to assist in the creation of such a monumental esports program," said LeagueSpot CEO Andrew Barnett." SUNY is a great community of schools and students, and we're overjoyed to be able to continue our work with the system and provide the best structure and support possible for their program.
About Extreme Networks
Extreme Networks is the Official Wi-Fi Solutions Provider of the NFL, delivering high-density Wi-Fi or Wi-Fi analytics solutions to 25 NFL teams, and during the past seven Super Bowls. This year marks the seventh season of the Extreme-NFL partnership. Extreme solutions are deployed in professional sports stadiums around the world, and at more than 17,000 schools and 4,500 college campuses worldwide, powering digital education initiatives and enabling competitive esports programs.
Extreme Networks Inc. (EXTR) creates effortless networking experiences that enable all of us to advance. We push the boundaries of technology leveraging the powers of machine learning, artificial intelligence, analytics, and automation. Over 50,000 customers globally trust our end-to-end, cloud-driven networking solutions and rely on our top-rated services and support to accelerate their digital transformation efforts and deliver progress like never before. For more information, visit Extreme's website or follow us on Twitter, LinkedIn, and Facebook.
About the State University of New York
The State University of New York is the largest comprehensive system of higher education in the United States, and more than 95 percent of all New Yorkers live within 30 miles of any one of SUNY's 64 colleges and universities. Across the system, SUNY has four academic health centers, five hospitals, four medical schools, two dental schools, the state's only college of optometry, and manages one US Department of Energy National Laboratory. As of Fall 2019, more than 415,500 students were enrolled in a degree-granting program at a SUNY campus. In total, SUNY serves about 1.3 million students in credit-bearing courses and programs, continuing education, and community outreach programs. SUNY oversees nearly a quarter of academic research in New York. Research expenditures system-wide exceeded $1.7 billion in fiscal year 2019, including significant contributions from students and faculty. There are three million SUNY alumni worldwide, and one in three New Yorkers with a college degree is a SUNY alum. To learn more about how SUNY creates opportunity, visit www.suny.edu, and for more information about additional COVID-19 fundraising efforts, visit #SUNYTogether.
About SUNY Canton
As Northern New York's premier college for career-driven bachelor's degrees, associate degrees and professional certificate programs, SUNY Canton delivers quality hands-on programs in engineering technology, management, and healthcare fields. It is home to the Center for Criminal Justice, Intelligence and Cybersecurity. Faculty members are noted for their professional real-world experience in addition to outstanding academic credentials. As SUNY's leader in online education, SUNY Canton OnLine offers hundreds of flexible and convenient courses as well as 23 online degree programs. The SUNY Canton Kangaroos 15 traditional athletic teams compete at the NCAA Division III level as part of the North Atlantic Conference. SUNY Canton also features varsity esports and cheerleading.