SUNY Canton Establishes New Partnerships with the University at Albany
Recent articulation agreements will offer graduate-level education for students beginning in fall 2020.
Students enrolled in SUNY Canton's Center for Criminal Justice, Intelligence and Cybersecurity (CJIC) have two new fast-track pathways to earn their graduate degrees.
Faculty and administration from SUNY Canton have established articulation agreements with the University at Albany allowing students to begin working on one of two master's programs while completing their bachelor's degrees.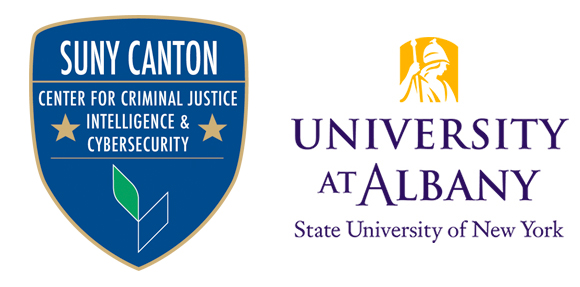 Professor Elizabeth A. Brown, Ph.D., who oversees SUNY Canton's CJIC, said several students have already been accepted into one of the programs and plan to begin taking graduate classes online during the fall 2020 semester.
"Students are accepted into one of the UAlbany graduate programs in their junior year at SUNY Canton," Brown said. "They can enroll in up to four graduate-level courses online for the same cost as their undergraduate courses at SUNY Canton. This will allow students to complete one third of their graduate coursework by the time they complete their bachelor's degree."
One of the plans links the college's CJIC with UAlbany's College of Emergency Preparedness, Homeland Security and Cybersecurity (CEHC) and will lead directly into a Master of Science in Information Science degree. The other leads into a Master of Arts in Criminal Justice degree offered through UAlbany's School of Criminal Justice. Both are open to nearly 500 students enrolled in seven academic programs at SUNY Canton.
The agreements are part of a large SUNY-wide effort to connect programs statewide through SUNY Online, which creates unified education options. Future agreements will allow students to begin at their hometown community colleges, continue in a four-year SUNY Canton program, and then complete their education at UAlbany completely online.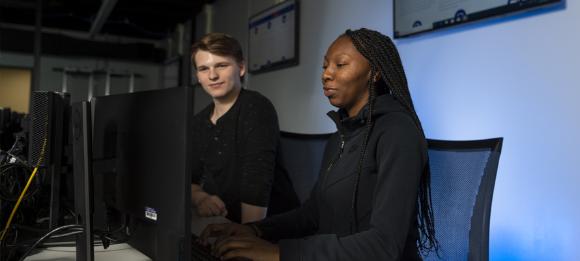 At SUNY Canton, the CJIC was designed specifically to offer advanced educational opportunities, including the ones with UAlbany, and to expand relationships with state law enforcement and corrections agencies. It also houses the SUNY Canton Corrections Academy and the David Sullivan - St. Lawrence County Law Enforcement Academy, creating direct links to employment after graduation.
Although the college has numerous articulation agreements with other institutions, this is the very first that will lead directly into a graduate degree within the CJIC.
"We are committed to creating broader transfer opportunities for all SUNY students," said SUNY Canton Provost and Vice President for Academic Affairs Peggy A. De Cooke. "Articulation agreements provide a well-established channel through all levels of education."
"Providing seamless transfer options to enhance student success has been and continues to be a core priority at the University at Albany," added UAlbany Provost and Senior Vice President for Academic Affairs Carol Kim. "We are proud to partner with SUNY Canton in offering students fast-track opportunities to earn graduate-level degrees."
About the University at Albany
A comprehensive public research university, the University at Albany-SUNY offers more than 120 undergraduate majors and minors and 125 master's, doctoral, and graduate certificate programs. UAlbany is a leader among all New York State colleges and universities in such diverse fields as atmospheric and environmental sciences, business, public health, health sciences, criminal justice, emergency preparedness, engineering and applied sciences, informatics, public administration, social welfare, and sociology taught by an extensive roster of faculty experts. It also offers expanded academic and research opportunities for students through an affiliation with Albany Law School. With a curriculum enhanced by 600 study-abroad opportunities, UAlbany launches great careers.
About The College of Emergency Preparedness, Homeland Security and Cybersecurity:
The University at Albany's first-in-the-nation College of Emergency Preparedness, Homeland Security and Cybersecurity (CEHC) brings together people, technology and knowledge to better protect New Yorkers, the nation and the world. Launched by Gov. Andrew Cuomo in 2015, the college cuts across numerous academic disciplines – including atmospheric science, computer science, criminal justice, digital forensics, informatics, public administration, public health and political science. Classroom work is supplemented by experiential learning opportunities where students can put theory to practice in the field. CEHC was designated an "iSchool" in July 2018 and will be the centerpiece of UAlbany's $180 million ETEC building.
About SUNY Canton
As Northern New York's premier college for career-driven bachelor's degrees, associate degrees and professional certificate programs, SUNY Canton delivers quality hands-on programs in engineering technology, management, and healthcare fields. It is home to the Center for Criminal Justice, Intelligence and Cybersecurity. Faculty members are noted for their professional real-world experience in addition to outstanding academic credentials. As SUNY's leader in online education, SUNY Canton OnLine offers hundreds of flexible and convenient courses as well as 23 online degree programs. The SUNY Canton Kangaroos 15 traditional athletic teams compete at the NCAA Division III level as part of the North Atlantic Conference. SUNY Canton also features varsity esports and cheerleading.