SUNY Canton Celebrates New Assistant Director of Student Activities, Involvement, and Leadership
Robert M. Bruce has defined his career by working with student leaders and encouraging growth within SUNY Canton's clubs and organizations. He is best known for his behind-the-scenes efforts to help ensure concerts and student events run smoothly and sound perfect.
The college is recognizing Bruce following his promotion to assistant director of Student Activities, Involvement and Leadership (SAIL).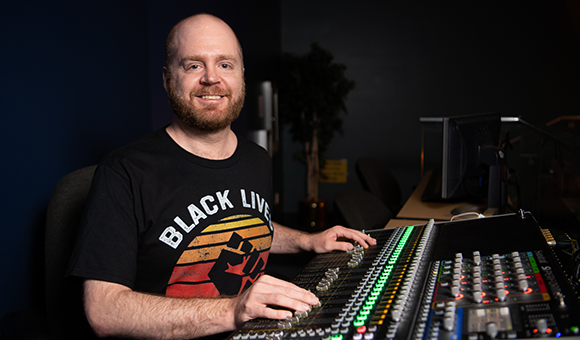 "My favorite memories here at SUNY Canton are seeing students' reactions after special events," he said. "I also love to watch our student leaders grow into strong, empathetic, confident, and capable members of our community."
Bruce graduated from the Berklee College of Music with a concentration in contemporary writing and production in 2012. He currently plays bass and dabbles in piano, guitar and drums.
"I went back to school at 28 after working years in a gas station convenience store and the now defunct Borders Books," he said. "I like telling students that life, school, etc. is not a race. Everyone has their own pace, and I would not change my timeline one bit."
The accomplished musician said he sees himself working closely with students for the foreseeable future and would like to get more involved within the public service field. "My connections with students are a big part of what drives me.
Originally hailing from Connecticut, Bruce now lives in Potsdam and has extensive ties with the north country. He was living in New York City when he first heard about a technical manager position at SUNY Canton from his brother-in-law in 2013. "My sister Lauren is the head coach of women's lacrosse at SUNY Potsdam," Bruce said. "My oldest sister, Krista, was the music teacher at Potsdam High School."
Bruce works under Priscilla Legette, director of SAIL. The office is part of the Student Affairs division and housed in the Richard W. Miller Campus Center.
"I would not be the emerging leader I'm striving to be without Priscilla's unwavering support," he said. "She has remained steadfast in assuring me with straight-forward and constructive feedback as well as guiding me to become a better person."
About SUNY Canton
As Northern New York's premier college for career-driven bachelor's degrees, associate degrees and professional certificate programs, SUNY Canton delivers quality hands-on programs in engineering technology, management, and healthcare fields. It is home to the Center for Criminal Justice, Intelligence and Cybersecurity. Faculty members are noted for their professional real-world experience in addition to outstanding academic credentials. As SUNY's leader in online education, SUNY Canton OnLine offers hundreds of flexible and convenient courses as well as 23 online degree programs. The SUNY Canton Kangaroos 15 traditional athletic teams compete at the NCAA Division III level as part of the North Atlantic Conference. SUNY Canton also features varsity esports and cheerleading.