SUNY Canton Faculty Join College Partner Day & Nite All Service for Food Waste Summit
SUNY Canton faculty members are helping drive environmental change within the food service and hospitality industries.
The college was invited to participate in the inaugural Hospitality Sustainability and Food Waste Summit orchestrated by college partner and donor Day & Nite All Service. It is part of the company's effort to encourage grass roots sustainability solutions that benefit the earth, consumers and business owners.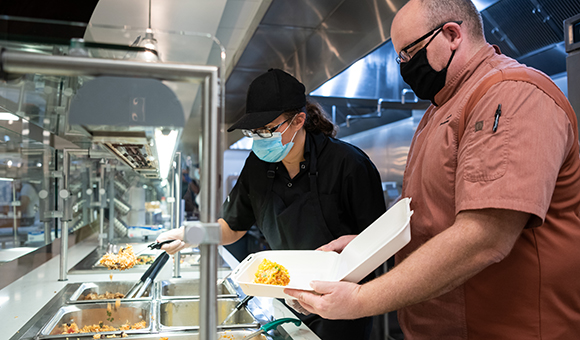 "Mother Nature is telling us something," said Day & Nite Chief Operating Officer Michael A. Berman, pointing out a slew of recent global climate-related emergencies. "There is not the appropriate level of action, and we are in a crisis mode. The planet is not going to be forgiving."an
Berman invited Assistant Professor Hiren A. Bhavsar, Ph.D., lead faculty member for the college's Agribusiness Management program, to serve as the moderator for the Food Waste Realities and Best Practices panel. Associate Professor Rajiv Narula, Ph.D., who teaches chemistry, will be an event panelist. Both SUNY Canton faculty members have promoted sustainability in their respective programs and on campus.
"One of the biggest failures of the sustainability initiative is that there is a limited amount of education backing it," Berman said. "Most companies or organizations really want to be sustainable but fear the expense. The panel and the moderator will relay the practical solutions companies can do every single day that will not add cost."
Bhavsar is an agricultural economist whose research focus has been on environmental economics, organic farming and biotechnology, which are all part of the goal of sustainable agriculture globally.
"Food security and food supply chain are key in agricultural business," Bhavsar said. "Many factors play a role in global warming and food waste is one of the major contributors. The goal of the panel will be to focus on how different business models can help reduce food waste and reduce the eventual addition of methane gas to the environment."
Narula's background with the college includes helping to create a pollinator garden on campus, a composting project that diverts 350 pounds of pre consumer food waste away from landfills, and a tree nursery.
"Today's students are interested in reducing their overall footprint," Narula said. "Lessening food waste can be accomplished by composting on a small scale and through anaerobic digestion as a large-scale solution. There are exceptional opportunities that can help us switch to a non-wasting economy."
The free day-long summit featuring discussions on localizing global sustainability, food waste realities and best practices and green cleaning alternatives, will begin at 9 a.m. Tuesday, Oct. 12, and will be held virtually. Those interested can register online.
"Each session will end with concrete recommendations and actions we can all take for creating a far better today and future through effective, smart, pragmatic sustainable business practices," Berman said. "By showing all others how we are cleaning up our act, we can count on all other sectors of society to follow."
About Day & Nite All Service
Day & Nite / All Service / Popular Plumbing is a second-generation family-owned commercial refrigeration, kitchen equipment, HVAC, plumbing installation, maintenance and emergency repair company located in New Hyde Park. It has become one of the college's top allies and sponsors educational scholarships, creates paid internship opportunities and hires its graduates. During the initial onset of COVID-19, the company donated Bi-Polar ionization units to help filter out bacteria and viruses in several buildings on campus as part of a study. Day & Nite has installed equipment and provided service for Yankee Stadium, the White House and the Javits Center, among other high-profile clients.
About SUNY Canton
As Northern New York's premier college for career-driven bachelor's degrees, associate degrees and professional certificate programs, SUNY Canton delivers quality hands-on programs in engineering technology, management, and healthcare fields. It is home to the Center for Criminal Justice, Intelligence and Cybersecurity. Faculty members are noted for their professional real-world experience in addition to outstanding academic credentials. As SUNY's leader in online education, SUNY Canton OnLine offers hundreds of flexible and convenient courses as well as 23 online degree programs. The SUNY Canton Kangaroos 15 traditional athletic teams compete at the NCAA Division III level as part of the North Atlantic Conference. SUNY Canton also features varsity esports and cheerleading.