SUNY Canton's Newest Associate Professor of Chemistry Reflects on Education, Gardening
Education is like gardening, according to a SUNY Canton chemistry faculty member.
Rajiv Narula, Ph.D., who was recently promoted to associate professor within the School of Science, Health and Criminal Justice, quoted an adage identifying gardening and teaching as labors of love where each plant or student is individually cultivated to thrive.
"In education, each person's success is more important than the aggregate results," he said.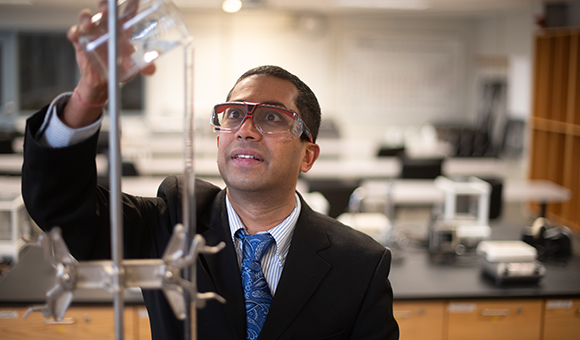 Narula is also the faculty member most closely associated with the college's pollinator garden and Kenneth Theobald Botanical Nursery, which helps nurture saplings to be replanted on campus. In addition to chemistry, he teaches environmental science, and a first-year experience class.
One of the ways that Narula has encouraged student success is by attending midnight study sessions and making himself available online to discuss formulas and equations. Additionally, he is well known for his motivational introductory lectures held on the first day of class.
"They have elements of humor, motivation, value of education, why the class is important, how the course will be delivered, why participation from students is important, and what the class boundaries are," he said. "My biggest surprise was when several of my students who had already passed Chemistry and were now in programs like Nursing and Veterinary Technology came back to listen to the first lecture again."
Narula was born and raised in Calcutta, India, and now resides with his family in Canton. He earned his Doctor of Environmental Science and Engineering degree from Clarkson University in 2011 at the same time he began his career as a professional tutor at SUNY Canton. Within a year of being hired, he became a chemistry instructor, and was promoted to Assistant Professor.
In addition to having earned all of the degrees necessary to become an established college faculty member, he's gone on to earn his second master's degree in education from St. Lawrence University with hopes of becoming a better educator. He plans on enrolling in Clarkson's MBA program in the future.
With his background in science, Narula has published numerous papers on reducing pathogens created by dairy farms. Much of his current scholarly research now focuses on the way individuals learn and ways to integrate student-oriented sustainability projects.
He recalled one of the biggest surprises he received was when his wife went into Canton-Potsdam Hospital to deliver their son, Rohan, and two of the three attending nurses were his former students. "It was a moment of immense pride and joy for me to see my students outside of college, working professionally, but the greatest joy was them helping my wife deliver our baby."
His future plans involve further personal and professional growth in the college's gardens and in his classroom.
About SUNY Canton
As Northern New York's premier college for career-driven bachelor's degrees, associate degrees and professional certificate programs, SUNY Canton delivers quality hands-on programs in engineering technology, management, and healthcare fields. It is home to the Center for Criminal Justice, Intelligence and Cybersecurity. Faculty members are noted for their professional real-world experience in addition to outstanding academic credentials. As SUNY's leader in online education, SUNY Canton OnLine offers hundreds of flexible and convenient courses as well as 23 online degree programs. The SUNY Canton Kangaroos 15 traditional athletic teams compete at the NCAA Division III level as part of the North Atlantic Conference. SUNY Canton also features varsity esports and cheerleading.