SUNY Canton Students Saved More Than $1 Million with Open Educational Resources
Textbook purchases are becoming less of a financial barrier to quality higher education.
SUNY Canton faculty members have helped students save an estimated $1,072,840 in three years by using open educational resources (OER) with the Southworth Library.
The free-use learning materials are becoming more prevalent as traditional college textbooks continue to rise in price, according to Library Director Cori Wilhelm.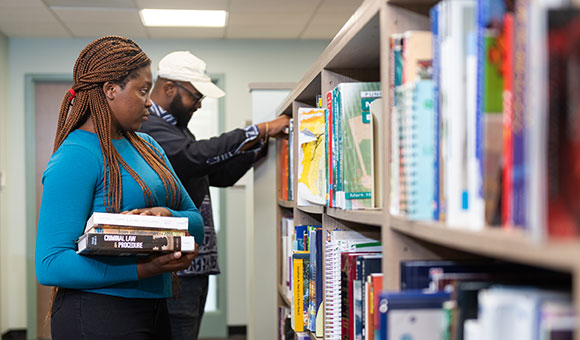 "Even students who plan ahead and save money for college can find themselves in the difficult position of trying to pay for their textbooks," Wilhelm said. "Every time a faculty member decides to switch to OER, it makes classes more affordable and broadens access to our academic programming."
SUNY Canton is part of a SUNY-wide OER initiative that began in 2018. During the first year, SUNY Canton students saw an estimated savings of $140,440. During the 2019-2020 academic year, the savings more than doubled to an estimated $394,419. During 2020-2021, the estimate increased to $537,981.
"We found that OER use grew during the COVID-19 pandemic and the shift to remote learning," Wilhelm said. "During the past year, 4,445 students enrolled in 211 course sections using OER."
According to the Bureau of Labor Statistics, textbook costs have increased more than 180 percent since 2006. Other estimates indicate that an average full-time, on-campus undergraduate at a four-year school spent $1,240 on books and supplies during the 2019-2020 academic year.
At SUNY Canton, faculty who teach Anatomy and Physiology courses made the switch from a textbook that cost more than $300. They were able to find an openly licensed replacement resource for the in-demand course.
The popular Applied Psychology program adopted OER for the program's initial course. "We had 460 students take Introduction to Psychology last year that didn't have to buy a textbook," Wilhelm said.
Southworth Library also has an eBook program that offers students access to online texts that are not on the public domain. During the 2020-2021 academic year, the eBook texts were provided for 204 courses and were accessed over 33,500 times, representing an estimated cost savings of $378,000. Traditional printed texts are also held in reserve for students to use as needed. In all, the initiatives covered 86% of the classes offered over the last year, with further growth expected for the future.
In addition to SUNY funding, the effort is supported by SUNY Canton Provost Peggy A. De Cooke and through the Higher Education Emergency Relief Fund, formerly known as the Coronavirus Aid, Relief, and Economic Security Act.
The SUNY Canton College Association, which manages retail and dining operations, partners with eCampus.com to provide traditional textbook purchases, rentals and electronic versions of texts with an emphasis on saving students money. The Campus Store continues to offer a large variety of exclusive campus gear, giftware and course supplies.
About SUNY Canton
As Northern New York's premier college for career-driven bachelor's degrees, associate degrees and professional certificate programs, SUNY Canton delivers quality hands-on programs in engineering technology, management, and healthcare fields. It is home to the Center for Criminal Justice, Intelligence and Cybersecurity. Faculty members are noted for their professional real-world experience in addition to outstanding academic credentials. As SUNY's leader in online education, SUNY Canton OnLine offers hundreds of flexible and convenient courses as well as 23 online degree programs. The SUNY Canton Kangaroos 15 traditional athletic teams compete at the NCAA Division III level as part of the North Atlantic Conference. SUNY Canton also features varsity esports and cheerleading.