SUNY Canton Seniors Replicate NASA Findings in Wind Tunnel Experiments
The answer to two SUNY Canton students' senior project is blowing in the wind.
Jerome Joseph and Andrew P. Fitch collaboratively rebuilt the control mechanism and testing equipment for aerodynamic experiments in the college's wind tunnel.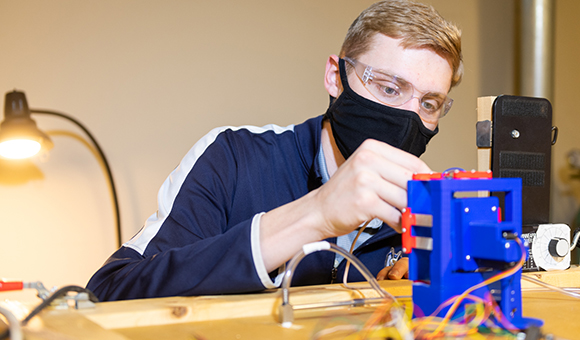 Previously, the college's equipment was only capable of calculating drag and lift of a stationary object. Using NASA designs, the pair of future engineers upgraded the entire unit with three servo motors and designed custom 3D printed parts to generate more accurate data for experimentation.
"We can change the orientation of the object in a fluid stream," Joseph said. "We can determine how those changes affects the drag and lift force."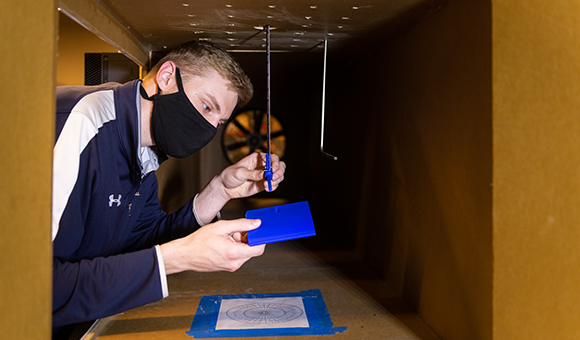 All the tests were conducted using a scale model of an airplane wing, again implementing NASA designs. "We knew if we could replicate their findings, we'd know that our wind tunnel and our design works," Fitch said.
Joseph and Fitch's project will help future students study aerodynamics. "If someone wanted to, they could test a model of any object," Joseph said. "They'd be able to use our project and see how their design reacts."
The college's wind tunnel draws air through a large opening across the mounted object, which is attached to the students' apparatus. Roll, pitch, and yaw are all controlled via a computer using an Arduino motor controller. The interface and software were also developed by Joseph and Fitch. The pair also added sensors to measure the air speed, velocity and temperature to further analyze their findings.
Joseph is from the Bronx, and Fitch came to Canton from Melbourne, Australia. Both students will be graduating from the college's four-year Mechanical Engineering Technology program Saturday, May 15. Joseph is seeking employment and Fitch is planning on continuing his education and research at Clarkson University, Potsdam.
About SUNY Canton
As Northern New York's premier college for career-driven bachelor's degrees, associate degrees and professional certificate programs, SUNY Canton delivers quality hands-on programs in engineering technology, management, and healthcare fields. It is home to the Center for Criminal Justice, Intelligence and Cybersecurity. Faculty members are noted for their professional real-world experience in addition to outstanding academic credentials. As SUNY's leader in online education, SUNY Canton OnLine offers hundreds of flexible and convenient courses as well as 23 online degree programs. The SUNY Canton Kangaroos 15 traditional athletic teams compete at the NCAA Division III level as part of the North Atlantic Conference. SUNY Canton also features varsity esports and cheerleading.