Recently Promoted SUNY Canton Faculty Member Champions Student Mental Health
Overall mental health and wellbeing of today's college students is a growing concern for the SUNY Canton Applied Psychology program's lead faculty member.
Barat Wolfe, Ph.D., who was recently promoted to associate professor in the college's School of Business and Liberal Arts, said the ongoing pandemic is adding to anxiety and depression.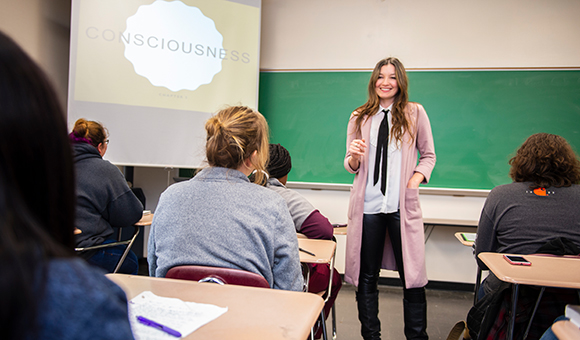 "We've traditionally treated wellness like it was an individual pursuit, but in reality, entire social systems are at the root of being 'well'," Wolfe said. "The rigid ideologies of individualism, consumerism, capitalism, and meritocracy are crushing young people. Shifting pressures resulting from a complicated social media landscape and serious social justice issues add to inordinate pressures college students are facing. I'm working on understanding this phenomenon and bringing practices into my classroom that support health and wellbeing for all."
Acknowledging that changing systemic issues is a multi-year pursuit, she suggested educators can take several smaller steps in their everyday interactions to help students to augment the transformation of larger collective problems.
"Helping students who are struggling can start with being 'well' yourself," She said. "Practice patience and self-compassion. But when in doubt, simply ask students 'Are you okay' and 'How can I help?'," she said. "Maybe you won't know how to intervene initially, but that small check-in can do wonders."
Additionally, educators can take a Mental Health First Aid course and help link students with mental health resources that already exist. She said older generations can make an effort to connect with students in their physical and virtual spaces and try to understand what it's like to live with modern pressures.
"We need to unlearn problematic biases that feed into societal expectations that negatively impact our students," she said. "We can engage in teaching methods and personal practices that reduce pressure our students might be feeling. We can learn what it means to be a college student today, which is very different that it was for those of us who attended 20 or more years ago."
College students are among the latest populations Wolfe has researched as a professional scholar and educator. She's previously conducted explorations into the factors jeopardizing the wellness of survivors of intimate partner violence and esports competitors, among others. She's coauthored or contributed to 16 different professional publications and presented at numerous conferences.
"I'm interested in understanding how people nurture health and wellness within social systems," she said.
In 2019, Wolfe was selected as a recipient of SUNY Canton President Zvi Szafran's Meritorious Service Award for her teaching excellence, university service and research achievements. Her leadership helped develop an online pathway for the four-year Applied Psychology program.
Wolfe is originally from Niagara Falls, Ontario, and lived in numerous cities across the province before immigrating. She earned her Ph.D. in Psychology from the University of Windsor. She also graduated from St. Lawrence University and is a hall of fame member of the 2000-2001 Saints women's hockey team and played in the first ever Frozen Four for NCAA Division I women's hockey. She now serves as the faculty athletic mentor for the Roos men's hockey team and accompanied them on a trip to Europe as they played in France and Italy.
She lives in Canton with her husband, Dan "Puck" Puckhaber.
About SUNY Canton
As Northern New York's premier college for career-driven bachelor's degrees, associate degrees and professional certificate programs, SUNY Canton delivers quality hands-on programs in engineering technology, management, and healthcare fields. It is home to the Center for Criminal Justice, Intelligence and Cybersecurity. Faculty members are noted for their professional real-world experience in addition to outstanding academic credentials. As SUNY's leader in online education, SUNY Canton OnLine offers hundreds of flexible and convenient courses as well as 23 online degree programs. The SUNY Canton Kangaroos 15 traditional athletic teams compete at the NCAA Division III level as part of the North Atlantic Conference. SUNY Canton also features varsity esports and cheerleading.