SUNY Canton Associate Professor Tops $440K For Cybersecurity Software Startup
SUNY Canton Associate Professor Kambiz Ghazinour, Ph.D., just landed a prestigious SUNY Technology Accelerator Fund (TAF) grant for $25,000, raising the total outside funding for his innovative cybersecurity educational software to more than $440,000.
Ghazinour serves as part-time CEO of CyberSpara and is developing a game-based Digital-Privacy and Security Simulation (Digital-PASS) learning software to teach individuals to mitigate security threats online. The SUNY Canton faculty member is named as an inventor on the patent for the platform.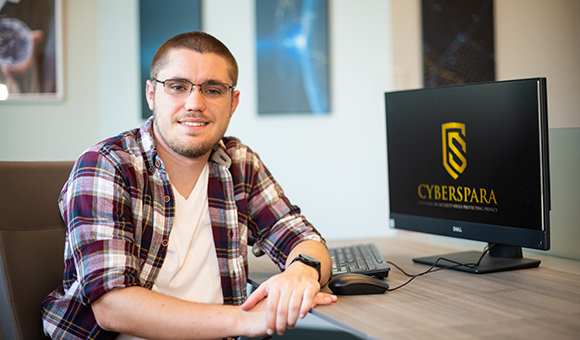 "Dr. Ghazinour and CyberSpara are creating an innovative and commercially viable product that directly benefits the greater educational and defense communities," said SUNY Canton Provost Peggy A. De Cooke. "This is the first time SUNY Canton has been named in the TAF funding allocations and was the only undergraduate-focused college that is not a university center to receive an award."
The State University of New York announced SUNY Canton was one of eight colleges to receive a TAF grant. It is the first known time the college had received funding from this source, which includes a portfolio of 57 new technologies funded since the program's inception ten years ago. The fund targets critical research and development milestones which demonstrate that an idea or innovation has commercial potential.
"The funding will expedite the development of our product and will help with the other grants we've received to improve our platform," Ghazinour said. "At this point it's all about finalizing the development of the technology and the product."
According to Ghazinour, the investments have been continuous and there are even more opportunities on the horizon. "TAF followed a $50,000 grant from NSF Innovation Corps, a $256,000 grant from the National Science Foundation Small Business Technology Transfer, and a $100,000 award from Griffiss Institute's Helping Upstate Science Technology Leaders and Entrepreneurs (HUSTLE) Defense accelerator," he said.
As part of the arrangement with HUSTLE, the fledgling company created a paid SUNY Canton Presidential Internship for Cybersecurity major Kyle Meagher of Oriskany. Meagher was the company's liaison to the U.S. Air Force and the Department of Defense to help understand their needs and help them understand the software platform. Meagher also studied the computer-based cyber-awareness content currently used in military applications.
"The Digital-PASS software will be used in both K-12 education and by the military," Ghazinour said. "Cyber warfare and information warfare are among the top priorities of the military right now, and they want to protect our assets from enemies' cyber-attacks."
CyberSpara and SUNY Canton have been working closely with the SUNY Research Foundation to help launch the software, which will eventually be available to individual consumers. The Research Foundation helped advance Digital-PASS as a commercially viable product and is interested in seeing it arrive on the market.
"As a faculty member I'm extremely fortunate to work with the Research Foundation," Ghazinour said. "They provide resources and direct us along a path to commercialization and provide a list of funding opportunities. They've been helping with every step along our journey."
About SUNY Canton
As Northern New York's premier college for career-driven bachelor's degrees, associate degrees and professional certificate programs, SUNY Canton delivers quality hands-on programs in engineering technology, management, and healthcare fields. It is home to the Center for Criminal Justice, Intelligence and Cybersecurity. Faculty members are noted for their professional real-world experience in addition to outstanding academic credentials. As SUNY's leader in online education, SUNY Canton OnLine offers hundreds of flexible and convenient courses as well as 23 online degree programs. The SUNY Canton Kangaroos 15 traditional athletic teams compete at the NCAA Division III level as part of the North Atlantic Conference. SUNY Canton also features varsity esports and cheerleading.