Senator Kirsten Gillibrand Visits SUNY Canton to Promote the American Manufacturing Communities Act
U.S. Senator Kirsten Gillibrand visited SUNY Canton's Canino School of Engineering Technology to advocate for the bipartisan and bicameral Made in America Manufacturing Communities Act of 2022.
"We already make great products in America," Gillibrand said. "We need to support the companies and the people who make them. When we do that, we can ensure that the next generation of products and technology are made here and made well."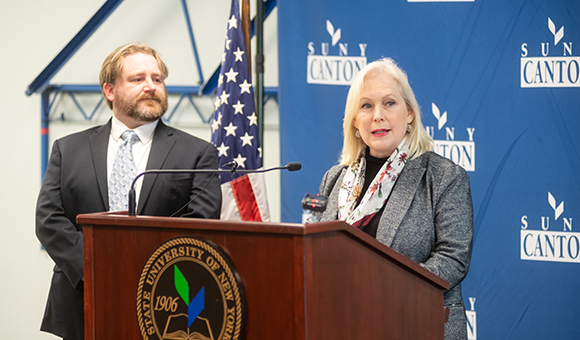 The new bill incentivizes private-public partnerships by empowering the Secretary of Commerce to designate consortiums as "Manufacturing Communities," which would be eligible for federal financial and technical assistance to expand and support domestic manufacturing. The senator pointed out recent disruptions to the supply chain brought about by the COVID-19 pandemic, and the overall shift in consumer purchasing patterns.
"We need to take action in order to keep pace with that growing demand and ensure that we aren't beholden to an international supply chain," Senator Gillibrand said. "I believe the best way to build up our economy is to build it here in America."
The Made in America Manufacturing Communities Act will help create manufacturing jobs that will both stabilize the supply chain and local economies, according to Gillibrand.
Investments would support partnerships between academic and workforce development programs, not for profit organizations, state and local governments, and commercial industry. Federal resources would also be available for existing programs to rebuild domestic manufacturing.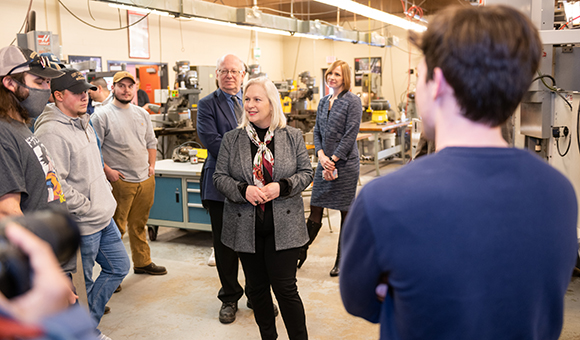 The new bill is supported by three Republican and two Democratic senators, in addition to Gillibrand. It has also been endorsed by congressional representatives from each party.
Gillibrand briefly toured the Mechanical Engineering Technology Laboratory in Nevaldine Hall and said she was impressed with the students she met. "These are young men who really have a vision for their future in manufacturing and advanced manufacturing," Gillibrand said. "They have a lot of ideas about how they want to use the skills they've built here and how they want to apply them."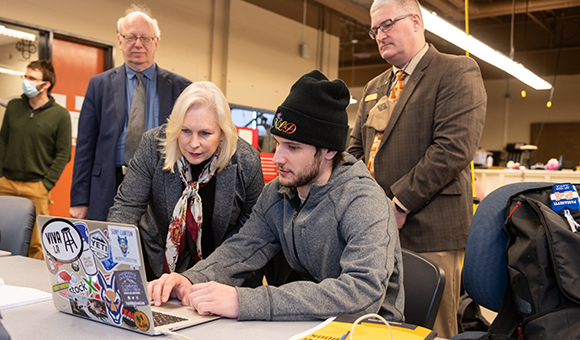 "Our college offers a broad range of degrees as well as certificates, microcredentials and workforce development programs that lead directly to jobs," SUNY Canton President Zvi Szafran said. "Colleges like SUNY Canton play an integral role, not just in preparing our students to be tomorrow's workforce, but also bringing the necessary partners in our communities together."
Szafran noted that SUNY Canton was working with Clarkson University, St. Lawrence University and SUNY Potsdam to create a regional entrepreneurial ecosystem to support sustainability and economic development. "Your bill, Senator Gillibrand, will help us convert this dream into reality," he said.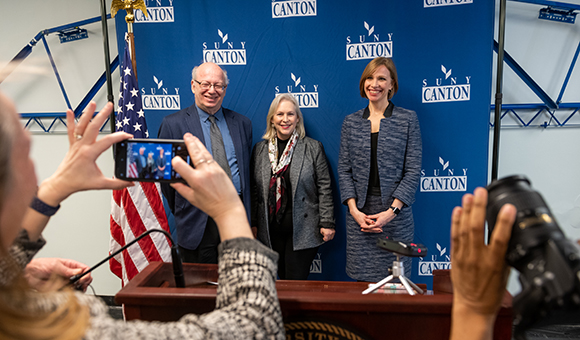 Michael J. Newtown, Canino School of Engineering Technology Dean accompanied the senator and explained several of the student projects. "SUNY Canton has a vested interest in promoting the skilled trades involved with the manufacturing industry," Newtown said. "We have dozens of programs that lead directly to in-demand careers available for our students, in addition to opportunities for invention and entrepreneurship."
About SUNY Canton
As Northern New York's premier college for career-driven bachelor's degrees, associate degrees and professional certificate programs, SUNY Canton delivers quality hands-on programs in engineering technology, management, and healthcare fields. It is home to the Center for Criminal Justice, Intelligence and Cybersecurity. Faculty members are noted for their professional real-world experience in addition to outstanding academic credentials. As SUNY's leader in online education, SUNY Canton OnLine offers hundreds of flexible and convenient courses as well as 23 online degree programs. The SUNY Canton Kangaroos 15 traditional athletic teams compete at the NCAA Division III level as part of the North Atlantic Conference. SUNY Canton also features varsity esports and cheerleading.