SUNY Canton Fondly Remembers Professor Dr. Edouard Mafoua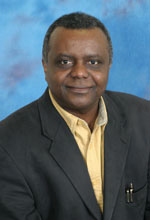 SUNY Canton has been collectively saying farewells and sharing warmhearted memories of a much-loved faculty member.
Professor Edouard B. Mafoua, Ph.D., passed away Friday, March 4, at Canton-Potsdam Hospital. Mafoua taught Economics in the Business Department, within the School of Business and Liberal Arts. He is survived by his wife, Laure Mafoua of Rochester, and their four children, Chancelle, Mamy, Sarika and Priscilla Mafoua-Namy. He also has two grown children who reside in the Congo. A complete obituary is pending. The college will update this article with more information as it becomes available.
"At the college, we're all deeply saddened by Dr. Mafoua's passing," said SUNY Canton President Zvi Szafran. "I'm exceptionally proud of the way the college has rallied to support his family, colleagues and students in this time of mourning. Dr. Mafoua will be remembered for his scholarship and teaching abilities in addition to his positive outlook and dedication to SUNY Canton."
Dr. Mafoua's legacy has been described as profound and lasting. He was quickly identified as a role model for generations of students and colleagues.
Numerous members of the campus community came forward to reflect on Dr. Mafoua's contributions. Professor Charles R. Fenner, Ph.D., was his former officemate and colleague. He recalled that Dr. Mafoua was always quick to offer extra help to students who found his subjects difficult.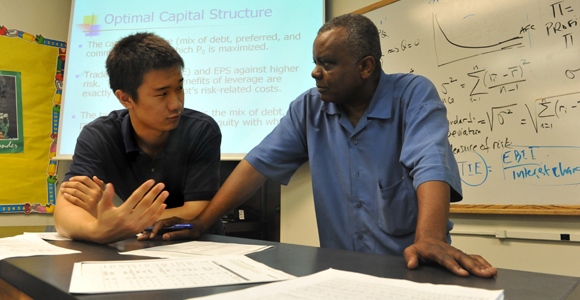 "He was very passionate about his field of study," Dr. Fenner said. "He was always ready to enlighten students minds with knowledge."
Dr. Mafoua was hired in 2005 as an assistant professor. He was among four faculty experts to present in a discussion about the 2008 financial crisis and its impacts on the North Country region. He was promoted to associate professor in 2007, and to his current title in 2016.
"During the time that I knew Edouard, he proved himself to be an integral part of our Business Department," said Kirk K. Jones, Ph.D., Interim Dean and Director of Assessment. "He taught content that was tough to tackle, and he did it with unparalleled finesse. During our school meetings, he was reserved, but when he spoke, he spoke with purpose. He brought fresh perspective to the table."
Dr. Mafoua taught online and in person throughout his career with the college.
Associate Professor Umesh Kumar, Ph.D., who teaches in the college's Finance program was one of Dr. Mafoua's closest friends. The two business faculty members collaborated on a research presentation "Analyzing Closed-End Funds Performance and Tax Reforms" which won a best paper award from the Academy of Business Research Conference in 2018. Kumar recalled his friend's positive attitude.
"Dr. Mafoua was a gem among faculty members here at SUNY Canton," Dr. Kumar said. "He was a true friend, colleague and genuine well-wisher. He always kept other's interest first and never carried a grudge against anyone. He always gave priority to his classes, his students and the college. SUNY Canton is a better place because he was here."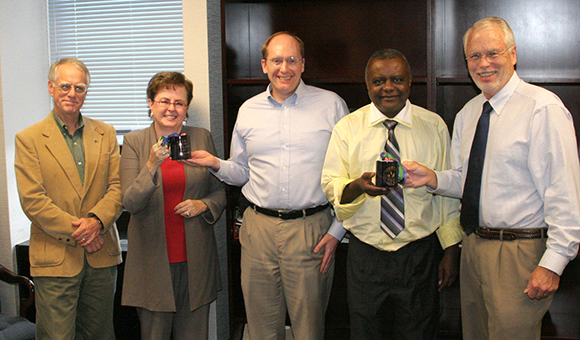 His curriculum vitae included seven other publications in both English and French in addition to numerous academic presentations.
As part of his academic career, Dr. Mafoua taught for the college's international summer programs. Kenan Idrizović, a former student, said in a Facebook post, "Sincere condolences to the family [and] SUNY community on part of the Bosnian students whom Dr. Mafoua taught during his career. He will be missed!"
Associate Professor and Health Care Management Chair Marela Fiacco, Ph.D., fondly recalled Dr. Mafoua's compassion. "He was my colleague and my first department chair," Dr. Fiacco noted. "He was the kindest and the nicest faculty member that you could ever ask for."
Assistant Professor Ran Li, Ph.D., who teaches Accounting, expressed deep sorrow on her mentor's passing. "He always instilled confidence in me and shared his experience and methodologies in building up great teaching and research at my junior career stage," Dr. Li said. "He was not only a colleague but also a great mentor."
A cadre of Dr. Mafoua's friends, including Professor Emeritus Daniel G. Fay, who taught Accounting for 50 years at the college, went to the hospital to support Dr. Mafoua and his wife at the time of his passing.
"He was a really good friend of mine," Fay said. "He was a great person who gave us a completely different outlook on education. He added an awful lot to our department and the college through his unique perspective. He was a real asset to our faculty. As an individual he was a great person."
David R. Penepent, Ph.D., director of the college's Funeral Services Administration program, helped orchestrate funeral arrangements through the alumni-operated Farrell-Ryan Funeral Home in Rochester.
About Dr. Mafoua
Dr. Mafoua was born and raised in the Republic of the Congo. He attended a government residential school as a meritorious student on scholarship. He received further financial support to pursue an Engineering degree in Agri-Management and Organization at Szent Istvan University, Godollo, Hungary. Later, he obtained a Graduate Certificate in Economics,
graduating summa cum laude from The Economics Institute at Boulder, Co., before proceeding to the University of Illinois at Urbana-Champaign, Ill., for his masters and Doctorate in Applied and Agricultural Economics. Prior to joining SUNY Canton, he served as an adjunct professor at Rutgers, The State University of New Jersey, New Brunswick-Campus, State University of New York Institute of Technology, MBA Program, Utica, the New York Institute of Technology, and Ellis College's MBA Program teaching a variety of economics courses. He also drove a taxicab and a limousine in New York City for a brief period while teaching at the college level.
Dr. Mafoua was admired for his acumen, scholarship and commitment to SUNY Canton. He was a teacher and researcher of the highest order. The meticulous way he prepared and delivered his lectures has been widely acclaimed by his students who remember him for his extraordinary teaching abilities. He had a novel and innovative approach to his pedagogy. He was a towering figure teaching across economics genre from macro, micro, managerial economics, to global economy, economic development of Africa, and environmental economics.
SUNY Canton Associate Professor Dr. Umesh Kumar contributed to this article.
About SUNY Canton
As Northern New York's premier college for career-driven bachelor's degrees, associate degrees and professional certificate programs, SUNY Canton delivers quality hands-on programs in engineering technology, management, and healthcare fields. It is home to the Center for Criminal Justice, Intelligence and Cybersecurity. Faculty members are noted for their professional real-world experience in addition to outstanding academic credentials. As SUNY's leader in online education, SUNY Canton OnLine offers hundreds of flexible and convenient courses as well as 23 online degree programs. The SUNY Canton Kangaroos 15 traditional athletic teams compete at the NCAA Division III level as part of the North Atlantic Conference. SUNY Canton also features varsity esports and cheerleading.