SUNY Canton Welcomes New Hall of Fame Members
SUNY Canton welcomed seven new members into its college-wide Hall of Fame
"We've been fortunate to have many people who have given much and dramatically influenced our path as a college," said Vice President for Advancement Tracey L. Thompson at the recent Alumni and Foundation Awards Ceremony. "You have made a difference to us and to what SUNY Canton has become."
The newest SUNY Canton Hall of Fame members include:
Stacey L. Basford, a graduate of the class of 2007 and 2008. Basford began her career at the college in 1994 as a keyboard specialist and became the executive assistant to the president in 2002. She also held temporary or interim positions as the college's director of public relations, director of government relations, compliance officer, affirmative action officer, and Title IX coordinator, among other positions. Basford was noted as a critical link to the SUNY Canton College Council, SUNY System Administration, and State elected representatives. She has since left the college and has embarked on a successful career with Morristown Central School.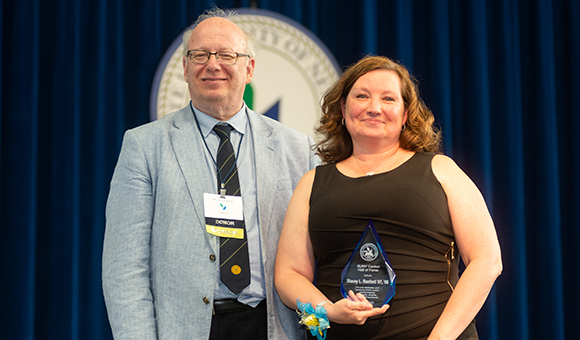 "It is a privilege to be a part of a Hall of Fame that has recognized so many great people who are very dear to my heart," Basford said. "It is even more of a privilege to be inducted alongside three of my dearest friends and former coworkers, Dave Gerlach, Anne Williams and Mike Perry."
David M. Gerlach, Ph.D., a graduate of the class of 1983 and SUNY Canton's former vice president for advancement. Gerlach started his 30-year career at SUNY Canton as a student worker in Chaney Dining Center. He became a resident assistant, and then was hired as a residence hall director, and later director of residence life. He became the dean of enrollment management. During his final position, he oversaw the Canton College Foundation, Alumni and Development, Admissions, Public Relations, Athletics, and Career Services. He also oversaw the largest fundraising effort in college history. Gerlach was an original architect of the college's Hall of Fame. He left SUNY Canton to fulfill his lifelong dream of becoming a college President at Lincoln College in Illinois.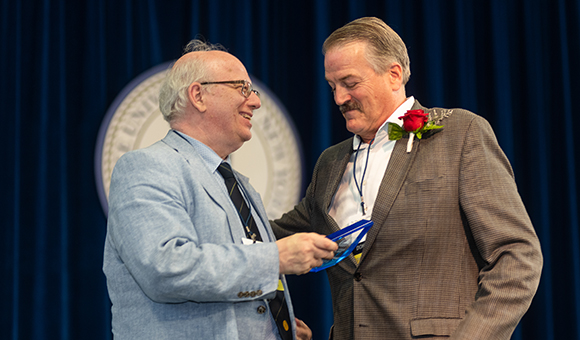 "It was almost 41 years ago today that I would have started my time at Canton," Gerlach said during the ceremony. "I'd like to thank all the mentors I had throughout my career."
Michael J. Perry, retired executive director of the SUNY College Association, Inc. Perry was recognized for encouraging and creating student leaders. He held several interim or temporary roles at the college, including overseeing student activities, where he helped bring concerts to the campus and the community. Widely known as the College's go-to person for new projects, he was instrumental in the creation of the Kennedy Suites Residence Hall. Perry also oversaw the Office of Admissions during a pivotal and transformational period at the college. He was a board member of the Canton College Foundation and helped create scholarships and enrollment opportunities. Following retirement, Perry served as the Town of Hermon Supervisor and continued working at SUNY Canton as a basketball scorekeeper. Perry passed away in March and was honored posthumously. Each of the other inductees reflected on Perry's tremendous impact on SUNY Canton. His son, Michael Perry, Jr., and daughter, Michelle accepted the award.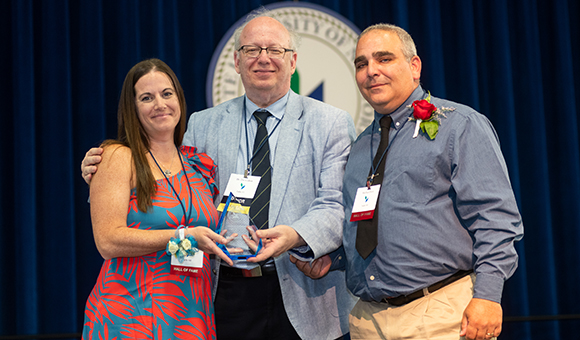 "This college was my father's life for 41 years," said Michael Perry, Jr. "He worked tirelessly to support SUNY Canton and all the students who represented it. Everything he did revolved around the students."
Kahan Sablo, Ed.D, SUNY Canton's founding director of multicultural affairs and the first diversity officer at the college. Sablo attended college with aspirations of becoming a New York City Police Officer. However, while in school, Sablo was the victim of two significant acts of discrimination. These challenging incidents ignited his passion for collegiate diversity and inclusion work. Sablo has over 30 years of experience in Emergency Medical Services (EMS), which includes volunteer work as a certified paramedic. He is a member of the leadership team of the International Black/African Heritage Constituency Caucus. Also, he is a proud brother of Alpha Phi Alpha Fraternity, Inc., the nation's first collegiate fraternity for African American men.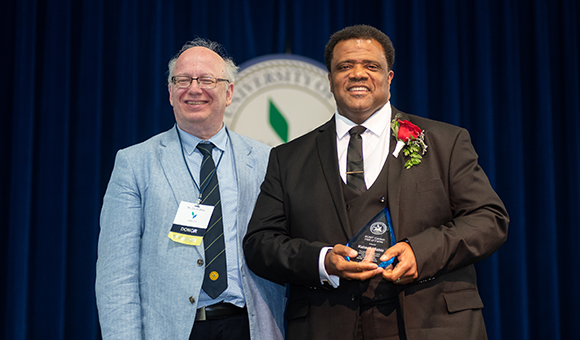 "Thank you for this honor," Sablo said. "One of my first tasks at SUNY Canton was to create an urban orientation program. That program was an opportunity to show them to all that Canton had to offer."
Carson E. Smith, SUNY Canton's former vice president for administration and his wife, Gleneva Smith. Carson had a distinguished career in governmental and higher education administration. He applied his talent in positions across the country, including in Kentucky, Iowa, Missouri, and New York. His career accomplishments include campus reconstruction; major building renovations; and preliminary concept development, planning, and financing of SUNY Canton's Roos House Convocation, Athletic and Recreation Center. Gleneva Smith used her lifelong love of music to help lead the college's gospel choir. Carson highlighted his relationships with Facilities Director Michael McCormick, and fellow Hall of Fame members Christine Gray and Michael J. Perry during a video address to attendees.
Anne C. Williams, a 1978 graduate of SUNY Canton, who began her nearly 40-year career with the college in the word processing center. She then became a program aid in the Office of Admissions, where she first began working with Gerlach, who served as the Dean of Enrollment Management. She later became the Assistant to the Vice President for Advancement and served as the glue that held the division together. She received the College Council's Employee Recognition Award in 2002. Both Gerlach and Williams received the Alumni Association's Distinguished Alumni Award in 2018. Williams was also one of the driving forces behind the SUNY Canton Hall of Fame. The Williams family oversees an endowed scholarship, which is awarded annually to a student who demonstrates good citizenship.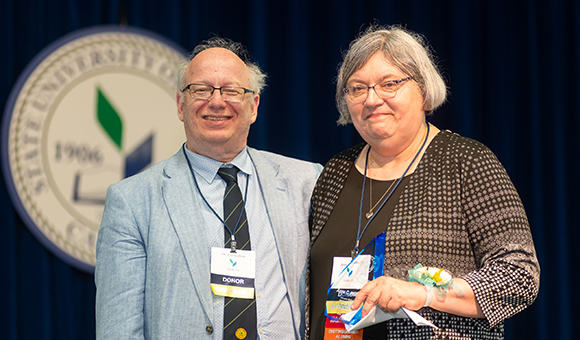 "I remember when the Hall of Fame was just an idea," Williams said. "Out of all the honorees to date, I'm proud to have known two thirds of them personally. Each one has touched my life in a special way. I never imagined that I too would one day receive this honor."
The college recognized its most recent inductees during its annual Alumni Weekend celebration, which had been postponed since 2020 due to the pandemic. Subsequently, there are a number of exceptional contributors awaiting the honor to be recognized with the class of 2022. The college will be holding an additional induction ceremony in fall 2022 to induct more individuals who've made outstanding contributions to the college and community.
About SUNY Canton
As Northern New York's premier college for career-driven bachelor's degrees, associate degrees and professional certificate programs, SUNY Canton delivers quality hands-on programs in engineering technology, management, and healthcare fields. It is home to the Center for Criminal Justice, Intelligence and Cybersecurity. Faculty members are noted for their professional real-world experience in addition to outstanding academic credentials. As SUNY's leader in online education, SUNY Canton OnLine offers hundreds of flexible and convenient courses as well as 23 online degree programs. The SUNY Canton Kangaroos 15 traditional athletic teams compete at the NCAA Division III level as part of the North Atlantic Conference. SUNY Canton also features varsity esports and cheerleading.