College Council Selects Rajiv Narula as Distinguished Faculty at SUNY Canton
The SUNY Canton College Council has selected Associate Professor Rajiv Narula, Ph.D., as the 2022 recipient of the Distinguished Faculty Award. Narula teaches Chemistry in the college's School of Science, Health, and Criminal Justice.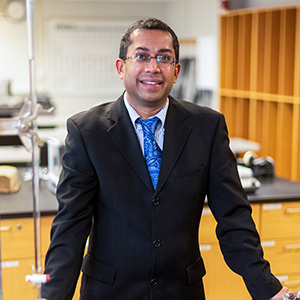 "The Distinguished Faculty Award is presented annually to a SUNY Canton educator who has demonstrated mastery of subject matter, effectiveness in teaching, scholarly ability, effectiveness in university service, and continuing growth," said College Council Chair Ronald M. O'Neill. "Dr. Rajiv Narula has demonstrated those criteria and more during his career at SUNY Canton."
Narula will be a guest of honor and a speaker at the Cindy L. Daniels Honors Convocation scheduled for 4:30 p.m. Wednesday, April 27, in Roos House Convocation, Athletic and Recreation Center.
"Dr. Narula's work at SUNY Canton embodies and reflects the mission of our college," said Professor and Social Sciences Department Chair Maureen P. Maiocco, Ed.D., who teaches in the college's Early Childhood program. "It is a testament to the care and compassion he has for his students, colleagues and community."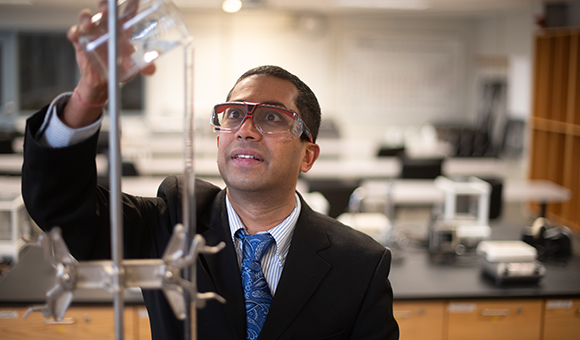 In addition to teaching chemistry, Narula teaches environmental science, and a first-year experience class. He is also involved with the college's Educational Opportunity Program (EOP) and instructs first-generation and financially disadvantaged students during a summer college preparatory program. He's previously published scholarly articles on reducing pathogens created by dairy farms, and has now shifted his research to focus on the way students learn.
"Rajiv is a conscientious teacher who cares deeply for our students and inspires others, myself included," said Narula's colleague, Associate Professor William P. Rivers, Ph.D., who teaches Biology at the college. "Rajiv is intent on creating a learning environment that works for all his students."
Originally from Calcutta, India, he earned his Doctor of Environmental Science and Engineering degree from Clarkson University in 2011. That same year he began his career as a professional tutor at SUNY Canton. He quickly became a chemistry instructor, and then was promoted to Assistant Professor. In 2021, he received another promotion to his current title.
"Students speak of Rajiv with reverence," said Associate Professor Barat Wolfe, Ph.D., who teaches in the SUNY Canton Applied Psychology program. "He is caring, interesting knowledgeable, and so giving of his time. His student-centered nature is an extension of his personality."
After earning all the degrees necessary to become an established college faculty member, he's gone on to earn his second master's degree in education from St. Lawrence University with hopes of becoming a better educator. He is now enrolled in Clarkson's MBA program and is focusing on process and service quality in teaching.
"Rajiv is a hard-working, intelligent and passionate educator," said Stephanie Petkovsek, a lecturer and United University Professions Canton Chapter President. "He's also an exciting scholar with an active research agenda."
Narula has also been an active member of the North Country community. He served on the North Country Children's Museum's board of directors from 2018 to 2020, according to Sharon V. Williams, Ph.D., who serves as the museum's executive director. "An important part of the museum's mission is to connect the children in the region with the resources available at our universities," Williams said. "Rajiv was able to use his scientific knowledge to support this important community service endeavor."
As an avid environmentalist, Narula has been the faculty member most closely involved with the college's pollinator garden and Kenneth Theobald Botanical Nursery, which helps nurture saplings to be planted on campus. He's also actively involved with college composting initiatives and was a faculty advisor for the student-run Environmental Change Organization.
Jessica Fischer, who is a graduate of the Mechanical Engineering Technology program and a current repair engineer for Uptower at GE Renewable energy, worked alongside Narula on a series of college sustainability initiatives.
"In addition to being a student of Dr. Narula, I know him best through his activities and mentorship outside of the classroom," Fischer said. "I admire the dedication, passion, and encouragement he has for teaching, his mentees, and the campus community as a whole. I know he impacted my life and my experience at SUNY Canton in the most positive ways possible."
Narula resides in Canton with his wife Geetika, who he said has been a pillar of support for all his endeavors. They have a 3-year-old son, Rohan, who also shares a passion for Nature and Chemistry.
About SUNY Canton
As Northern New York's premier college for career-driven bachelor's degrees, associate degrees and professional certificate programs, SUNY Canton delivers quality hands-on programs in engineering technology, management, and healthcare fields. It is home to the Center for Criminal Justice, Intelligence and Cybersecurity. Faculty members are noted for their professional real-world experience in addition to outstanding academic credentials. As SUNY's leader in online education, SUNY Canton OnLine offers hundreds of flexible and convenient courses as well as 23 online degree programs. The SUNY Canton Kangaroos 15 traditional athletic teams compete at the NCAA Division III level as part of the North Atlantic Conference. SUNY Canton also features varsity esports and cheerleading.