SLC Chamber Honors VanderZee and SUNY Canton Small Business Development Center with Appreciation Awards
The St. Lawrence County Chamber of Commerce hosted their Annual Meeting on Thursday, May 12, 2022 with board of directors and membership virtually present. The business meeting included updates on priorities for the County Chamber in 2022, presentation of the annual budget, and elections of new board members and officers. The meeting also provided an opportunity for two appreciation awards. In addition to recognizing businesses at their Annual Dinner in the Fall, the awards allow the Chamber to appreciate close partners and board members.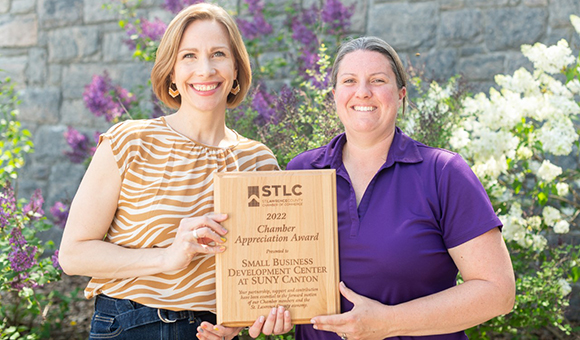 The "Chamber Appreciation" Award is designed to recognize a partner who has gone above and beyond to ensure the well being of the Chamber, its mission and members. Although their efforts are not always seen by members of the public, the board and staff recognize their efforts as being essential to the forward motion of the organization. This year honored the SUNY Canton Small Business Development Center. The recognition noted that "The SBDC has been a partner for years, growing stronger as time goes on. Working together, the County Chamber and SBDC have been able to co-host training opportunities, promote each other's work and refer services to ensure that our members have the access to the resources and information needed to help them grow. In addition to providing one-on-one counseling to businesses, the SBDC staff have been available to answer questions regarding business licensing, covid relief programs and many other topics that have been helpful to the Chamber as well as member businesses."
The 2022 "Chamber of Commerce Day" Award was presented to board member and secretary, Lenore VanderZee, Executive Director for University Relations at SUNY Canton. The award was designed to play on the old saying' A chamber of commerce day' is a 'very pleasant day with no weather concerns'. Keeping that in mind, the awardee is selected based on their positive attitude, and their contribution to making the Chamber and the County as 'blue skied and sunny' as it can be. Lenore has been the board secretary for many years. More importantly, she has been active in sharing the positive impact of the Chamber and speaks up in support of County Chamber offerings, partnership opportunities and mission based fit in County and regional task force and committee work. The recognition noted that "Lenore is always available to help find solutions, provide honest feedback and help the staff and board take positive steps towards the future".
The St. Lawrence County Chamber of Commerce, headquartered in Canton NY, is a regional Chamber of Commerce, serving the needs of the business community. More information can be found at www.SLCCchamber.org or by calling 315-386-4000.
About SUNY Canton
As Northern New York's premier college for career-driven bachelor's degrees, associate degrees and professional certificate programs, SUNY Canton delivers quality hands-on programs in engineering technology, management, and healthcare fields. It is home to the Center for Criminal Justice, Intelligence and Cybersecurity. Faculty members are noted for their professional real-world experience in addition to outstanding academic credentials. As SUNY's leader in online education, SUNY Canton OnLine offers hundreds of flexible and convenient courses as well as 23 online degree programs. The SUNY Canton Kangaroos 15 traditional athletic teams compete at the NCAA Division III level as part of the North Atlantic Conference. SUNY Canton also features varsity esports and cheerleading.