U.S. News & World Report Ranks SUNY Canton for Online Education
SUNY Canton has once again made the U.S. News & World Report Best Online Bachelor's Programs List.
In online programs rankings released today (Tuesday, Jan. 25) the college was ranked 138 among its peer accredited online institutions in the overall list, 77 in the Best Online Bachelor's Programs for Veterans, and 62 in Best Online Bachelor's in Business Programs. U.S. News assessed schools based on engagement, services and technologies, faculty credentials and training, expert opinion, among other criteria.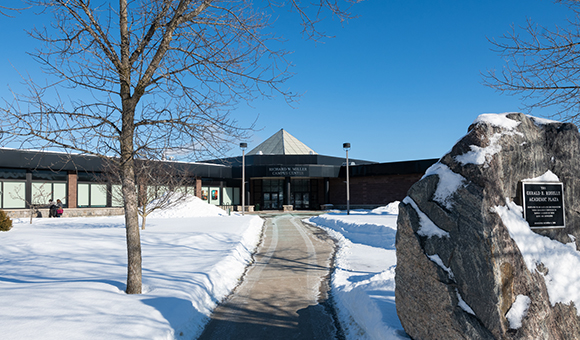 "We continue to take our strengths in online education to new levels," said SUNY Canton President Zvi Szafran. "By continually expanding our online programs, we've been able to meet students where they are, grow enrollments in key programs, and help our students achieve success, even during the ongoing COVID-19 pandemic."
Traditionally, the college has found working adults prefer online education to advance their career. Now, even traditional high school graduates are seeking out SUNY Canton for its strength in online programming. Approximately 30% of the college's total student population is completely online, and almost every on-campus student takes an online class during their education.
Health Care Management is the college's largest bachelor's degree both online and in-person, with 265 students in fall 2021. According to Marela Fiacco, Ph.D., associate professor and Health Care Management chair, the program has grown so large that it became its own department.
"We were granted departmental status because of the number of students in the program and creating future initiatives for the students who are working in the field," Fiacco said. "We will be working on micro credentials relevant to employment and the need for retraining and upskilling of the healthcare labor force."
Cybersecurity, one of the college's newer bachelor's degrees, saw its enrollment jump from 70 to 114 students within one year of offering online and flex classes. Program Director Kambiz Ghazinour, Ph.D., an associate professor who teaches in the Center for Criminal Justice, Intelligence and Cybersecurity (CJIC) said the program received a tremendous student response following online classes taught during the onset of the pandemic.
"We received such great feedback from our students and professionals that we moved forward with the fully online program," he said. "This opened the opportunity to attract students not only nationwide, but also globally. Our students' on-campus presence is also getting stronger with our state-of-the-art teaching labs where students learn to safely work with the most dangerous hacking tools and malware programs."
SUNY Canton's CJIC houses eight related programs and worked with more than 520 students last semester
"The members of the CJIC have been updating existing degrees and creating new programs that meet the needs of students and the employment field," said Elizabeth A. Brown, professor and CJIC director. "Bringing on the new bachelor's degree in Forensic Criminology and offering all four years of the Cybersecurity program online are examples of how the faculty are constantly innovating to keep programs aligned with current trends."
Early Childhood Care and Management allows students to attend on-campus, online or in a combination of both modes. The program has grown nearly six times in size since its creation in fall 2018. Its success encouraged Maureen P. Maiocco, Ed.D., professor, and social sciences department chair, to expand the corresponding associate degree in Early Childhood to an online environment.
"Our online programs are structured to allow students to pursue specialized degrees in early childhood care and education, full or part-time," Maiocco said. "This allows students to remain employed while pursuing their degree."
Maiocco added that a large majority of students transfer into the program. "We ensure our students receive individualized advisement and assist each in completing their academic studies to degree completion.
Additionally, online bachelor's degrees in Applied Psychology and Legal Studies are trending upward in popularity with each landing more than 120 students last semester.
About SUNY Canton
As Northern New York's premier college for career-driven bachelor's degrees, associate degrees and professional certificate programs, SUNY Canton delivers quality hands-on programs in engineering technology, management, and healthcare fields. It is home to the Center for Criminal Justice, Intelligence and Cybersecurity. Faculty members are noted for their professional real-world experience in addition to outstanding academic credentials. As SUNY's leader in online education, SUNY Canton OnLine offers hundreds of flexible and convenient courses as well as 23 online degree programs. The SUNY Canton Kangaroos 15 traditional athletic teams compete at the NCAA Division III level as part of the North Atlantic Conference. SUNY Canton also features varsity esports and cheerleading.